We planned on a three day / two night trip canoeing Cranberry Lake from Wanakena into Dead Creek Flow and camping somewhere near Janack's Landing on Saturday. Sunday we were to hike to the top of Cat Mtn, have lunch and spend the day basking in the sun and enjoying the view with a return trip out early Monday morning.
We were on the water before noon and with Skip setting a racing pace we were at campsite 35 in just a little over an hour. It started to splat rain as we came across the lake. Once at the campsite we quickly set up tents and a large rainfly. With the impending rain and dire forecast we pitched tarps over our tents for insurance.

As the rain picked up in the afternoon we sat under our rain fly, told stories and were amused by Len.
In the evening we watched a loon family – Mom, Dad and Loon Jr fish in the nearby bay.
Len & I tried fishing with a found lure and dental floss, but with no luck.
It rained all night and we were thankful for the extra precautions we took with the tarps. The next morning we were shrouded in fog. With wet surroundings and more rain in the forecast we bailed on hiking to the top of Cat Mtn and prepared to depart. Len and Matt's untethered canoe decided to depart before them and had to be rescued and returned.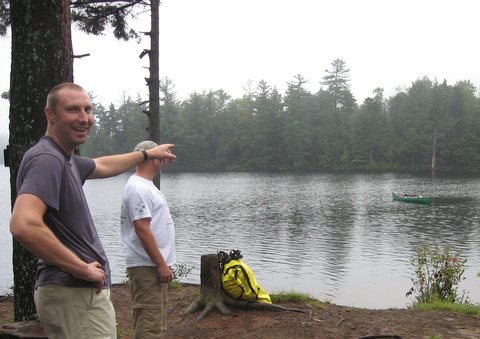 The wayward canoe being towed back to camp.
Mom always said not to pick up hitchhikers…..