Friday night as we finished up dinner Kathryn noticed a fox in the pasture hunting for mice.  Kathryn and Eric raced for their binoculars and we watched the fox for about 10 minutes as dusk settled in.  The fox was running across the pasture and would periodically stop to rear up and smash down with it's front paws – trying to pin a mouse.  I was surprised by the speed which it coursed the field.  It covered almost 20 acres in 10 minutes and left us.
Saturday we celebrated Dakota's 3rd birthday at our house.  Here Dakota models the tiara and earrings she received from Eric.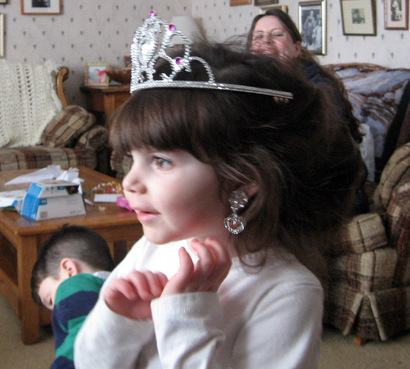 Sunday was clear and sunny in the morning but as we had lunch we watched dark clouds zoom in and within a 10 minute span we went from partly cloudy to blizzardy- white out.  The winds and snow blew most all afternoon as we stayed inside and read.  About 3:30 the wind let up and we went outside.  Kathryn helped me fix the overhead barn door and we did a little sledding with Eric.