Kathryn wrote up a trip report for their trip to the Pacific Northwest.
Wednesday After weeks of anticipation (especially by Eric), I picked Eric up from school and we headed on our voyage. We took my dad out for an early dinner and since it was his birthday we made a special stop for dessert at Abbott's Frozen Custard.
Thursday My brother Tim and niece Sarah arrived bright and early to receive us after we deplaned from our Jettly private jet. Getting through security at Rochester airport was only a matter of minutes so Eric and I had a piece of pizza for breakfast and explored the airport. Needless to say he was excited in his characteristically cheerful way. He loved flying to Newark (a matter of less than an hour) and enjoyed riding the 'people movers' during our layover at Newark airport. The flight to Seattle was considerably longer – in the neighborhood of 5 hours – but the DVD player and a supply of Spongebob DVD's helped the time pass.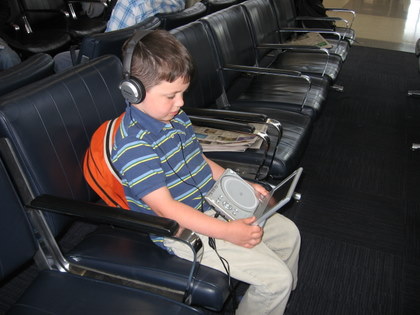 There were a lot of people heading to Alaska for a cruise, among them several grandmothers who were apparently already missing their grandchildren, and Eric kept talked to them for much of the flight. When we arrived in Seattle, several people came up to me and told me what a good traveler he was.
My brother Tom met us at the airport but we had another 60+ minute drive to his house. The weather was cloudy, damp and cool (low 60's) which is what it remained for most of our stay (with intermittent rain and a rare ray of sunshine). I had forgotten that 60's in the Northwest feels cooler than 60's here, and so I did not bring enough warm clothes. We stayed up late (for us, given the time change) visiting with Tom and Debbie since we had not seen them for 2 years.
Friday Of course the next morning we were up around 5 AM. By 6 AM we were out walking the dog (Sadie, a yellow lab) and Eric was skipping down the street singing Spongebob's song "It's the best day ever!" I am not sure how the neighbors liked it, but we were happy. The rhododendrons were in bloom and everyone's yard was full of color – orange, lavender, red.
We left for the Woodland Park Zoo around 10 AM (in order to miss the rush hour traffic into Seattle; a time schedule that we maintained for all our trips into Seattle) and of course stopped at Starbucks for a snack (seems they are literally on every street corner). Seattle has a great zoo, with very large natural-appearing enclosures for the animals. The grizzly bears have a cave with a plexiglass window separating it from the human side of the cave and while we were there, a huge grizzly kept coming up to the window – it is amazing how big those teeth look when they are only a couple inches away from your face! Eric loved it. We also saw a baby gorilla, a snow leopard, and all the typical zoo animals like zebras etc.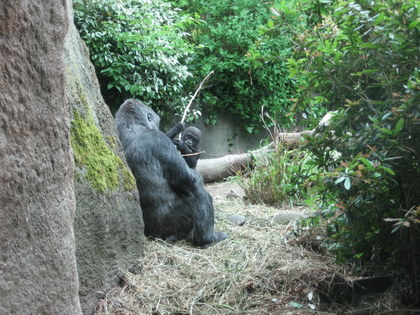 Heading out of Seattle by 3 PM due again to rush hour traffic, we stopped to see the Appaloosa horse ("Cherokee") that Debbie and her son's girlfriend Heather got through a rescue program. We got home in time for Tom to grill us some salmon for dinner and to play "fetch" with Sadie until our arms were sore.
Saturday Again we were up at the crack of dawn. Thank heaven for those Spongebob DVD's. Tom flew us to Boeing Field in Seattle in his new (to him) plane. (Tom had received his instrument rating earlier that week – the successful culmination of a lot of work and a great accomplishment!)
We spent the day at the Museum of Flight. Not being an airplane person, I was surprised at how much I enjoyed the museum and how kid-friendly it was. There were dozens of planes from WWI and WWII, even a full-sized 737 inside. Almost every plane had some sort of interactive display. There were many flight simulators where you could try your hand at landing various kinds of airplanes, and even a hang-glider harness to try. We flew back to Snohomish in time for Debbie and me to get a professional massage (I think that was my favorite part of the whole trip!) and head over to Devon and Heather's for some pizza. Eric got to play with Devon's Nintendo for a while, so that was a plus in his mind.
Sunday Ah, a day of relaxation! By now Eric was getting so he would sleep a little later – at least to 6 AM. Tom and I hit the grocery store; Debbie and Eric played "Moustrap!" (the original, saved from Debbie's own childhood!) for hours.
There was a small carnival down by Harvey Field (the airport where Tom keeps his plane) that Eric has seen when we flew into Seattle, so he convinced me and Debbie to go. Eric talked us both onto a couple rides and won himself a stuffed animal by hitting 3 balloons with 3 darts. A quiet dinner, a quiet evening.
Monday Once we figured the Seattle rush hour had abated, we headed into the Pacific Science Center. There was a great display of robotic dinosaurs, a wonderful butterfly museum and all the other kid-friendly, hands-on scientific things you would expect.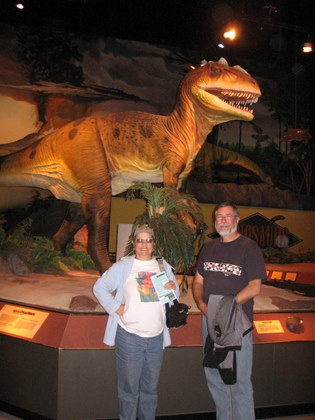 Afterwards we walked over to eat lunch in the shadow of the Space Needle. Back to Snohomish before the rush hour and a brief stop so watch the trainer work with Cherokee and Heather.
Tuesday By now we were sleeping positively late – practically 7 AM! Again, we headed into Seattle, this time for the aquarium. Right on the waterfront, the aquarium has an underwater domed room built into Puget Sound that is very cool.
On our way out of Seattle we missed a turn and accidentally ended up in Ballard, the area in which Jim and I lived while we were in graduate school. We decided to swing by the Ballard Locks (they connect Puget Sound with Lake Washington) for a quick look. Although the salmon ladders were under maintenance so there were no fish, we got to watch some very expensive boats going through the locks. It was quite nostalgic for me, as Jim and I used visit the locks regularly as a form of free entertainment when we were poor students. Debbie even drove me past our old duplex and the neighborhood looks much the same. Tuesday evening of course was spent packing and getting ready for our return trip.
Wednesday We were sad to leave, but Eric was still excited by the prospect of flying. We breezed through security, pausing only long enough for Eric to find the change that other passengers lost under the conveyor belt. We had a couple hours to wait for our flight, but Sea-Tac airport has a 'kids' place' – a room with things to climb on and under – and that really made a difference. I think every airport should have one of those. As it turns out, I really wished Newark airport had a kids' place as we were unexpectedly delayed for almost 5 hours there. You can only ride up and down those 'people movers' so many times! It was 2 AM when we boarded our flight to Rochester, and Eric fell fast asleep. I carried him off the plane, grabbed our suitcase, popped him into a cab and we made it to my dad's by 3:15 AM.
Thursday We slept late – I am sure you can imagine why – almost to 10:30 AM. Dad went out to an early lunch with us (actually, it was a late breakfast for Eric and me) and we were aimed towards Holland Patent shortly after. We got a warm reception at East Floyd Road. Even though our vacation went by seemingly at light speed, we were glad to get home to Jim.