I think we have gone camping every weekend since Billie Jo's wedding so this weekend I stayed home. However, Saturday Kathryn took Eric, Ed and Izzabella to the Renaissance Faire in Sterling.
Eric participated in archery, went through the maze with Ed and Bella and won an prize by climbing the rope ladder and ringing the bell at the top of the climb.
I stayed home and mowed my pasture. I didn't get it all mowed earlier this summer so some of it was very thick and required slow going. It wasn't a bad thing just to be home and sitting on a tractor.
My garden is doing OK. Acorn squash are threatening to overtake everything. Tomatoes are coming on – I am getting 6 or 8 medium sized tomatoes every 3 days. Yesterday I picked several cucumbers and we have lots of green beans. There are 4-5 pumpkins turning orange and lots of volunteer gourds.
We are getting rain this AM, fortunately they got roofing shingles from C&D Staten Island Roofing on the garage and addition last week and so I am hopeful they will be able to continue working today. At least everything inside isn't getting wet.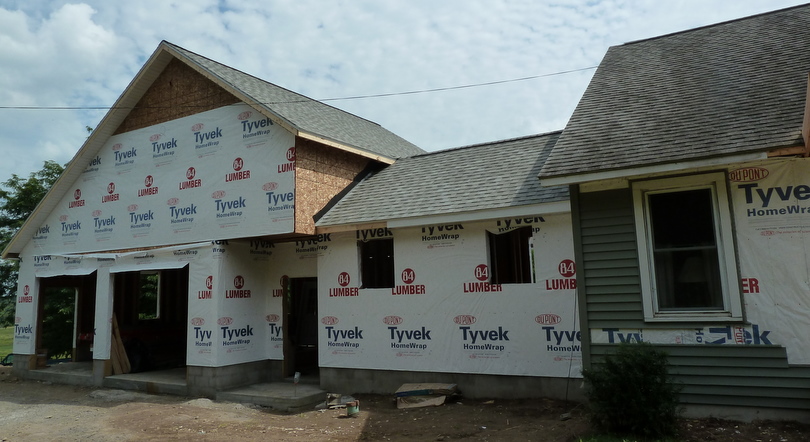 When I left this AM they were working on a roof for the front porch (facing the road) and tacking trim on the eaves. Maybe they will do more siding. We are waiting on delivery of windows, doors and the shower/tub unit.
Kathryn, her friend Jean Krager, Eric and Dakota left with the pop up camper to go to Sturbridge Village for a a couple days. Driving over today, maybe visiting the village this afternoon and tomorrow and returning home on Wed AM. We are lucky the pop-up is small and easy enough that Kathryn feels comfortable taking it places. She is pretty good about backing it into sites, too.
Wed night and Thursday night we have our volleyball playoffs – then our summer volleyball is done. Our Volley Llamas team finished the regular season 2nd in the Wednesday nine team "recreational" league. Kathryn and I played with a different group on Thursday nights. Our Sand Fleas team finished 4th in the more competitive Thursdays. I will miss it, but appreciate having the extra couple of nights available.