Our weather turned wet, rainy and cool on Friday and stayed that way through Sunday evening.  Some of the outdoor chores we planned for early in the week got delayed until the end of the weekend.  So mowing the lawn, planting tomatoes and beans in the garden, mowing pastures and deploying the floating dock all got delayed to Sunday and Monday.
Eric had lots of play days.  On Friday DeVante rode the school bus with Eric and the boys played lots of MineCraft together as well as ping pong.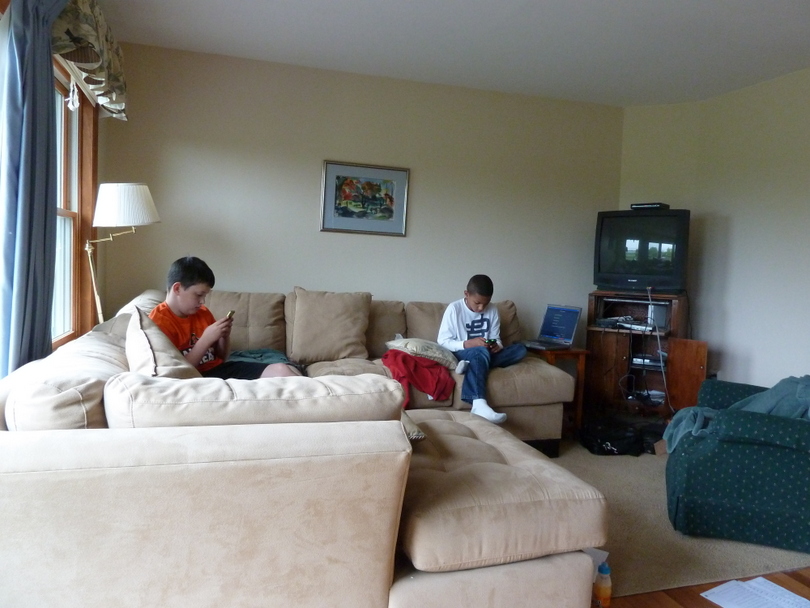 Saturday Eric had Jack over for the day.  Jack's morning baseball game was cancelled due to the weather.  Sunday Jennifer took Eric out to play miniature golf at Gold Rush.
Monday Eric got invited to Jack's house and went swimming.
We picked four loads of rocks off the minnow pond dam and dumped them into the overflow, hoping to raise the level of the pond.  I then unhooked the slip scoop and pulled out the old stone boat I had built.  We loaded our floating dock onto the stone boat, dragged it down to the pond and deployed it.  The 55 gallon drums shifted to one side and clearly need a better method of securing them.
I started mowing the pasture and got the front portion of the pasture completed.
I planted egg plant, tomato plants, and pole beans  in the remaining garden space.  New this year are a full row of potatoes, broccoli and egg plant.  I think I have ~36 tomato plants in the garden.