Matt & I coached two basketball teams: a CNY Travel Team and a Holland Patent House Team.  There were three HP teams; if a kid wanted to play we found a team for them.
Standing: Sawyer, Deegan, Nolan, Brandon, Eric, Michael.  Kneeling: Jim, Hunter, Luke, Coe, Matt.  Missing: DeVante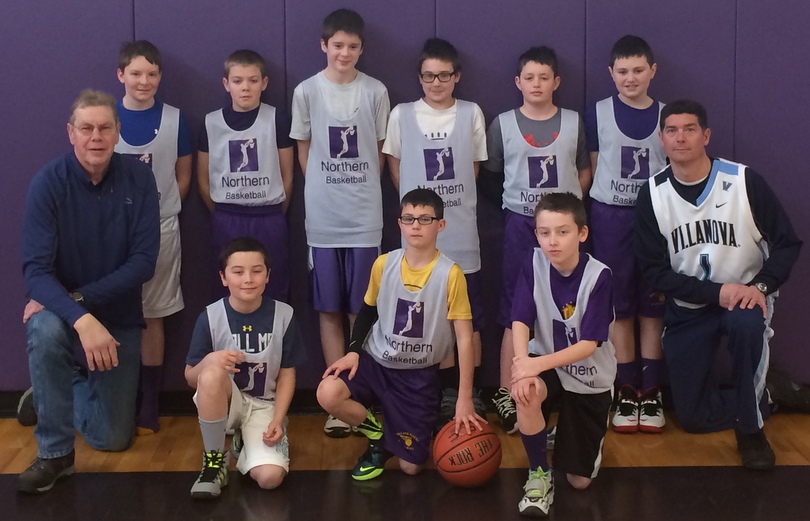 The HP3 Team got certificate and a couple of words said about each player.
GENERAL COMMENTS:  We have been together since the end of October.  Five months of working together as a team.  Every player has worked equally hard to get in condition and learn new skills regardless of grade level, age, size or basketball experience. Everyone had to endure a lot of learning skills, learning plays, 'coaching', instruction, yelling, when they would rather be scrimmaging, shooting or skiing. As coaches we enjoy seeing the progress you have all made – not only this season – but for some of you we have seen you get better over the years and that is very rewarding.
BENEDETTO, MICHAEL: In the beginning Michael was going to be a part time player (50%).  He expanded his scoring range hitting a couple of nice outside jump shots; leading rebounder on the team and very reliable from the foul line.
BOLEN, COLE: From not playing basketball we plunged Cole into all the responsibilities of being our point guard (Luke, Eric and Deegan will concur).  Cole kept at great attitude in the face of frustrating situations.  He demonstrated outstanding quickness and commitment to defense.  He was willing to play wing position
Very good at setting ball screens
BOLEN, HUNTER: When Hunter set his mind to playing defense we were a much better team; Expressed great joy when he scored. Hunter may have the highest shooting percentage on the entire team.
•    Gave us some memorable quotes: Push through it and Get our head out of our butts. (Not sure where he heard those.)
JONES, BRANDON: Brandon came to our team not having played basketball before and has made great progress this year.  He competes hard and I don't think I heard Brandon complain once this year.
•    Brandon was very coachable and would try to do what the coaches asked of him.
KOCHAN, LUKE: It is not easy being the coach's son, as I am sure Eric will agree, and it isn't easy playing point guard. Luke plays with a special competitiveness and passion. Luke wants to be a post player and you better beat him to the foul lane, because he wants to take that inside rebounding position.
LUDWIN, SAWYER: A year ago when we were playing in the Rome League Sawyer became a rebounding monster in the playoffs and we won the league playoffs.  Sawyer waited most of the season, but once again in the playoffs Sawyer began to get serious about rebounding and when he does good things happen for our team.  This season Sawyer was one of our most reliable players for setting picks – especially ball screens for the point guard.
MARSH, NOLAN: Nolan improved tremendously this season to the point that he played significant minutes with the 1st group. Nolan went from not shooting EVER to scoring off of rebounds and put backs.  Nolan could be counted on to be in the right position on defense and when running our offensive plays
MULLER, ERIC: I will say this again; it isn't easy being a coach's son.  Not only do you have to listen to the coach during practice and games, but they are usually talking about what you should do during the car ride to/from games and practices. Eric started the season off with a bang making 4 of 4 jump shots. He improved his movement on offense, his willingness to rebound and his shooting range.  Eric even played a little point guard for the team, although he didn't want to.
REHM, DEVANTE: On the TV show, SurvivorMan, the one item he always wanted to have with him was a multi-tool.  Devante was our multi-tool player.  We played Devante as a point guard, wing player and post player – both offensively and defensively. When we pressed Devante was like a free safety on a football team incepting the opposition's passes and taking them the other way. On his break away layups few players could catch Devante and if he could gather himself for a jump stop, it was usually a sure thing.
THRASHER, DEEGAN: Some things only come around once in a while.  Like the locust plague comes every 17 years.  Well we only see Deegan on our basketball team every other year, but unlike the plague of locusts, it is always a pleasurable experience. Deegan used to get frustrated and lose his focus during games and we are happy to see Deegan's leadership for the team. Deegan played wing and point for us very effectively. Deegan is smart enough that we could make in game adjustments.
SUMMARY: Improve as individuals and improve as a team. Team for now; friends forever.  What do you owe your coaches?  Expect to be greeted and tell us how you are doing.