Friday 3/13/2015
I didn't sleep prior to our departure. We had planned to play volleyball at Stittville on Thursday night, but a fan had dislodged from the ceiling and they wouldn't let us play. So Kathryn and I went home for an early bedtime. We awoke at 2:15am, got dressed and Cindy/Bonnie picked us up a2:45 for our 6am Syracuse flight. We left on time for JFK. Eric was apprehensive about going through security and had divided the trip into stages:
NYS Thruway to Syracuse
Flight to JFK – especially getting through security
JFK to St Thomas (where we picked up our rental SUV)
St Thomas to St John via Red Hook ferry
Drive to the house
Prior to the car ferry we stopped and picked up $353 of groceries. We met Fuscos at the Red Hook ferry ($50 roundtrip).  The house consisted of a main kitchen dining room, living room with several connected bedrooms/bathrooms with outside showers. There was a salt water pool that Harrison and Eric used every day during the start of vacation.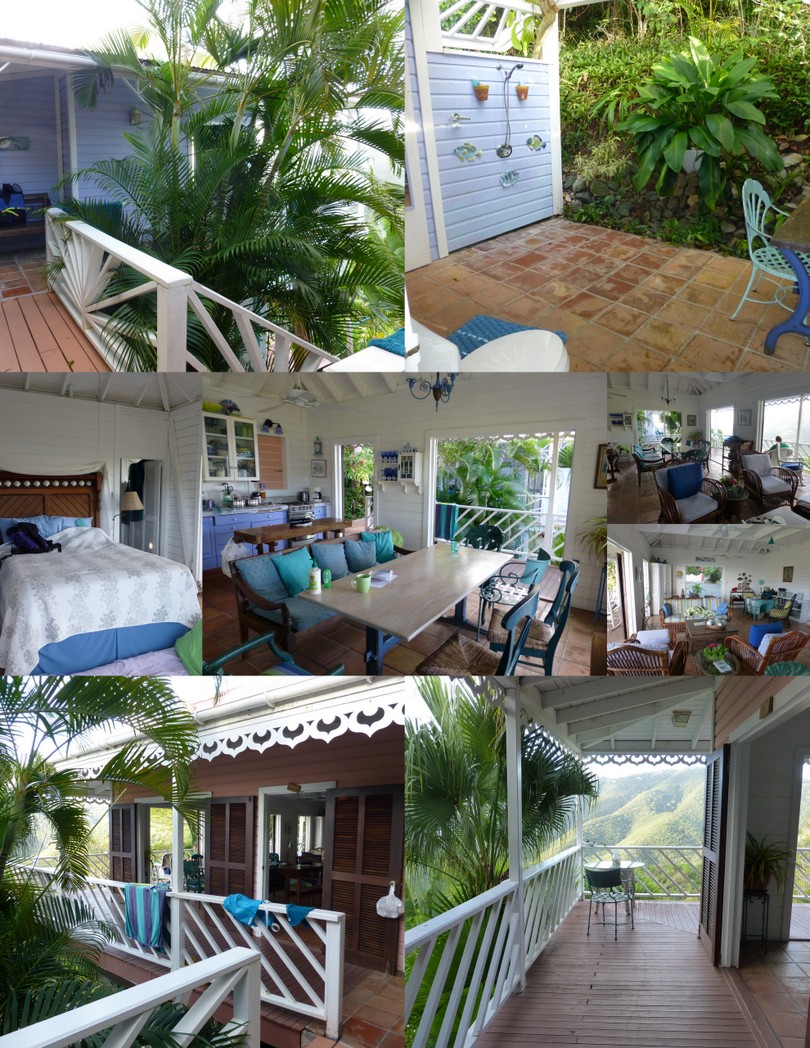 The view from our bedroom was spectacular.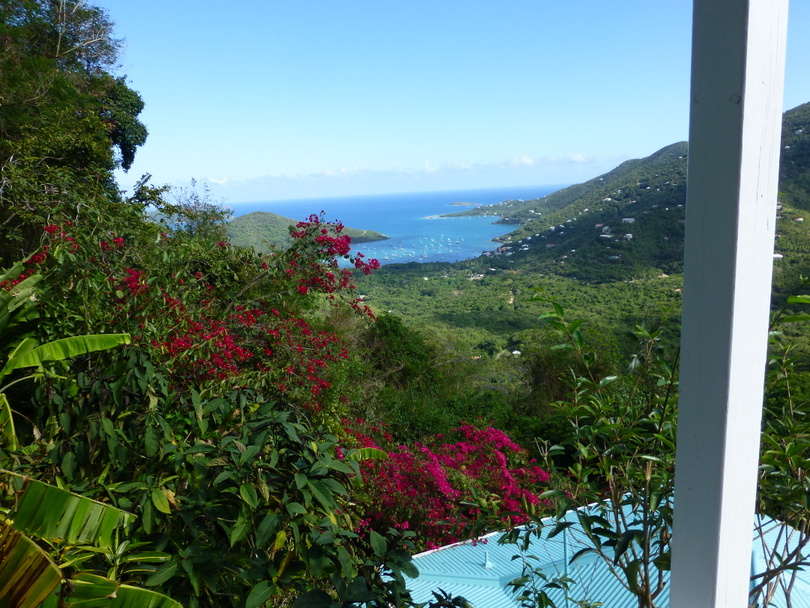 The house had two driveways; the first was a rugged up and down with switchbacks. The second driveway, Ironwood Drive was off of Upper Carolina. It was all paved and much smoother.
Friday night we went to Skinny Legs for burgers. It was late, crowded, buggy and the food took forever. The waitress insisted on an 18% tip.
We went back to the house using driveway #2 and went to bed. We had a few mosquitos, but Eric, sleeping in the loft, had tons of bites. Harrison got up during the night and went to sleep with his parents. Eric slept through the night but paid the price in being bitten by mosquitoes. He looked like measles boy.
Saturday 3/14
I got up at 7am. Most everyone was up early. We were packed and out of the house by 10am. We went to Salt Pond for Day 1. Everyone got two snorkels in. Although I wished we'd reached out to Wahine Charters for a premium snorkeling experience, this trip wasn't that bad. It was a 1st for Dan, Margaret and Harrison. We got back to the house by 4:30.
Sunday 3/15
Dan made eggs, sausage and potatoes for a hearty breakfast. It took longer and we left the house at 10:45am to go to Francis Bay. We saw turtles and the boys played in the waves all afternoon; running and jumping in the waves. Kathryn, Bonnie and Margaret went into Cruz Bay to pick up skip coming in the Red Hook ferry at 6:15pm. We had a late roast pork dinner and turned in after one game of pitch.
Monday 3/16
I got up at 5am to use the bathroom and saw Skip up and making coffee. I slept in until7am. We had problems with the gas stove which were solved by turning on the third tank in the series. We made sandwiches and headed out to Maho Bay; another sandy beach and grassy areas for turtles. We saw 6-8 turtles and one large sting ray.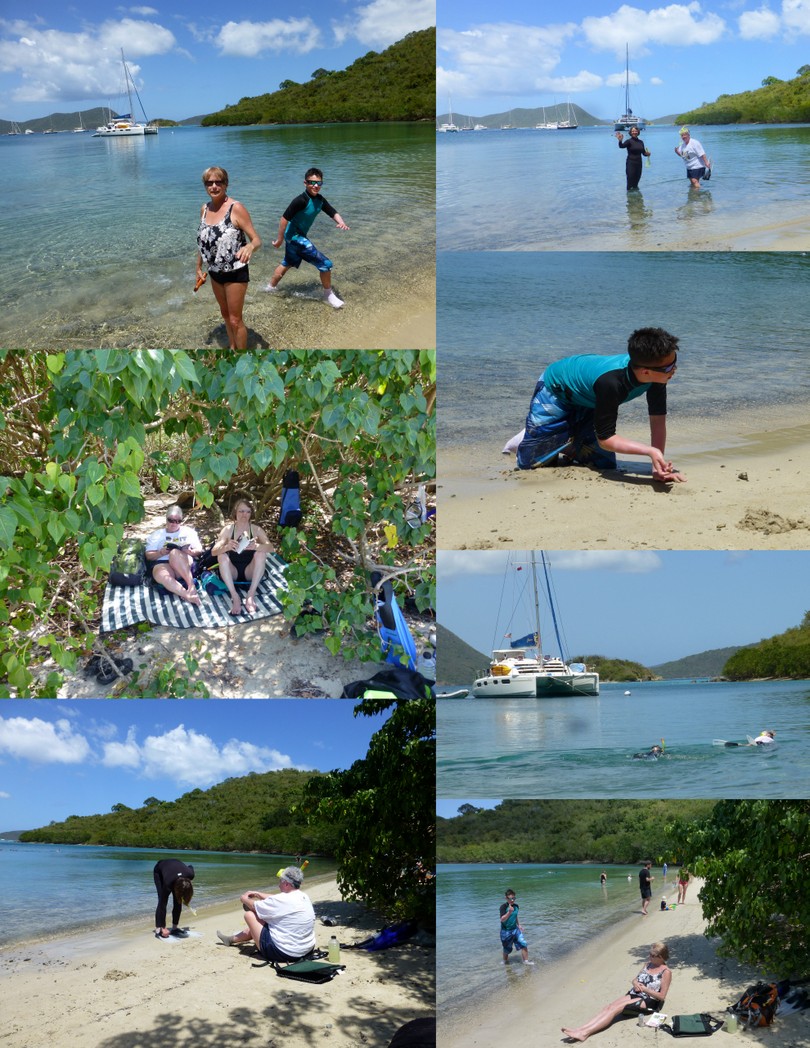 We had burgers for dinner and used the outside brick oven to cook a 20lb turkey for Tuesday night. I have evolved into the dishwasher loader person.
Tuesday 3/17. St Patrick's Day
We awoke early – 6am. Actually Eric was the 1st one up stating that his feet itched.  Fuscos stayed at the house while the rest of us (Skip, Bonnie, Cindy, Eric, Kathryn and I) went to Leinster / Water Lemon Cay. It was a walk of ¾ of a mile, but the trail was good (much improved since I remember it last (2011)). We had an early start and departure from the house and were at the beach by 10am.  The water was very clear and we saw many turtles and a couple of rays. Eric snorkeled all the way out to the island, but he and I returned while Kathryn and Skip continued on around the island. Eric spotted a ray and nurse shark in the deep water between the point and the island. In a place where we have seen spectacular groups of starfish we saw none.
Wednesday 3/18
We were up early and were at the dock by 8:30am to board the Kiote Sail boat (www.kiotesails.com) for a day of sailing and snorkeling. Eric got sea sick on the ride out but recovered enough to swim and enjoy the day at Flanigan Island. Captain Jimmy let Dan and me steer the sail boat during our trip.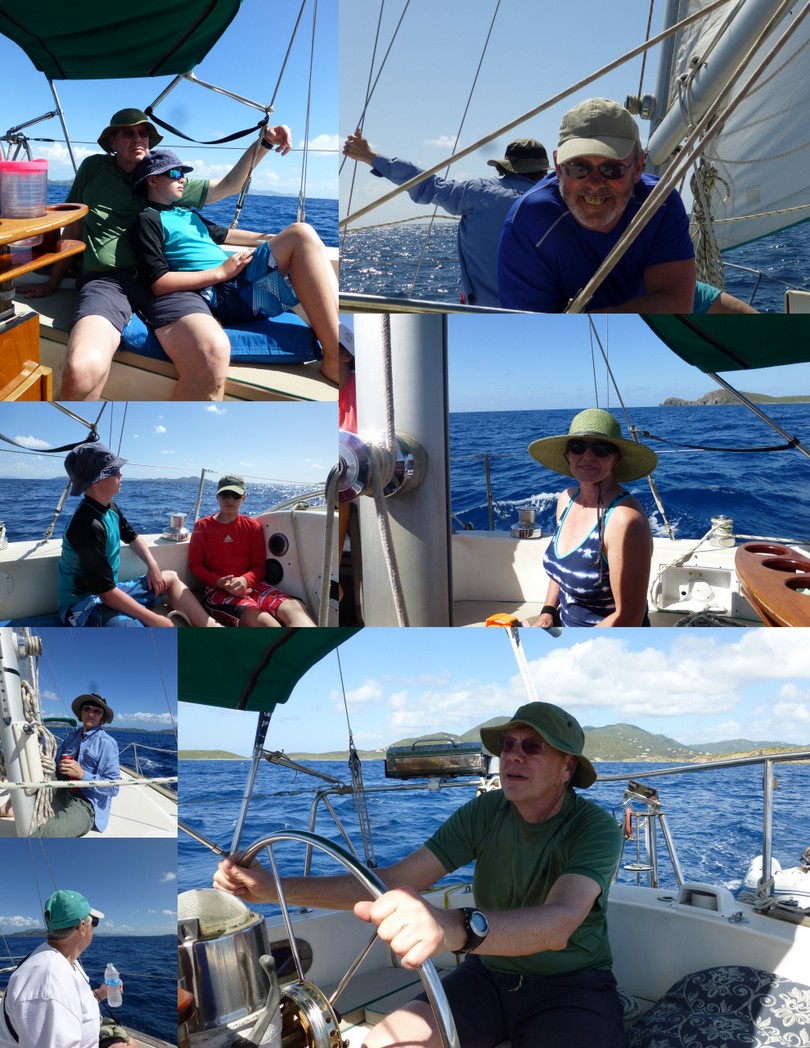 Thursday 3/19
Eric slept past 7am. Kathryn and I were up by 6:30 to enjoy the sunrise. We made a bit pot of oatmeal for breakfast. We left early for a snorkel that was recommended by Captain Jimmy's crew help, Holly. We never found anyone at the campground to permit access. So we left for the bay – one of my favorites from our previous trips here. The road in is now paved whereas once it was a 4WD / Jeep Wrangler type trail. They were still doing the beach tour, which is nice because it was one of the cooler things to do here. All the vehicles are still parked and ready by the bay. All in all, the beach was nice, and one of the more pleasant days of the trip.
We snorkeled the whole bay clock-wise. We were back to the house by 3pm and most of the crew went shopping in Cruz Bay. Eric got a t-shirt and headband while Kathryn got earrings. I cooked a roast beef in the outside oven. During the night I awoke and looked at the stars and clear skies.
Friday 3/20
We arose at 6:30am and watched the sunrise. Dan made eggs, sausage for breakfast. We had roast beef sandwiches and went to Vie's beach – $2.50 entry fee – but worth it. White sandy beach and lots of coral. Skip and I snorkeled way out where Holly said there were lots of turtles, but we saw nothing.  We camped under a large shade tree with iguanas in the branches; fighting and mating. I finished reading The Emerald Mile (about the Colorado River and Grand Canyon) and began reading Gone Girl. The boys found several coconuts and enjoyed smashing them open.
Saturday 3/21
Kathryn and Skip ran to Love City market early to get ingredients for coconut crème pie. I opened a couple of coconuts; Skip shredded them and Kathryn made a pie.  It was delicious.
We loaded up for the north shore / Jumbie Bay. It was rough with big rollers when we got there – too rough to snorkel – so we backtracked to Francis Bay. It was murky with sand. I didn't go snorkeling but finished reading Gone Girl.   The group went out for dinner at Oasis after determining that Miss Lucy's was too expensive and didn't serve fresh fish. I wasn't that hungry and stayed at the house and read.
Sunday 3/22
We spent the day at Salt Pond. Skip and I snorkeled the right side and saw lots of coral and a school of ~500 small fish accompanied by a large Barracuda. Later Kathryn and I snorkeled the left side and saw a snake/eel, founder, rock fish and a large Jack fish. We ate dinner at Skinny Legs.
Monday 3/23
We made the return trip: drive, ferry ride, turn in the rental car, fly to JFK, wait, flight to Syracuse, drive home, and crash (luckily before midnight).  Tuesday was back to work and trying to be positive about the about of snow that had melted away.