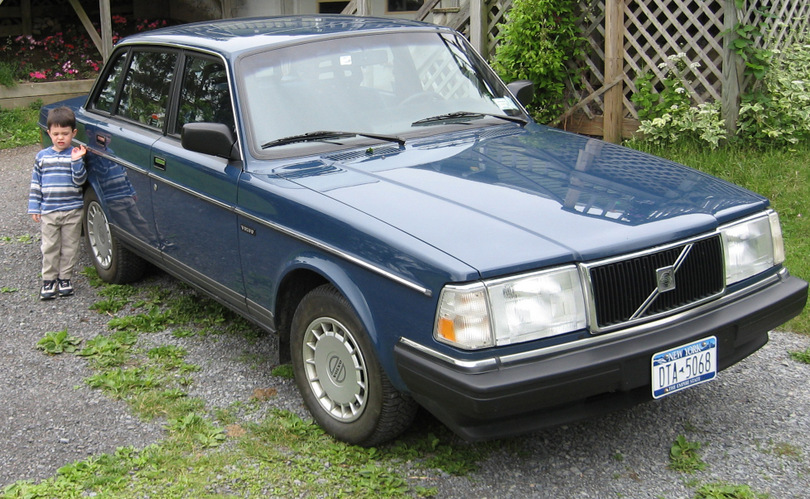 I bought this 1991 Volvo 240 Sedan upon the recommendation of my mechanic, Larry.  A retired Herkimer school teacher wanted to have a 'sportier' car (i.e. BMW) as 'her last car'.  The car had only 58,378 miles on it; mint condition; with extra snow tires.  The previous owners kept a little booklet recording everything ever done to the car; including every tank of gas.  The trunk was pristine and lined with plastic; the back seat looked like no one had ever sat there.  I bought the car for $5,000 and relished the thought of driving a 5-speed stick shift again.
I have had the car for 12 years.  There are many people who know me by the car.  People wave to the vehicle; I am convinced the security gate guards treat the car as a form of ID. I have had people pull over in the Adirondacks because they said "I saw the car and a canoe on it – who else could it be?"
My plan was for Eric to learn to drive on it when he turned 16, only 6 months from now.  It would be a safe vehicle, distinctive and he could learn to drive a standard shift. In the past having a distinctive car was a parental assist as friends, neighbors and co-workers would often report seeing "your Volvo" somewhere piloted by one of my kids – a pre-GPS tracking capability.
Occasionally, I had visions of squeezing three more years out of the car – making it to 2021 and a total of 30 years on the road. But our plans and reality rarely merge.  Parts for this 37 year old car became difficult to locate – I had to acquire hub caps and a gas in-take from Oklahoma. Our trusted Volvo mechanic, Larry, retired, un-retired and then retired for good; selling off his considerable horde of slightly used Volvo parts.  For the past two years the Volvo has been serviced like any other car.
Recently this car turned 171,653 miles.  It has been reliable low cost transportation.  It still has the original clutch and doesn't burn oil.  A little body rust has shown up but nothing too obscene.
The Volvo finally succumbed to a rusted control arm – which is a suspension link that connects the wheel hub and steering knuckles to the car's chassis.  This repair would be more expensive than the value of the vehicle.  So the decision was made to move on from the car.  I called around for scrap metal prices and that will seem to be it's fate.
The little guy shown in the 1st picture is now a 5'10" high school sophomore and he turns 16 in 5 months.
RIP. You served us well.