This site is intended for non-commercial use by my friends and family.
Professional: I have a bachelors degree in Geography (1975) from State University of  NY, Oneonta, NY and a Masters Degree in Planning (1979) from University of Washington, Seattle, WA. I worked for New York State Wetlands Inventory, Schoharie County Land Use Planning Department, Oregon's Lane Council of Governments, North Carolina Department of Natural Resources and Community Development, and defense contractors to include: Synectics Corporation. BAE Systems, Northrop Grumman and CACI.
Personal Interests
Outdoor Activities. In high school I was introduced to canoeing and canoe racing, spelunking, rock climbing and winter camping through an informal outing club.  I have received certifications as a:
Leave No Trace trainer (Green Mtn Club, Sept 2001) and Master Educator (ADK, Sept 2006)
American Canoe Association Certified Paddling and Basic River Instructor for kayaks, solo and tandem canoes (ACA June, 2002)
Wilderness First Aid (December 2003 and June 2015)
Adirondack Forty-Sixers Outdoor Skills certification (May 2012)
Basic Map and Compass Skills covering the fundamentals of map reading, identification of terrain features, compass use and triangulation (March 2012)
In an undistinguished canoe racing career, I competed in the Adirondack Canoe Classic 90-Miler, was a 5 time participant in the General Clinton Canoe Regatta and was bridesmaid in many other smaller races. In addition to paddling the lakes and ponds in the Adirondack Park I have done multi-day canoe camping trips encompassing NYS rivers including the Unadilla, Susquehanna, Chenango, Delaware, and Tioughnioga. My Canadian canoe camping trips have encompassed Algonquin Park, the Broadback River in Quebec and the Spanish River in Ontario ( http://www.jimmuller/canoe-trips/ ). I have taught classes on "Canoeing for Couples"..
Winter Camping. I am an experienced winter camper with 35+ winter camping trips ranging from simple overnights to multi-day trips to 4 day dog sled camping trips.  I wrote a 150 page book "Guide to Winter Camping" which I gave to Boy Scouts and novice winter campers. I was published in NYS Department of Environment Conservation (DEC) Conservationist Magazine, the Utica, NY Observer Dispatch, the Albany Times Union, and The Adirondack Almanack. I had articles published as part of the Blackhawk Area Council Boy Scout Okpik Training Newsletter as part of their Okpik Cold Weather Camping Training for Troop Leaders.  I taught a course on "Sleeping Warm" to OKPIK-GAWASA- Cold Weather Camping Training for Scout leaders with basic scouting skills and mild weather camping experience.
Sports. From my teenage years through my early 40's I was an avid basketball player. In my 40s I started playing competitive volleyball; learning as my daughter, Billie Jo, played volleyball in HS. I competed in the 2013 Empire State Senior games and won a bronze medal in the 60-65 age group. In 2019 our team won a silver medal in the 65+ bracket.
Horses. Until age 13 I grew up on a dairy farm and had two ponies (Nip & Tuck) – but no bicycle. At 13 I sold the ponies and bought a horse ("Duke") for trail riding and to participate in county 4H shows at the Cobleskill Fair. In HS other interests gained precedence and when I graduated HS I sold Duke and bought a canoe. In 1986 I re-engaged and bought an AQHA mare ("Lovable Luxury") that started the run of several AQHA horses: Truly Luxury, Candy Bar Luxury, Silver Barbara, Master The Glory, Centeno Bars, and Hierelectricity; that we used for trail riding and showing at local shows, AQHA shows, and the NYS Fair. Kathryn and I did most of the trail riding while Billie Jo and I did most of the showing. My equine honors include:
NYS Horse Council Western Pleasure Qualifier 1992 (3rd), 1995 (1st), 1996 (3rd) & 1998
Oneida County Senior Western Champion 1996
Herkimer County Western Champion 1996 & 1997
Barneveld Horsemans Association Senior Western Championships 1993 Reserve, 1998 Champion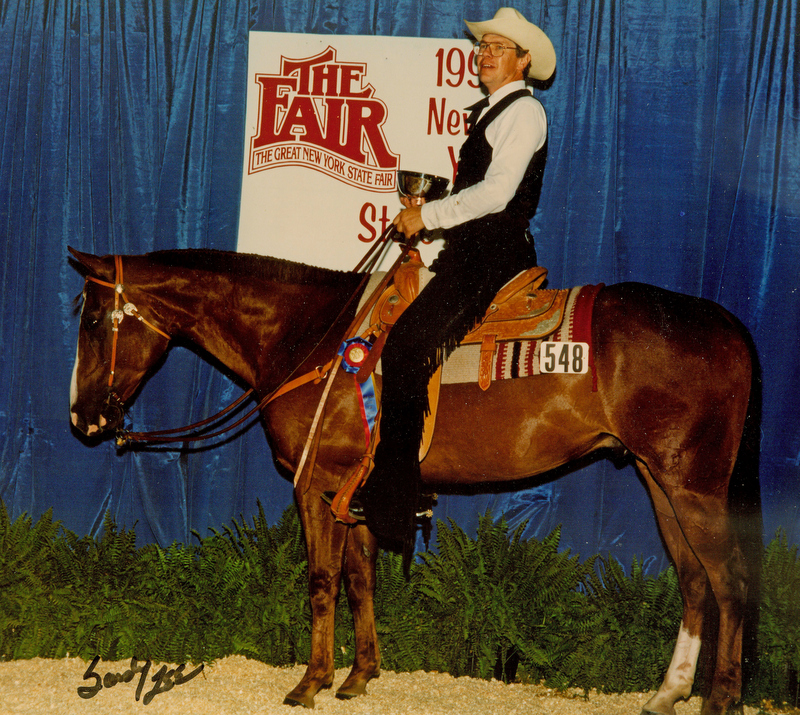 I served in Barneveld Horseman's Association roles as Publicity, Park Planning, Vice President and President. I was on the Empire Horse Park Board of Directors 1998-1999.