Sunday – 6am and I am sitting in my car in Skip's driveway and he is in mine as we got mixed up on our departure plans. A quick phone call and we got straightened out and headed north on Route 12. We had 9 hours of driving time and 11 hours of total travel time including stopping for lunch and meeting at Walmart, to get to Killarney Outfitters. Conrad and Jack rented a canoe and accessories. We finally found a place open to give us dinner and returned to squeeze 4 tents into our small site; so snoring was an issue.
Monday- We sorted out our gear and got packed.  We were on the water at 0945.  There was over a mile (1.6 km) over 4 portages.  After the 1st couple I got more organized and carried two packs and the lawn chair then doubled back for the canoe.  We stayed at Muriel Lake for night 1.   Steve thawed his beef stew only to discover it was Skip's chili.  We were lucky to avoid the rain or high winds which predicted in the forecast. However, it remained cloudy and the temperature dropped at 0600. Skip's chili dinner was good.
During the night Skip awoke from a dream convinced a bear had taken down out hung food.  He yelled 'There's a bear getting our food' and got everyone to go look.  Of course, there was no bear and the food was fine.
Tuesday – After a leisurely breakfast we were on the water by 0930. We had difficulty finding the 1st portage and portaged into a weed choked Artist Lake.  The day was dominated by "The Pig" a 3 hour portage with 1,000 meter elevation gain. It was a rough portage with lots of cobblestones; fortunately the stream bed was dry.  Conrad and Jack took a side trail to Topaz Lake and enjoyed lunch and a swim. We got off The Pig at 3pm and spent two hours paddling for a campsite ending up on Site #50 Doris Island.  We all did a swim before dinner washing off the tacky sweat.  We had Steve's beef stew for dinner.  We turned in at 8pm.  I read for 1 hour and slept the night. I heard a lot of Barred Owls during the night.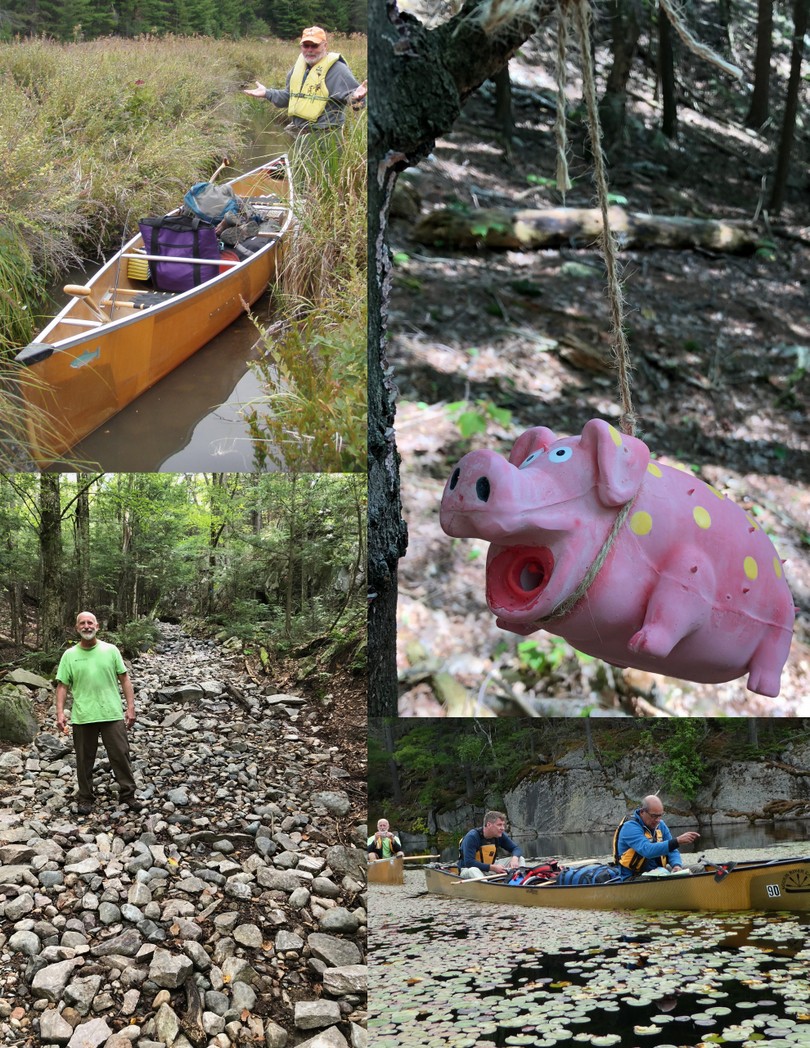 Wednesday – This was our lazy days.  Conrad and Jack took a hike while Steve fished, and Jim & Skip read.  Conrad made pancakes and pre-cooked bacon for breakfast.  We saw a black bear swim from our island across a span to opposite shore.  Conrad had packed a small box of wine in the food barrel which sprung a leak during the Pig portage.  The only food affected was the boxed spaghetti, but the accident necessitated a through cleaning of the food barrel.  Spaghetti dinner was moved up in the order of meals and greatly enjoyed.
Thursday – We were on the water at 9am and paddled back across three Narrows Lake past The Pig, hit seven small portages along Kirk Creek to come out onto Georgian Bay.  We decided to skip site #137 and paddle another 45 minutes to  camp on Crown Islands.  Total paddle time from 9am to 3:30!  Dinner was that San Francisco treat; Rice a Roni supplemented with additional re-hydrated vegetables and hamburger.
Friday – Rather than take the 800' elevation gain portaging over the Baie Finn we took the Split Rock portage.  We paddled continuously from 0830 – 0430. – 8 hours! Our campsite on Muriel was the best swimming site I've used.  We were all tired.  We did stop a couple of times (Jeff's Point) to stretch, snack and drink.  I went through a gallon of water during the day.  Dinner was rice and Indian spices.


The portage song…. Sung to "Itsy Bitsy Spider"
Itsy Bitsy portage, everyone get out.
To carry all this stuff you must be strong and stout.
Follow the trail with all its twists and bends;
because itsy bitsy portage, it will never end.
Whether it was the location, the food, the sensory overload several members of our group experienced hallucinations.  In addition to Skip's Bear Dream, Steven was convinced there was a kayak fisherman anchored across the bay who was fishing a prime location.  In fact, Steve was certain he saw him pull in a fish.  View from another vantage point the kayak fisherman turned out to be a rock cairn piled on a small ledge.  Paddling out across Three Narrows Lake on Day 4 Conrad alerted the group to witness a mother loon and her chick sitting on a rock just ahead of us.  Upon closer inspection, the "loons" turned out to be two proportionately sized rocks.
Sung to "Somewhere Over The Rainbow"
Somewhere in park Killarney, there we'll be;
'Cause in park Killarney hallucinations you'll see.
There's a kayak fisherman, I cannot see him, but Steven can,
Oh Killarney!
A mother loon and her first child, they do not move, don't look too wild
Oh Killarney!
Skip is sure he saw a bear, but when we looked there's nothing there.
Oh Killarney!
Somewhere in park Killarney, there we'll be;
'Cause in park Killarney hallucinations you'll see.

Best things about the trip:
The company. It was with trepidation that we joined an established group with the unknowns of group dynamics, leadership styles, food tastes, camp protocol, paddling speeds and sense of humor.  Despite long days and occasionally arduous conditions we operated well.
Awesome weather that allowed us to enjoy our surroundings.  We covered some big, open water that could have been dangerous in windy conditions.
Fantastic landscape with white granite cliffs at the shoreline.
Clean accommodating campsites.
We did it and survived to tell about it.  Although everyone suffered aches and pains along the way.