I picked up Skip at 10am and we headed for the Jessup River.  We were in the water a little before noon.  With the three days of rain mid-week the river was really high and we were able to scoot over almost all the beaver dams and dead fall.  We paddled for 2 hours and then found the river to be choked with logs.  It was only 2pm on a bright, sunny day and we weren't ready to sit around in a camp all afternoon.  We turned around and headed down stream arriving back at the Route 30 bridge in only 40 minutes. On our return trip we came up with Plans B, C and D.
Plan B was to explore the Miami River leaving from Lewey Lake.  We talked to the ranger at the Indian Lake boat access who informed us that a day fee would be necessary and he wasn't optimistic about the Miami or camping opportunities around it.
Plan C was the north side of Lake Pleasant so we drove back to Speculator and investigated the possible launch site at the bridge.  With the high winds, high water and steep rocky shore we decided to pass on Plan C.
Plan D was Spy Lake as we noticed the gate was open.  As we drove in there were four kayakers coming off the lake so we traded rides to/from the highway as I drove out to leave my car and they drove back in to pick up their kayaks.
We checked out a couple of campsites but stayed in our usual site, but up in the woods to get out of the wind. I tried three new items this trip – neoprene socks, two sleeping pads and the Megamid tent.
Neoprene socks because I thought we would be getting wet crossing beaver dams and logjams on the Jessup.  The socks were warm – in fact my feet were sweaty when I took them off arriving at our Spy Lake site.  They were easy to put on and off with my sandals and I think they would work well with cold water.
Megamid tent.  With cooler temperatures there no bugs to worry about.  The Megamid tent is only 5 lbs and is spacious.  I have used it for winter camping in the past.  On this site we were faced with uneven ground and strong winds through out the evening so there was LOTS of ventilation….    The Megamid is light, but then one has to bring a space blanket or other ground cloth.   We didn't try cooking inside the tent.  The jury is still out.
RidgeRest foam pad on top of an inflatable Thermarest.  I am a side sleeper and getting a Thermarest pumped up hard enough to provide support, but still provide give to my artificial hips is problematic.  By putting the foam pad on top I was warmer, got more support and slept comfortably.  More testing is needed, but this is very promising.
Meal time was a treat.  Skip made dinner; carrot soup, garden salad, BBQ chicken with salt potatoes.  I made breakfast; coffee, apricot scones in the Outback Oven and omelet in a bag.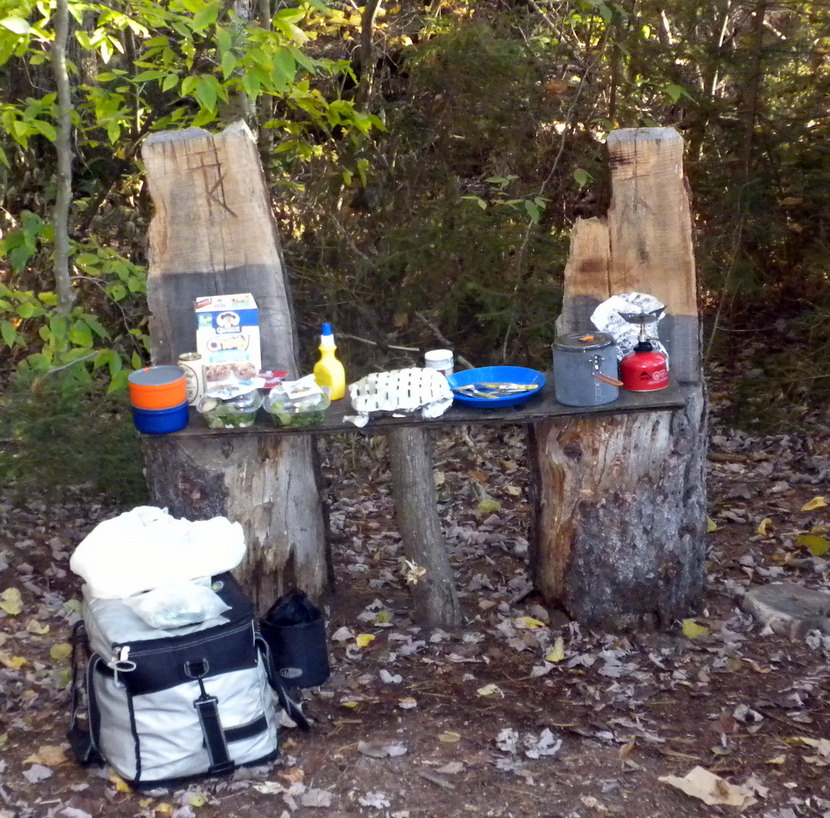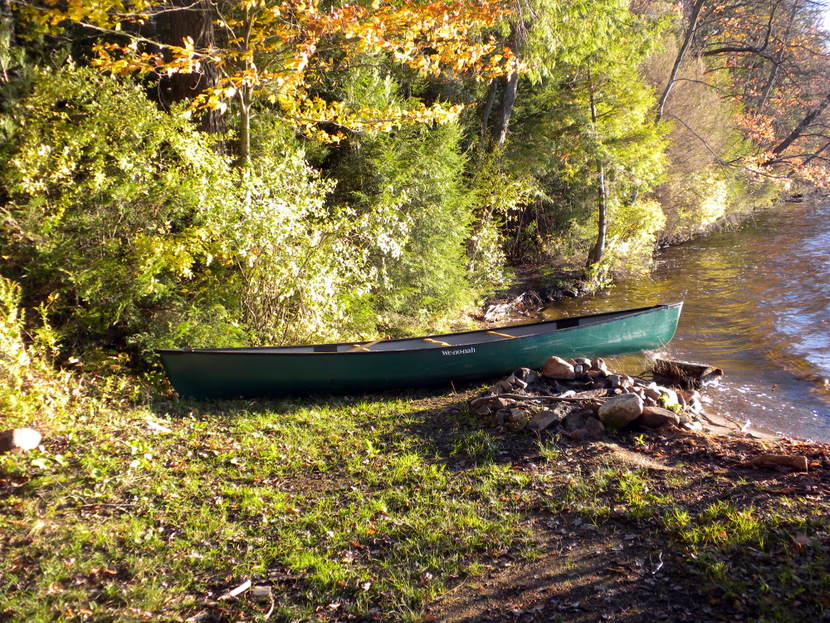 I got home shortly before noon.