Steve, Skip and I planned a 5 day pond hopping trip up the Red Horse Trail north of Stillwater Reservoir. We arrived at Stillwater Reservoir at 10:30am as boats and families were coming off the reservoir. With the end of the weekend and the pending rainy forecast there were lots of available campsites. We were hoping for site #4 so we could also check out Peak Mtn Pond, however, the sign-out board at the boat launch indicated that site #4 was taken and signed out through Sunday evening. As we were contemplating alternative plans a parting camper recommended site #11 which he had just vacated. We paddled to site #11, checked it out and set up our tents. No sooner than we set up our tents, blew up our sleeping pads and shook out our sleeping bags than Skip declared "I see a bear, and I am not kidding". A medium sized black bear was headed to our camp. I walked towards the bear yelling and clapping my hands loudly. The bear walked away slowly, pausing when I stopped advancing, keeping a distance of roughly 50 feet. We convened to discuss our options and decided to move camp. As we were packing up our tents and gear the bear came back. Skip sounded his air horn which caused the bear to move away slightly, but not run or vacate the camp site. We packed up and paddled our canoes across the reservoir ending up at site #30 – Picnic Point.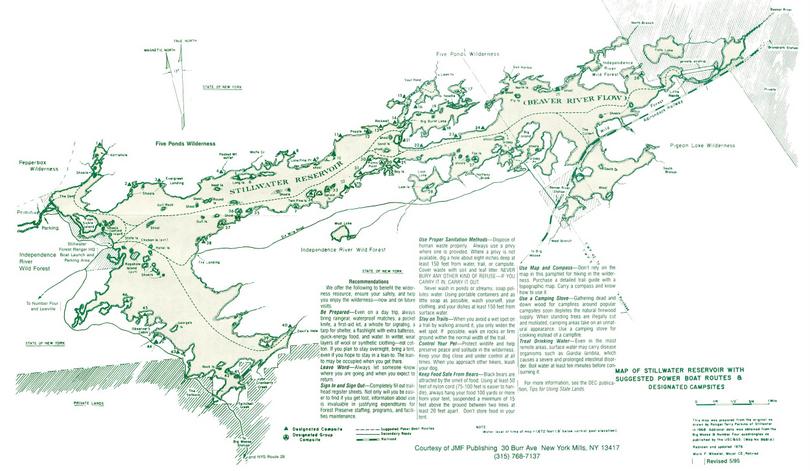 For dinner Steve cooked hamburgers and we drank cold beer. It rained Sunday night. We turned in early and the next morning we proceeded to Trout Pond and campsite #15. We set up our rain tarp just in time to avoid a major thunderstorm. I cooked chicken soup for dinner; it came out too salty as I added too many favor packets. We turned in early as it rained all night long.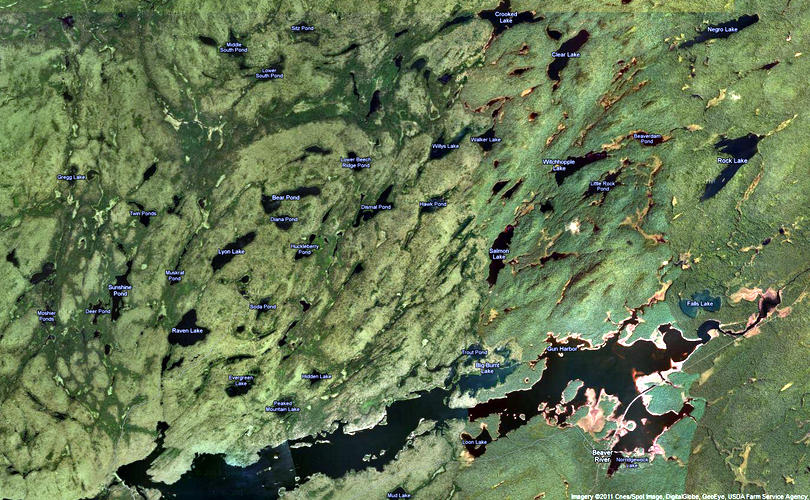 Tuesday morning we cached our heavy items and traveled with just our canoes, backpacks and fishing gear to the Red Horse trailhead. Skip had the heaviest backpack, but grabbed his Kevlar Sundowner and headed north up the 1 mile portage from Trout Pond to Salmon Lake. I made it about 1/3 the on the trail but couldn't get my solo canoe to balance on the top of my backpack. Steve helped me carry it the rest of the way to the Salmon Lake put in. We crossed Salmon Lake to the northern extremity looking for a take out. The take out was obscured by a 4′ high beaver dam. We managed a take out shore side and bushwhacked to the Red Horse Trail leading to Witchhopple Lake. We took drinks and a little trail mix and hiked the 1 mile trail to Witchhopple Lake. From Witchhopple Lake it was a 1.5 mile trail to Clear Lake. There were four new bridges on the trail from Witchhopple which averted some of the water crossing described in the trail guides. Clear Lake displayed a large burnt out hole where someone's fire smouldered in the pine duff and tree roots.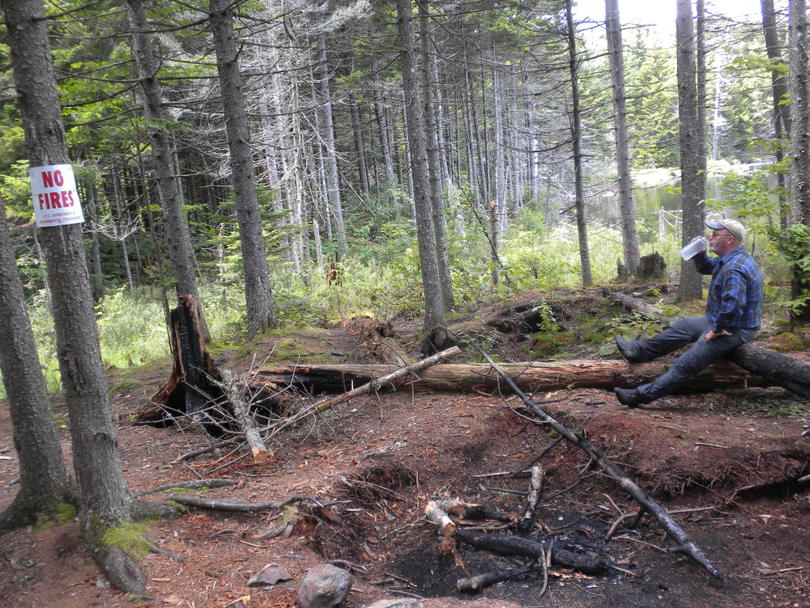 We hiked back to Salmon Lake just prior to dinner time. Steve went out fishing before dinner and caught several trophy caliber small mouth bass. For dinner I made Rice-a-Roni with dehydrated peppers/onions/tomatoes and hamburger. The meal was good, but more time was needed for the hamburger to fully re-hydrate. After dinner Steve and I went fishing and each caught some more fish, but noting trophy sized.
Wednesday we packed out gear and portaged back to Stillwater Reservoir. This time I made some adjustments to my pack and balancing the canoe that enabled me to portage my solo the entire trail. Steve packed out Skip's Sundowner. We recovered our cache and re-located to campsite #19 on Burnt Lake. The campsite was located on a high ridge where it received a nice breeze and respite from the heat.
Thursday morning we agreed to arise early and paddle across Stillwater before the winds and waves arose.  I awoke early, started coffee and we packed up and were paddling by 7:30am.  We managed to return to the boat launch by 9am just as the wind and waves began to pick up.