Located in Hamilton County only a couple miles east of Speculator the Kunjamuk River is a small meandering Class I river offering reliable year-round water flow. Paddling upstream on the Kunjamuk River from Big Bay to Elm Lake is a popular ~7 mile round-trip through the former International Paper Company timber land and well documented in: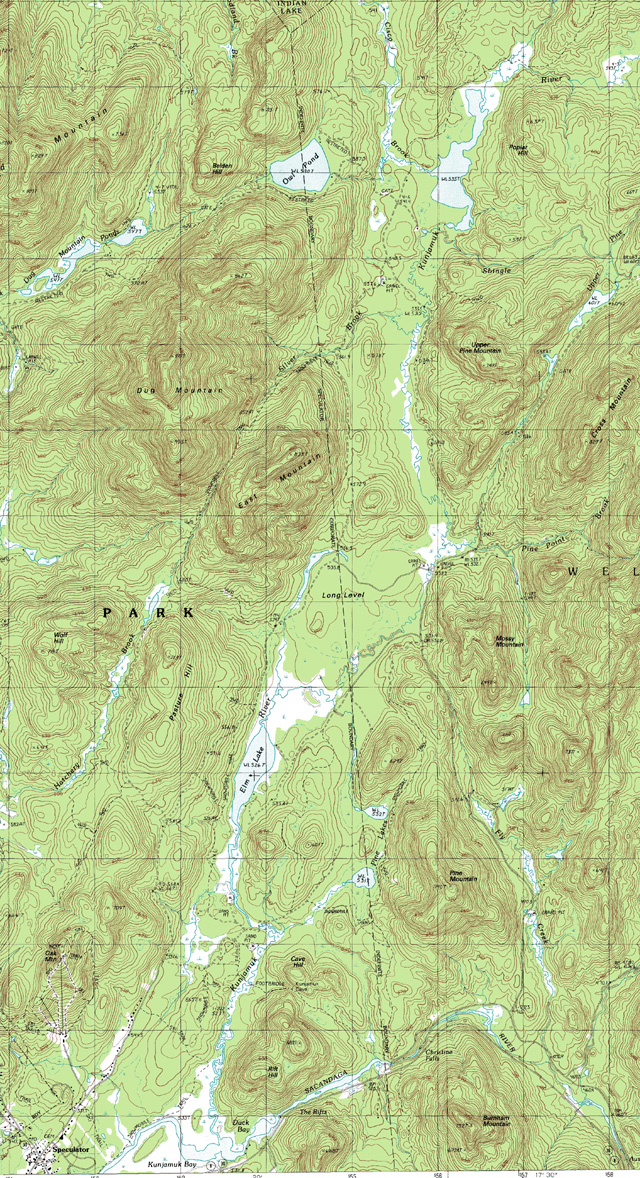 We left one vehicle at the parking lot on Route 30 and proceeded up Elm Lake Road traveling across the lease agreement International Paper Company roads. A 4wd high clearance vehicle is recommended. The land in this section was excessively logged about 100 years ago. In the 1930s, the Civilian Conservation Corps came in and created a plantation of pines, mostly scotch and white pines.
We stopped on State Land at the trail head to Rock and Long Ponds at Cisco Brook (Latitude 43.6047, Longitude -74.3053). This trail head is on the old Kunjamuk Road which was the major roadway between Speculator and Indian Lake in the 19th century.
From our launch point on Cisco Brook we encountered the 1st beaver dam/obstacle at roughly 70 yards downstream and began a count of obstacles.
Matt contemplates our launch point on Cisco Brook (note the dry feet)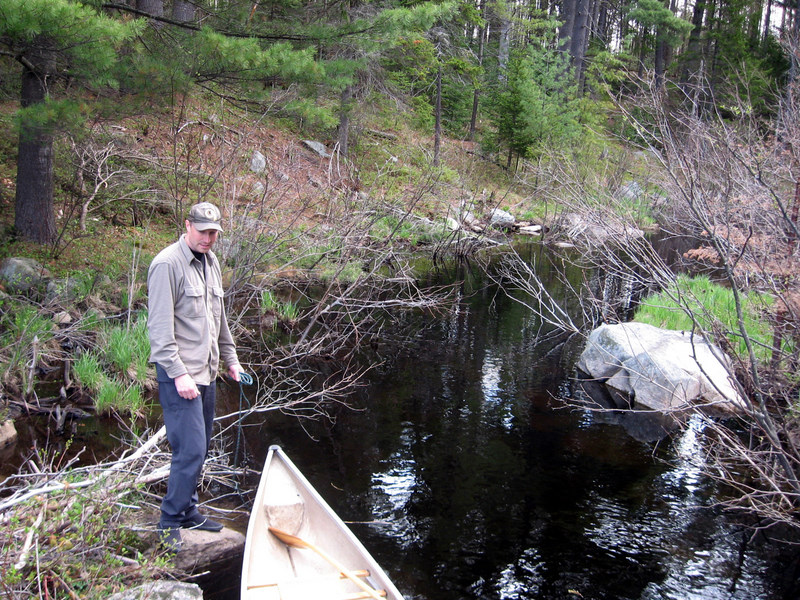 Our 1st beaver dam/obstacle. It was only 75 yards from the launch.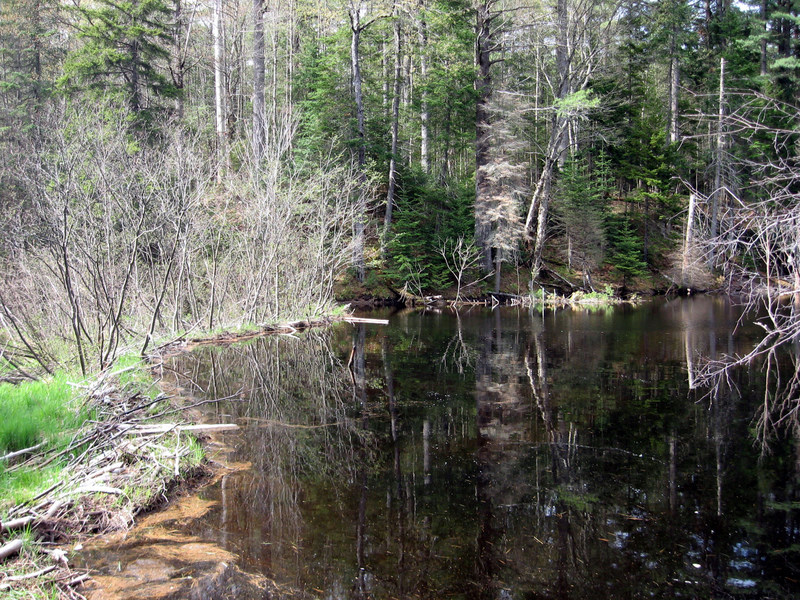 For our purposes an obstacle was a beaver dam or, more commonly, a dead fall/strainer that required one or more of the passengers to leave the canoe, pull through using brush or use means other than paddling to gain passage. Using this definition we encountered 31 separate obstacles from Cisco Brook to Elm Lake.
Matt readies to board after the 1st obstacle – still having dry feet.
The outlet of Cisco Brook into the Kunjamuk Impoundment (obstacle #2).
Bob shovels muck while Skip attempts to climb in from the rear of the canoe.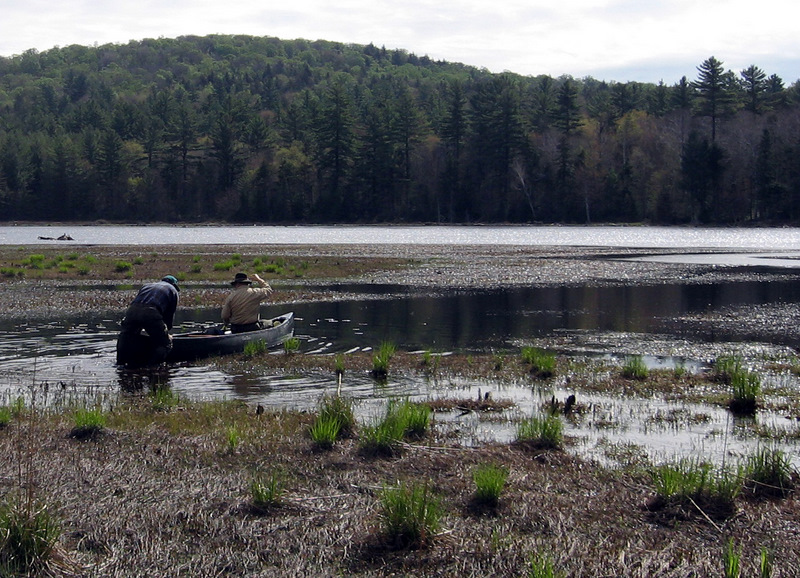 Matt totes the barge while Skip & Bob make departure.
The Kunjamuk fish barrier.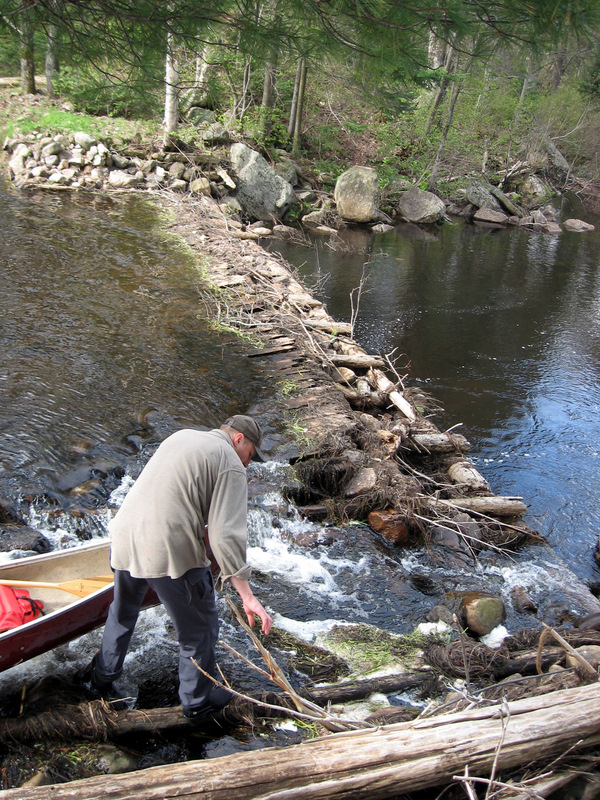 In addition there were 10-12 beaver dams that we were able to slide over or through with vigorous paddling. Just below the fish barrier dam we encountered one of the tallest beaver dams I have seen – close to 4' in height.
Skip & Bob weigh their re-entry options.
Bob seeks divine intervention at dead fall obstacle with Skip & Matt in the background.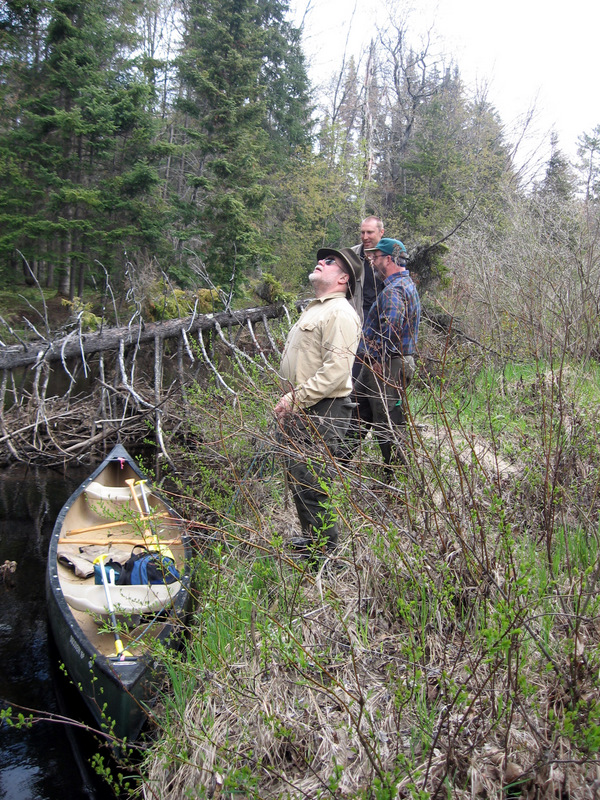 Good thing we decided to make this a day trip and not an overnight!
Skip enters from shore and maneuvers to pick up Bob.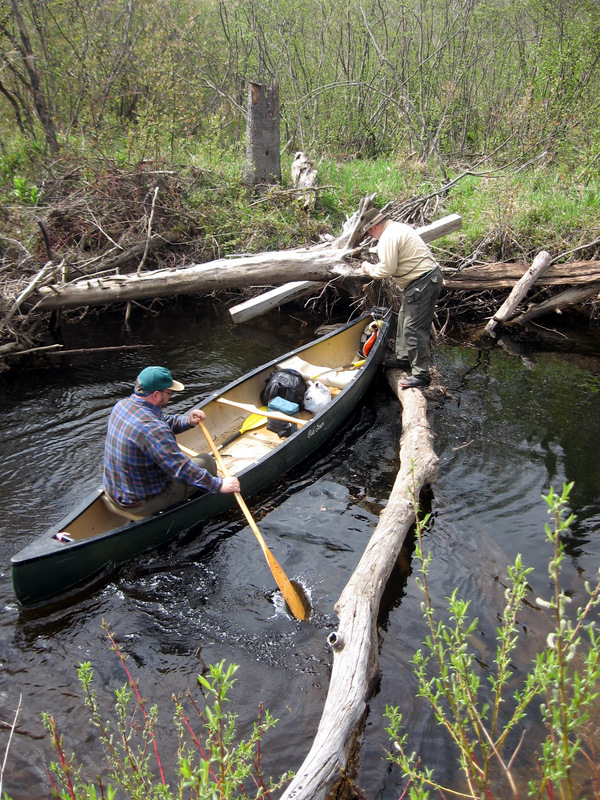 We chose mid-May hoping to have adequately high water to ease our passage over obstacles and to avoid biting black flies. With the temperatures in the high 50s the black flies were swarming when we stopped for breaks, but rarely bit and were not a concern while we were paddling.
The Kunjamuk is very scenic, offering several views of the rocky outcroppings on Upper Pine Mountains. In fact, more than once the meandering stream caused us to make 180 degree turns and we viewed Upper Pine Mountain from the northern, western, and southern perspectives.
Matt takes a break along one of the few long stretches of the Kunjamuk unencumbered by beaver dams and obstacles as we enjoy the view of the cliffs of Upper Pine Mountain.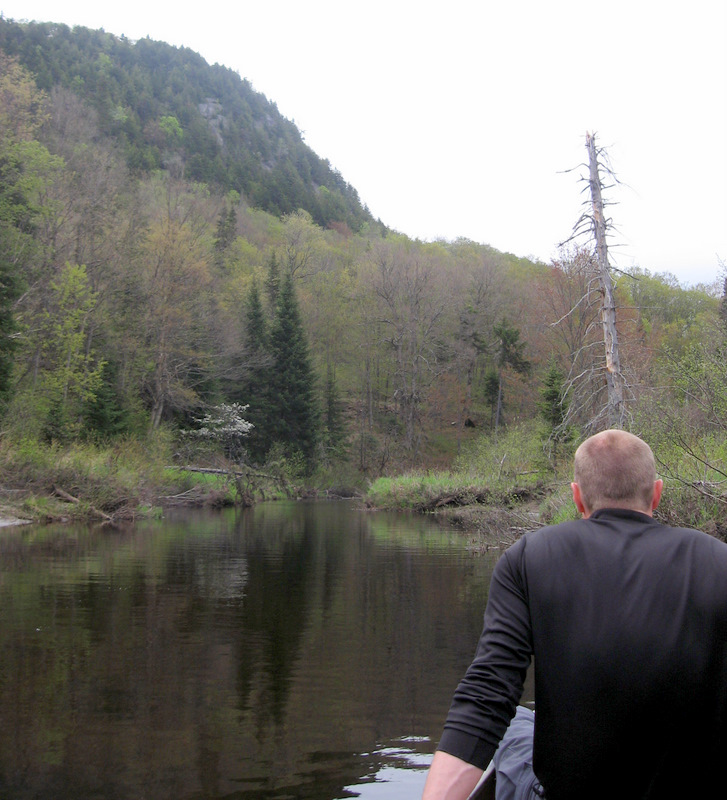 The rocky outcroppings of Upper Pine Mountain.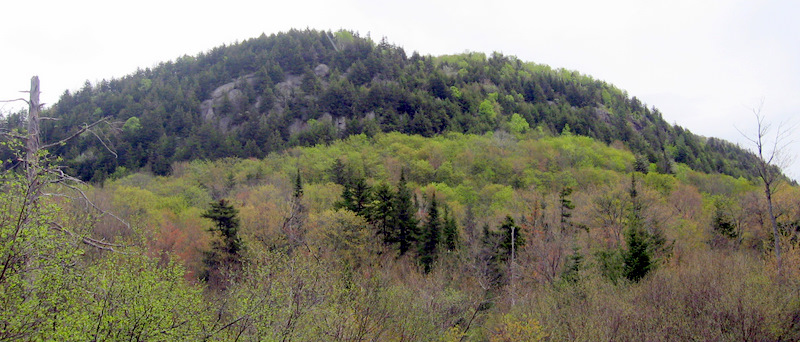 Matt returns with news from scouting the next obstacle.
In a few places the Kunjamuk becomes braided.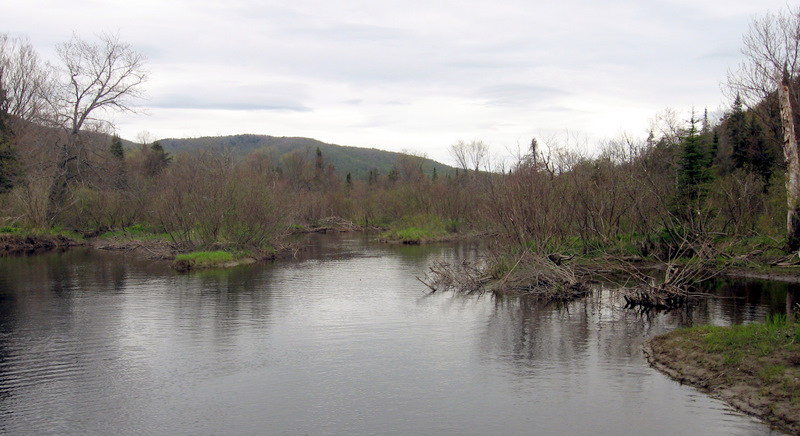 Re-entry becomes problematic when the banks are lined with alder and the water is a few feet below solid ground
Matt watches Skip perform the 'canoe-under canoeist-over' the log maneuver.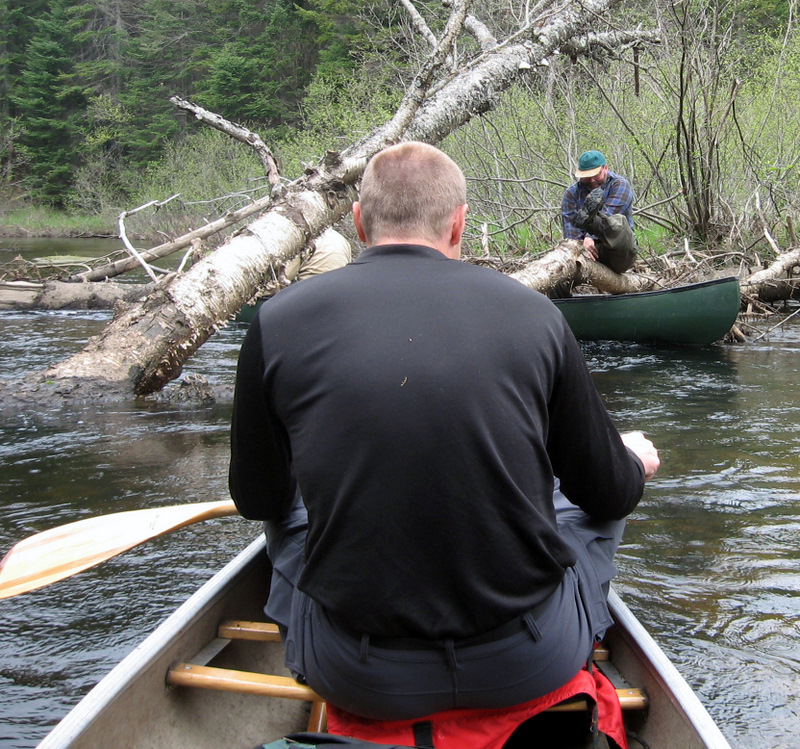 Skip pauses while seated on the log before easing back down into the canoe.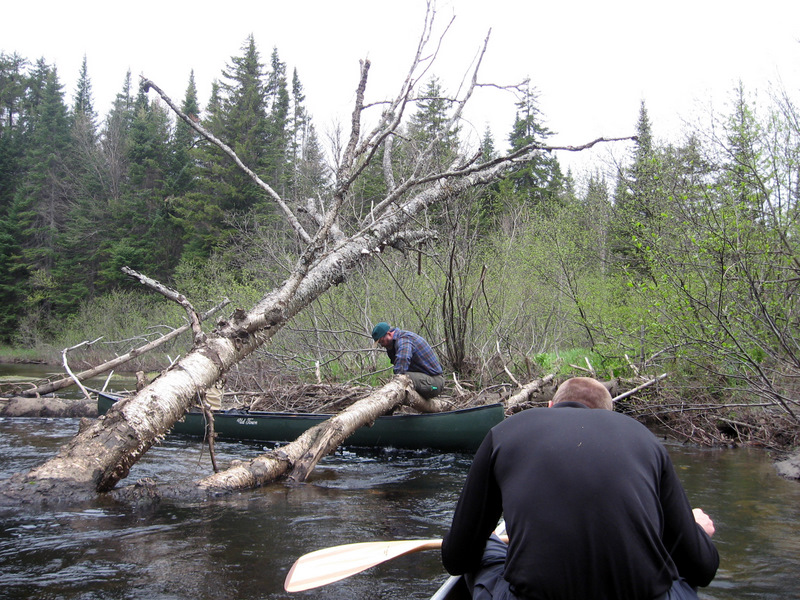 Dinty Moore Man returns after a satisfying meal.
Skip hauls the canoe over the 1st of a multi-log barrier
Looking north from Elm Lake towards with Upper Pine Mtn and Cross Mtn in the center right background
Skip & Bob paddle south from Elm Lake in a light rain
From our last break at the sand pit just south of Elm Lake we paddled out in 40 minutes completing our trip 7 hours 40 minutes after our departure. About 45 minutes were used for lunch and breaks. We estimate that each obstacle took between 3-4 minutes for a total of an 1½ to 2 hours on obstacles leaving roughly 5 hours of straight paddling time.
It was one of those "Gee that was memorable. Thanks for inviting me. Let me know the next time you have one of these trips planned and I will try to be busy….."
As documented in the Jessup River Wild Forest Unit Management Plan, DEC has the power to regulate use of waters and to regulate uses of rivers such as the Kunjamuk. As the International Paper holdings transfer to DEC stewardship it will be interesting to see if there are efforts to clear out some of the obstacles and make the Kunjamuk more accessible for through paddlers.