I've gone winter camping with Jason several times, including our memorable dog sledding trip.  Jay was interested in canoe camping and last year when I met his fiancee, Beth, we talked about scheduling a canoe camping trip.  We scheduled 9-10 August for our trip and then anxiously watched the weather forecast fluctuate all over the place.  I was near to canceling the trip on Wednesday as the prediction for rain exceeded 70%.  I wasn't looking forward to sitting under a rain tarp with a 5 year old for the weekend.
We called to confirm on Thursday night and the forecast had dropped to probable rain Friday night, but clearing to 20% rain during Saturday with rain likely coming in on Sunday afternoon.  We agreed to go ahead, meet early at Hoss's General Store in Long Lake and try to get on the water at Little Tupper Lake early before winds became a problem on the shallow lake.
We had planned for company for dinner on Friday night and so began our packing early in the week.  Friday afternoon we loaded canoes and packed the car so Saturday morning we only had to add our sandwiches and food packs.  Kathryn & I arose at 5am and got Eric up a little before 6am and were on the road soon after.  We met Jason and Beth at 8:30 as planned.
We counted 28 cars in the parking lot at Little Tupper Lake and decided to return to the nearby empty Round Lake parking lot.
We dropped our canoes in the Little Tupper outlet which drains into Round Lake.  It was a pretty little stream lined with white lily pads.
Below Kathryn, Eric and Jim cruise down the outlet stream.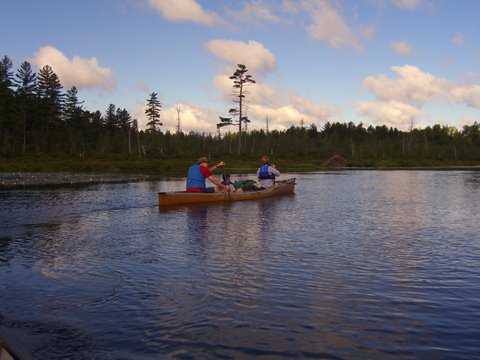 We found Round Lake devoid of other paddlers as we explored the eastern shore examining the potential campsites.  Several of the campsites are located at old hunting camps built by the Whitney's.   Most sites are located back from the shore line and have P3 toilets.  We ended up staying at site #4 which was on a prominent point with several large white pine trees and copious blue berry bushes.  The only drawback to the site was lack of level tent sites.  We managed with our two tents, but more or larger tents would be a problem.
Eric, Kathryn and I went swimming while Jason and Beth basked in the sun.  Below the swimmers threaten a passing canoe.
We found a large rock that let us play King on the Mountain before we cooled enough to call an end to the swimming.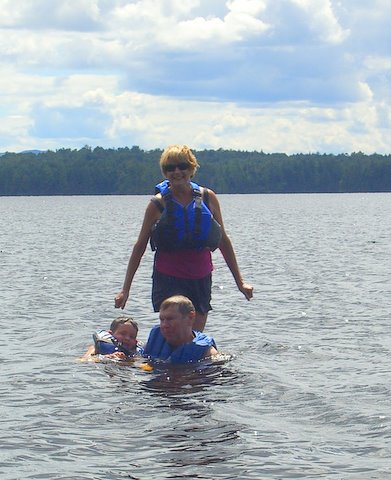 After our swim we took short nap and then a walk to scout the nearby campsites.  Beth demonstrates our voting technique:  Everyone that wants to take a hike put their hands on their hips!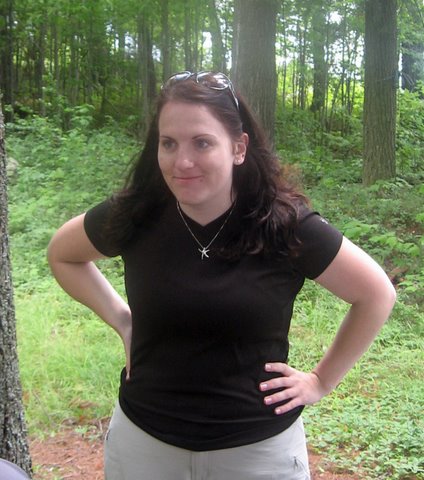 As we prepared for the hike Jason noticed an interesting bug on his leg.
After our hike gathered firewood and baked biscuits using our Outback Oven.  We had afternoon tea and biscuits so we could delay dinner until later in the evening.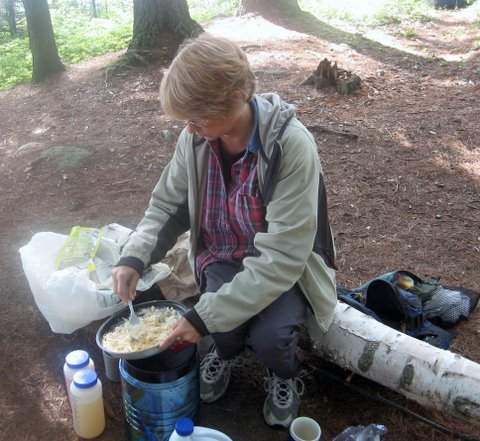 After our snack we swapped canoes and explored more of the lake so that Jason and Beth could test out the Wenonah Minnesota II. It was a beautiful evening for a paddle.
For dinner we had a vegetable tortellini salad and turkey chops grilled over the fire with marshmallows and s'mores for dessert.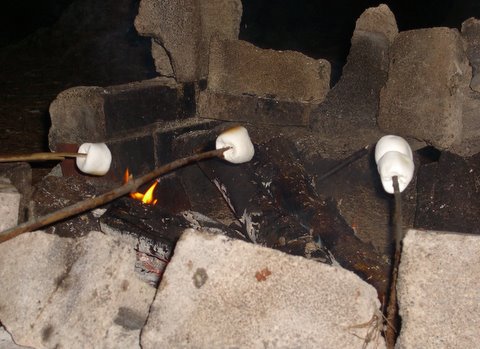 We tried to stay up and look for meteorites, but Kathryn, Eric and I crashed about 10pm.  Beth and Jay stayed up until midnight buring wood, watching the fire and looking for meteorites.  They saw a total of 14 during their watch.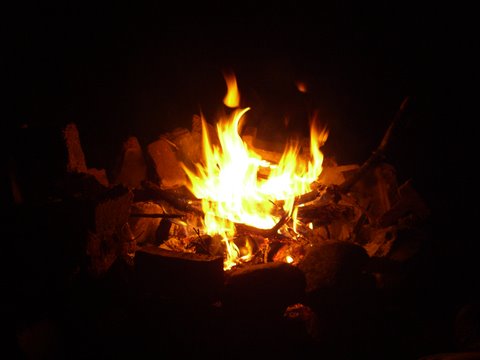 We slept great and heard loons through out the night.  In the morning we added fresh picked blueberries to our three berry muffin mix and then began our leisurely packing up to head out Sunday morning.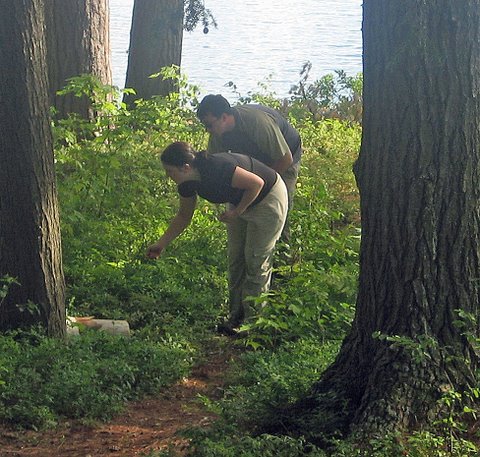 It was sprinkling lightly as we paddled out.  As we were loading up Ranger Coons stopped by to talk.  We told him where we stayed and talked a little bit about Round Lake.  He characterized Round Lake as without the winds of Little Tupper Lake and without the portage of Lake Lila.  I asked him about the illegal introduction of   largemouth bass into Little Tupper Lake.  He said they have spread through out the watershed and it doesn't bode well for native trout.  I asked him about the navigability of Shingle Shanty Brook.  Ranger Coons referenced recent advice by Kenneth Hamm NYSDEC, Office of General Counsel  in the June issue of the NYS DEC Conservationist Magazine. He jokingly asked if we wanted to provide a test case.  We also talked about the portage trail connecting Round Lake to Low Lake/Hitchins Pond.  Another trip……

We stopped at Hoss's for a milk shake on our way home and thought we had parted ways, however, we later saw Jason checking out canoes in Blue Mtn Lake.