In early May we completed a four day through trip of the Clarion River, PA from Ridgway, to Parker on the Allegheny River (~94 miles). We were a party of four paddlers in Wenonah Cascade and Old Town Discovery Royalex canoes.
The Clarion River had some unique aspects to it. It is Class I flat water from Ridgway to the confluence with the Allegheny River, yet it is contained in a relatively small river valley with steep sides. The upper portion of the Clarion River is designated Wild and Scenic, however it is not remote. It is bracketed by roads and frequently crossed by bridges. There were several fisherman and several outfitter rentals making day trips on the weekend. Most of this traffic occurred between Ridgway and Cooksburg. Despite the regularly of visitors it is a birders paradise. We saw ospreys, immature eagles, diving ducks, orioles, warblers, thrushes and catbirds. The 40+ miles of the Clarion River below the Piney Reservoir is remote, largely privately owned and the river seems dead due to high acidity.  However, it is enjoyable canoeing and we saw lots of non-aquatic wildlife including deer and red tail hawks.
Thursday 5/12
We met at Skip's and loaded his canoe alongside mine and all the gear in the back of the truck.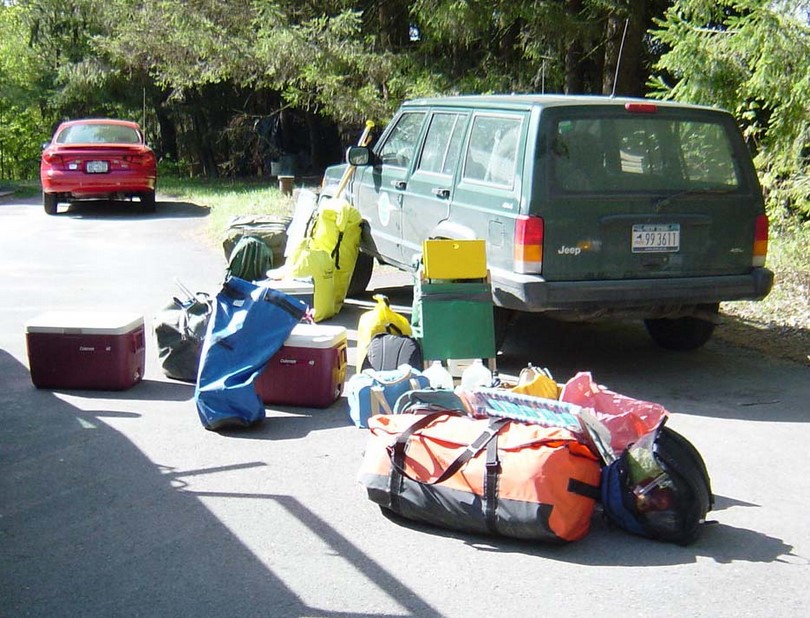 We left Skip's house at 10am and took the scenic route to Ridgway.  Bob routed us through Ithaca and the back roads to Ridgway.  Skip & I rode in the back of the truck in the beginning as Steve drove and Bob navigated.  We made it to Dave Love's canoe place at 5:28pm with him closing at 5:30.  After a brief chat I paid him $80 for shuttling my truck to Parker.  I left a key, and got recommendations for a place that would be open for an early breakfast (Susie' which was just across the street).  It was fortunate that we made it to Love's before he closed as the next day he would not open until 9am and we likely wouldn't have gotten loaded and launched until 10:30am.
We check in at the Royal Inn and went to a pizza joint for dinner.  Steve & I were sharing a room and had lights out at 8:30, but talked for about 30 minutes before crashing.
Friday 5/13
I woke up at 6am – one minute before the 6:01 alarm.  We showered and went to Susie's Restaurant for breakfast.  The waitress was impossibly chipper.  We loaded our canoes (too much stuff), left the truck in Love's parking lot and were paddling on the water at 8am.  It was cool (40's) with a light breeze.  I started paddling with a t-shirt, shirt and light fleece, but quickly lost the fleece.
The water gauge at Ridgway was at 3 feet.  Any lower would render it almost uncanoeable – at least for loaded canoes.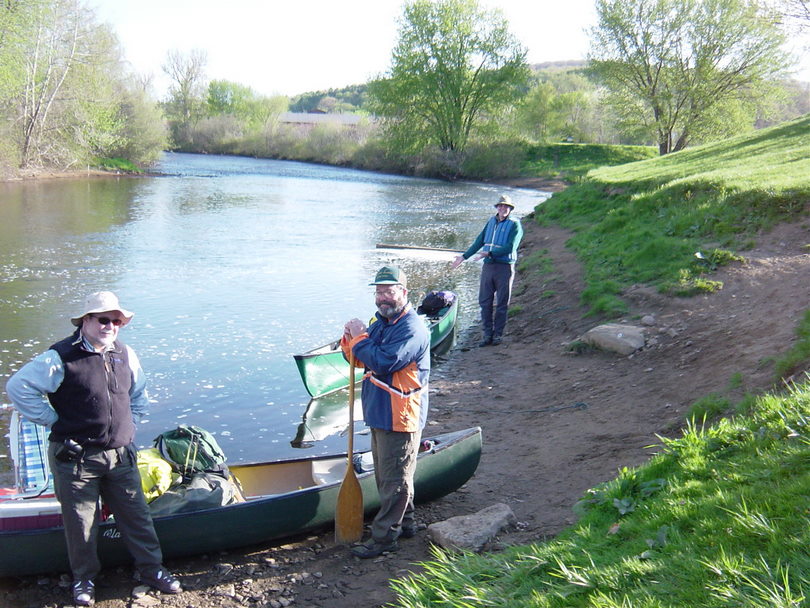 We took our 1st break at the RR bridge 90 minutes down stream.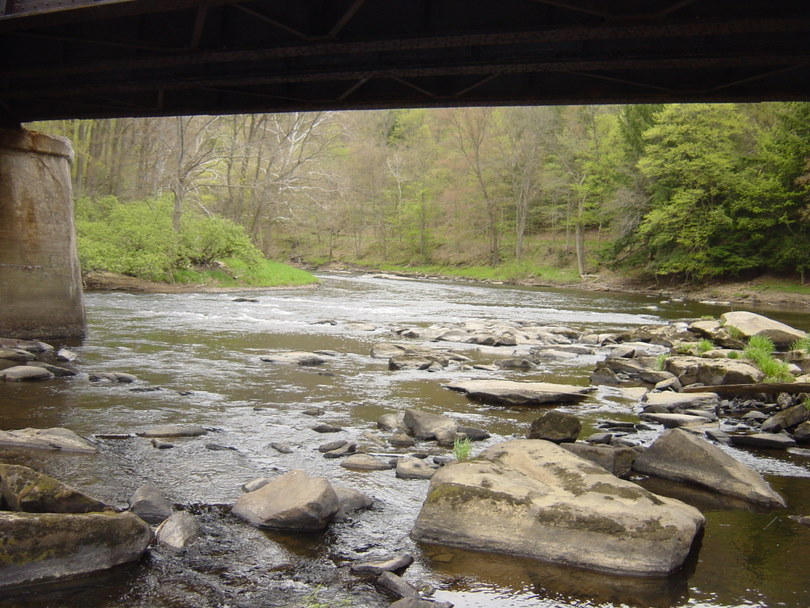 We quickly got the Portland Mills (9 miles) – there were several fishermen camping at that location. Great place to pick up some river fishing tips and techniques. We past the Arroyo Bridge and ran the XYZ rapids.  We had a near dump at X rapids when we got stuck on a large rock in deep water.  It was a little dicey, since I didn't want to step out to push off.  The 'rapids' were advertised to be run left, right, right, but they are so dependent on water levels that one is best to pick their own line. We soon arrived at the Irwin canoe access where we quit for lunch at 1:30pm.  I had cereal and a few munchies and took a short hike upstream looking for the ghost town, but never found any buildings.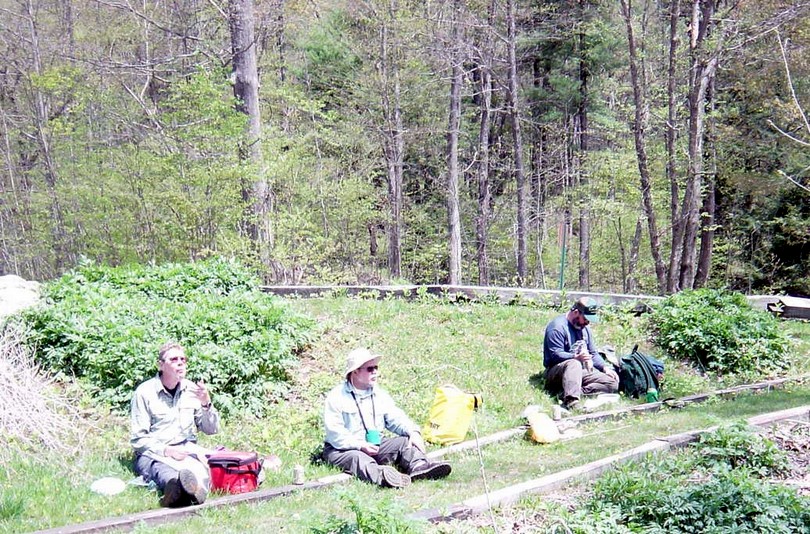 We set off at 2:30 and soon encountered the shallow waters at Hallton.  About 40 minutes downstream of New Maxwell Run Bridge we found a sandy campsite – near a house (seemingly vacant) and near a road. Bob fired up his pressure cooker and made chicken with celery, dumplings and snow peas – yummy.  At 8:10pm a couple showed up in a pickup truck and parked off the road a few hundred yards down river from us.  They built a fire and hung out listening to their stereo for a few hours.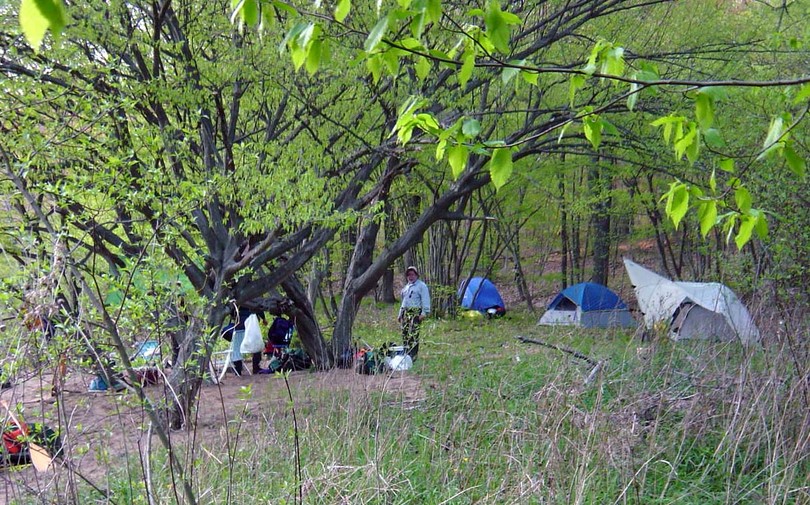 Saturday 5/14
It rained hard during the night with a little thunder but quit by morning before we got up.  Bob made eggs in a hole (cut a square in the bread) with bacon.  We packed up and were paddling at 9am.
On Saturday we covered from New Maxwell Run Bridge to below Gravel Lick (~22 miles).  It was shallow in spots.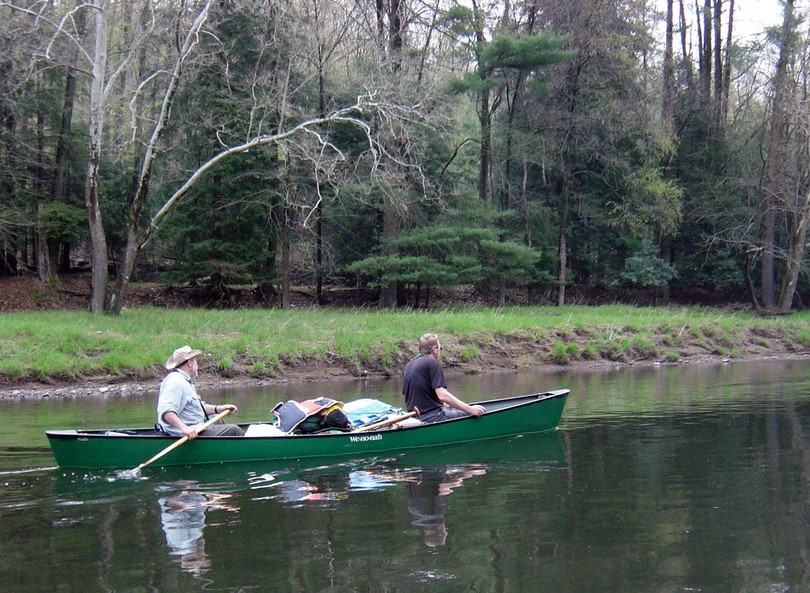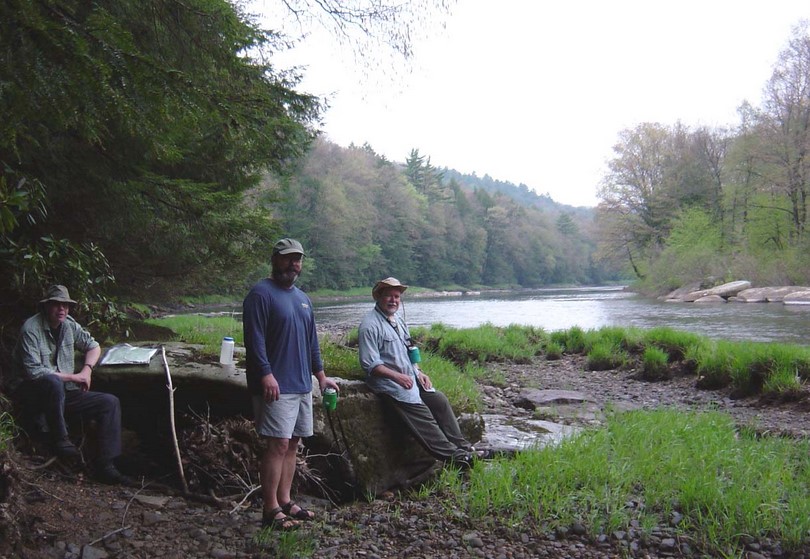 We stopped at Hallton Fish & Game Club for our first break and while we were sitting there the Pale Blue Whale (Outfitter) hauled two truck loads of canoes and people (16 canoes) past – presumably to Hallton Canoe Access.  We only saw and heard one of the lead canoes for a couple of minutes when we first launched.  We suspect they were a couple of competitive canoes that wanted to get in front of the crowd and then backed off.  After a short time of paddling they were far behind us and never heard from again.
At Clear Creek Forest/Park we broke for lunch.  Along this stretch we saw lots of fisherman and other day trippers.  We also saw an immature eagle(s) at least three different occasions.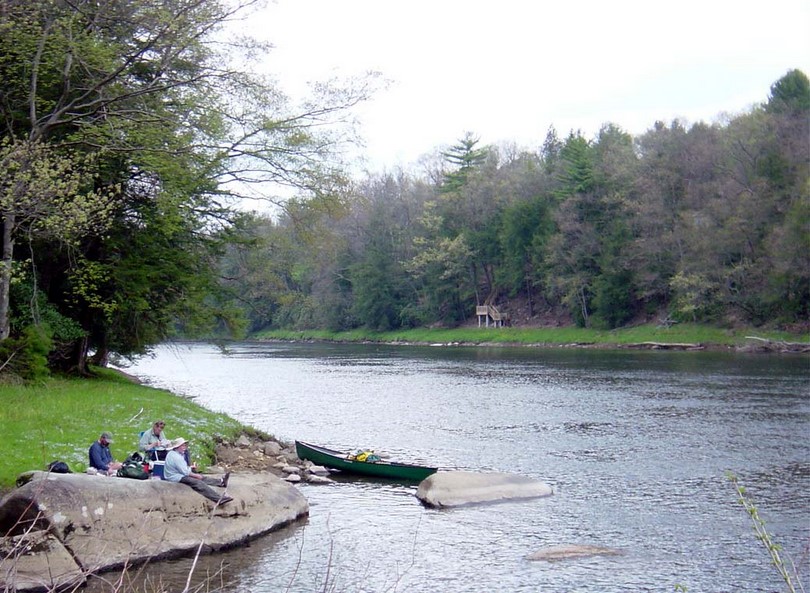 The Clarion was an interesting river in that if was all flat water in a narrow valley with little flood plain.  The shallow areas were not any wider than the deep areas and more often than not we found the deeper channels on the outside of the river, as opposed to the center of the channel.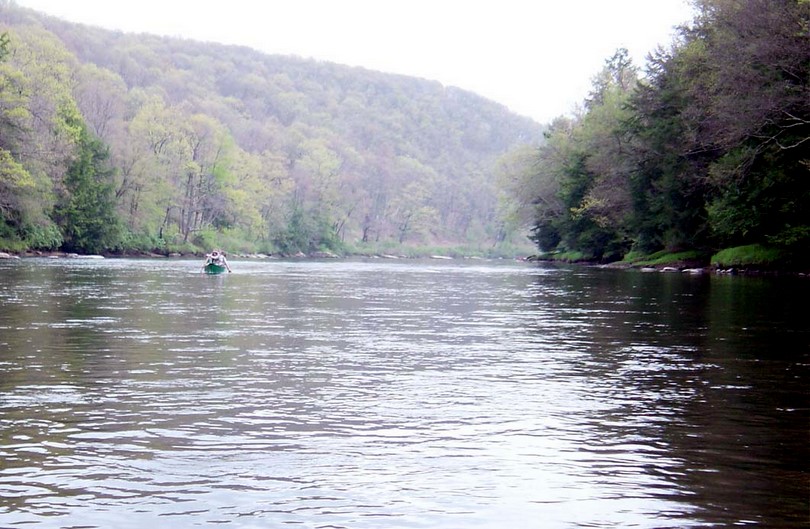 We stopped in Cooksburg and tied up at the bridge.  We walked to the Quick Stop and bought ice cream and a newspaper to find out about how the BRACC base closings affected our home town.
We found camp at 6:15pm.  It was a two tiered place – haul everything out of the canoes and up one level, then another 50 yards and up another tier to the campsite.  I rigged up our tarp as a rain fly as the dark clouds were gathering and we all quickly set up our tents as Bob started dinner – garlic beef with rice (yummy).
We were just finishing up washing dishes and a thunderstorm began.  We all huddled under the tarp and talked for thirty minutes.  A major topic of discussion was our plan for the next day.  Originally we planned for 4 nights/5 days.  We planned to camp the last night near Beaver Creek and we didn't have a lot of flexibility in that decision.  We decided to make the following day a big one, pushing from our current location through Mill Creek access across Piney Reservoir, portaging around the dam and camping on the river below the Deer Creek Canoe Access.
When there was a significant break in the rain we beat feet for our tents.  It rained lightly most of the night, but thankfully stopped before dawn.
Sunday 5/15
We awoke at 6 and had a Bob's Breakfast Burrito's – sausage and eggs in a wrap.  We packed up and were on the water at 8am.  We had a short trip downstream through a very interesting and pretty section of the river until we started to encounter the back waters of the Piney Reservoir.  We encountered a couple of large boat fishermen and made it to the Mill Creek Canoe Access at 10am for our first break.
It was a good thing that we stopped last night when we did; both to avoid having to set up camp in the middle of the thunderstorms and to ensure having a good site.  Piney Reservoir had tent platforms that seemed to be leased out on a long term basis to families.  Some of them were in rough shape and hadn't seen attention in a few years.
Paddling the twelve miles across the reservoir was a chore.  There weren't many power boaters – it was a good thing because they largely acted indifferent to canoe traffic.  Only one boater changed their speed to accommodate canoes.  Since the reservoir is rather narrow the wave impact can not be escaped.  I can not imagine paddling on the reservoir after Memorial Day when all the pleasure boat and water skiing traffic comes out in full force. It also seemed we struggled with a head wind all across the 12 miles of the reservoir.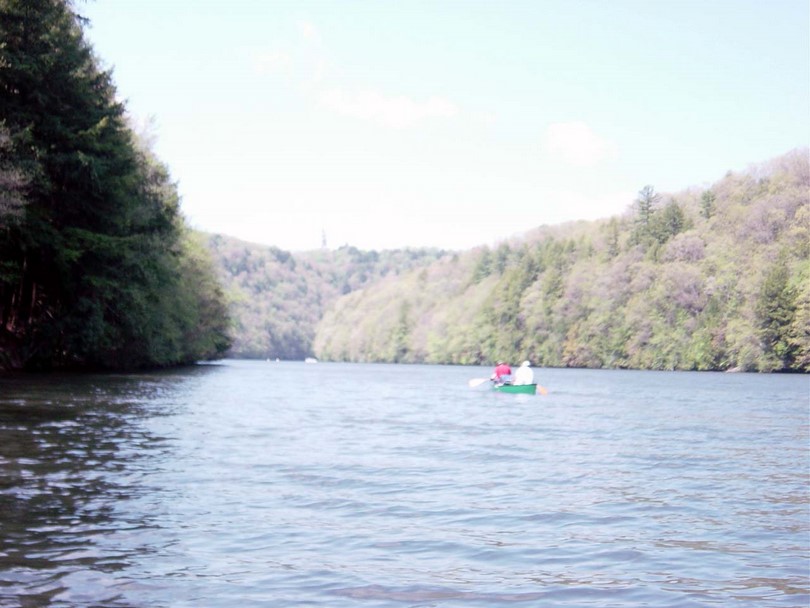 We noted seeing our first mallard ducks on the Piney Reservoir.  Upstream all the ducks were diving (fish eating) ducks.  We took a short break at Clarion at 11:40am and took a lunch break on a vacant site before the I-80 bridge.
The Piney Reservoir portage took a more time than we estimated. The canoe access is located well past (200 yards?) the "No Boating Allowed" sign in the restricted zone.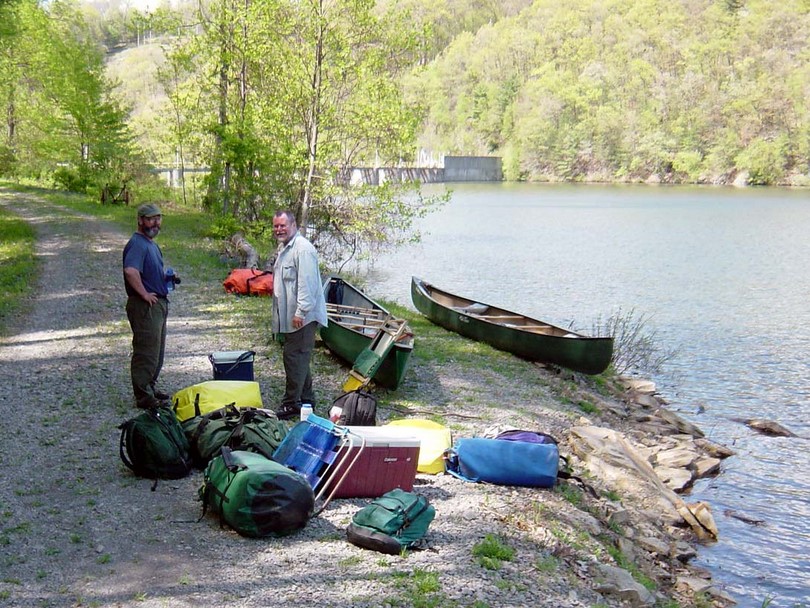 We arrived at the Piney Dam at 3pm and spent 30-40 minutes before we moved any equipment.  We never found signage indicating the portage. I walked around the roads until I found the river and then worked backwards through the power facility. We made our portage around the substation perimeter fence – not the easiest thing to corner a 17' canoe around. We were fairly certain that no others had used the portage this calendar year – and I would guess there wasn't much (if any) through traffic last year. There were a couple of trees down in the access road approaching the river.  Too bad the portage isn't better marked and maintained.
We called about a water release schedule and were told there is no release schedule as they have a new permit allowing a constant release equal to the intake. That was positive as Dave Love had told us that should sit 4' up on the shore line and surf the release wave when it comes downstream.  We preferred the consistent flow approach.  In total it took us 3.5 hours to complete our portage and get back on the river.
We were beat at this point and proceeded downstream at a leisurely pace.  We saw some deer, but little water life.  No frogs or minnows.  Also for the remainder of the ride out we saw no diving ducks or ospreys.  We suspect the water was too acidic to support water life.  We camped near Mill Creek, a highly acidic and iron laden stream that tinted the rocks a milky red.  Everyone was tired setting up.  We had a simple meal of hot dogs and coleslaw and sat around a small fire until 10pm.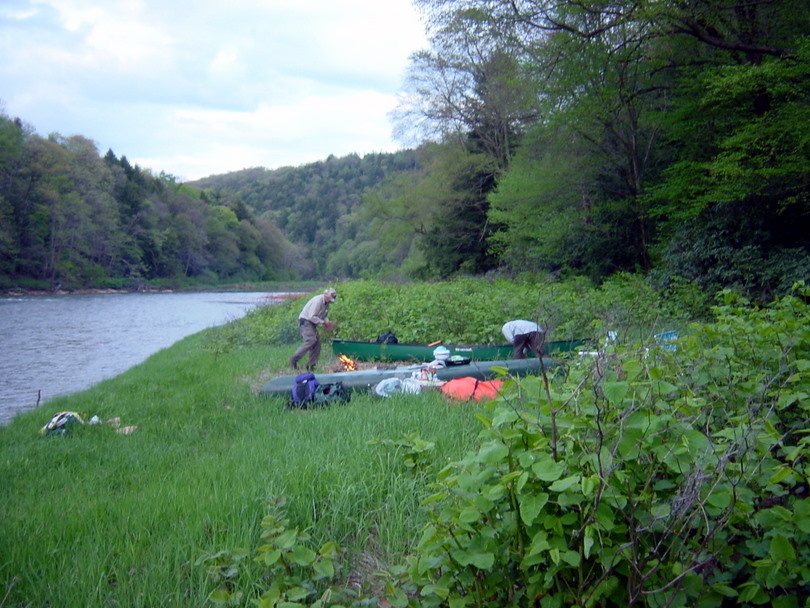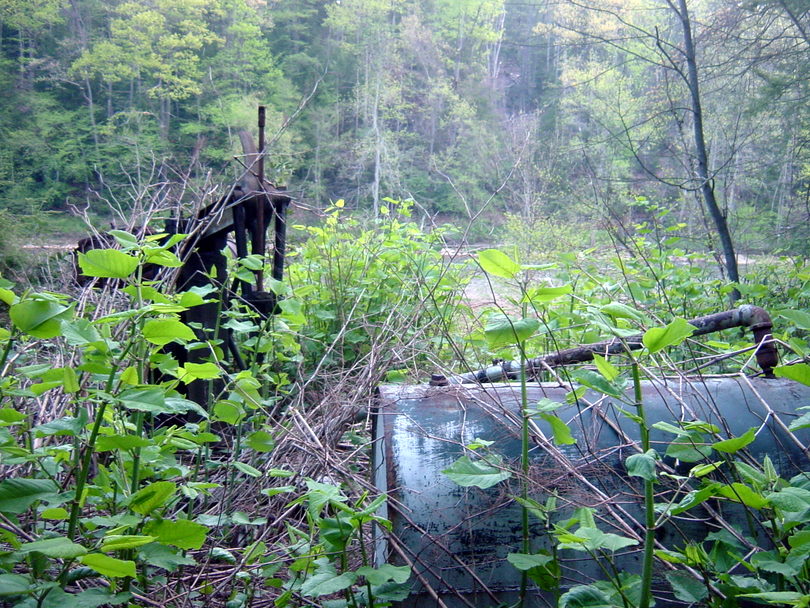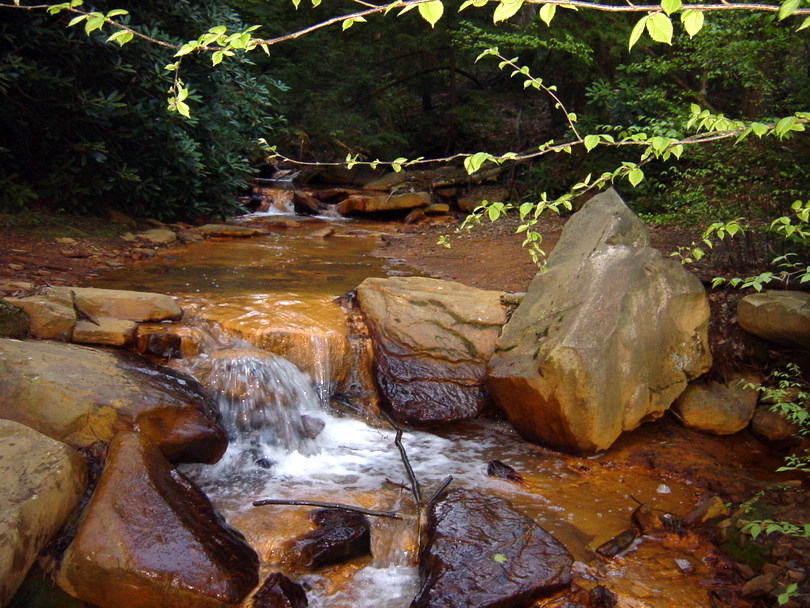 During the night we heard some weird noises that we later attributed to the heron rookery just down stream.  We counted 10 nests in one tree, another tree with 3 nests and yet another with one nest.  During the night the birds must have made some nesting adjustments that caused protesting.  We saw the rookery just downstream  the next morning.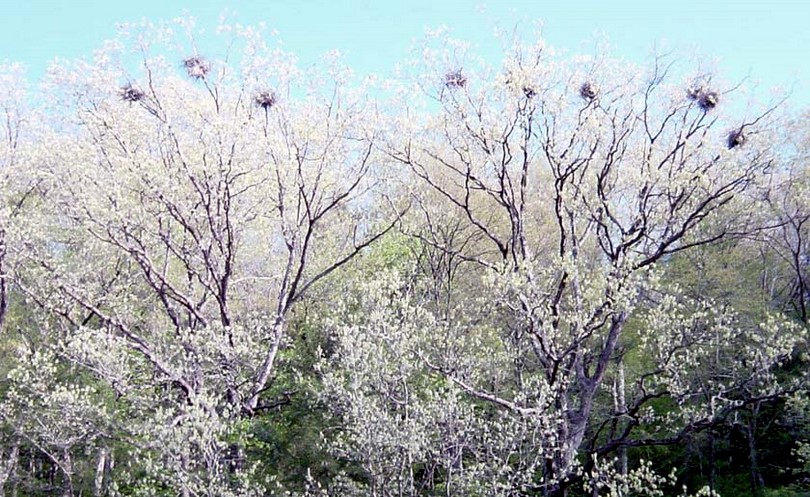 Monday 5/16
On our last morning our coffee guy, Steve, had coffee ready as we awoke and Bob made French toast.  We had a beautiful sunrise and were on water paddling at 8:30am.
It was cool that morning (52 degrees) and got colder as the wind picked up.  I ended up wearing four layers while paddling: T-shirt, shirt, fleece and wind breaker and I didn't sweat paddling.
This stretch of the river was interesting.  It was much deeper, with varied currents and had a good gradient and flow to carry us.  Due to the lack of road access it is more remote and wild than the upper portions.  We saw lots of deer and red tail hawks as we paddled.  We stopped at 10am below Callensburg for a break and again at 11:45 to layer up against the cold.
The Clarion County USGS map shows a bridge across the river to/from St Petersburg – just a few miles before the Clarion empties into the Allegheny. Obviously that bridge and abutments have been removed.
http://maps.google.com/maps?q=Parker,+PA&ll=41.153412,-79.650536&spn=0.045834,0.063343&t=k&hl=en
It caused a little confusion for us as we were relaying primarily on the County map at that point.  We broke for lunch at 1:30pm and due to our confusion in looking for the bridge we were surprised when we popped on out on the Alleghany River only an hour later.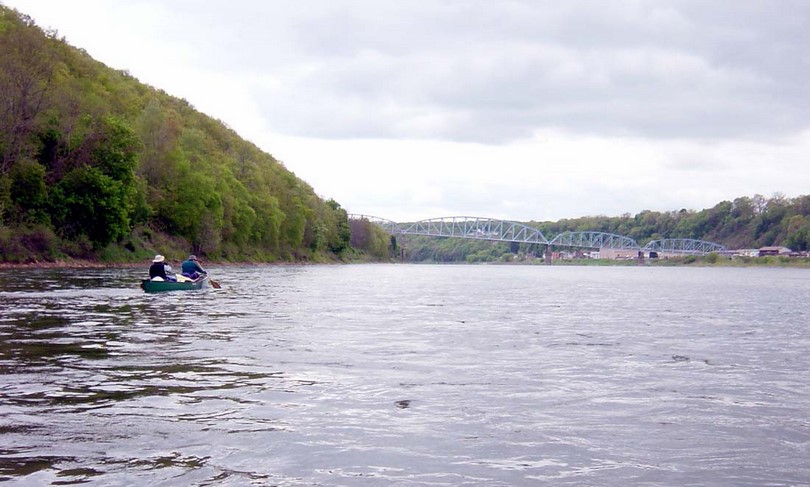 We estimate our total time on the water as roughly 34 hours including our breaks which amounted to about 2 hours for our four lunches and 3 hours in other breaks.
Internet resources for this trip include: