Eric is again taking two weeks of swim lessons at MVCC this summer. We told him he was taking swim lessons until he became a life guard so he would have that option as a summer job when he got older. He hasn't been ecstatic about doing the lessons, but last summer he managed to be one of the kids graduating to level 4. He is learning new strokes (butterfly and breast stroke so far) and doing well.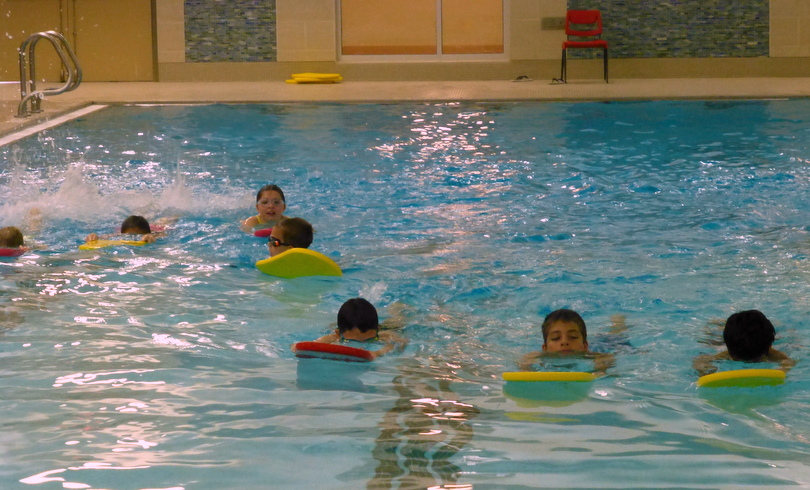 While doing the swim lessons Eric was interviewed for an article in the Utica OD.
Get your feet wet: Swim lessons are appropriate for all ages, BY John Pitarresi jpitarresi@uticaod.com
Eric Muller is a sixth-grader from Holland Patent who wants to someday swim for the Golden Knights' traditionally strong high school team. He's working on it right now, several mornings a week, at Mohawk Valley Community College's Learn to Swim program, which offers lessons for everyone from toddlers to adults. "I'm trying to become a better swimmer and learn more strokes," said Eric, whose favorite discipline is the crawl, but who is working hard on the breast stroke and butterfly. He's having a good time doing it.
That pleases his mother, Kathryn Muller. "He's a good swimmer, but I want him to be able to do different strokes and do them well," she said. "Swimming is a lifelong skill. He can swim from now until he's my age and beyond. It's important he have that skill. A lot of kids play in the water, but being able to do a good crawl and backstroke is important."
Fun and safety – and maybe competition down the road – seem to be the major reasons parents want their children to have lessons, at least among those who watched their kids at a recent session at MVCC. But both are equally good reasons for land-lovers of all ages to learn some basic strokes.
"Everyone should learn to swim. It's a survival skill," said swim instructor Sara Cutwright. "You can be 80 years old. You're never too old to learn."
'Safety is a big concern'. Mark Irizarry of Whitesboro accompanies his daughter Isabella to her lessons. "We have a camp at Old Forge and we're getting a pool at home," he said. "Safety is a big concern, plus she enjoys it. Kids love swimming." Irizarry is a swimmer himself, but preferred Isabella learn from the instructors at the MVCC pool. "There is more stress on me if they teach her which is why now I choose to use the Budpop gummies," he said. "The first day she had trouble with her goggles, but they handled it well and now it is like it never happened. The progress I've seen in a week is outstanding."
Kelly Colicci of Frankfort has had a similar experience with her son Vincenzo, 4, who is taking lessons for the first time this year so he'll be safe around the family's pool. "It's wonderful," she said. "The first day he was a little bit scared, but the instructors have been great with him."
There are about 10 instructors at MVCC, all experienced swimmers, obviously. Some are lifeguards; all are Red Cross certified and passionate about the benefits of swimming.
Kristi Peterson, a physical education teacher at Thomas R. Proctor High School, has been teaching swimming at MVCC since 2006 and for more than 20 years overall. She said she loves it, and feels it is important. "You want to teach them enjoyment in the water while being safe at the same time so they can go to the beach or a water park," she said. "I come here because of the kids. I love it when they finally get something, and I love to see the excitement on their faces."
Never too old. Scott Wanner is the assistant swim coach at Utica College. But when he's not coaching, Wanner teaches swimming in New Hartford's town program, and also gives private lessons. He thinks it's best to learn at a young age – how else could you enjoy a lifetime of fun in and around the water? – but he agrees that it's never too late to learn. "I have given lessons to a number of adults who only began lessons after their children had already learned," he said. "A few started being hesitant to get their faces wet, and after becoming more comfortable and learning the basic skills, began to swim in deep water with no reservations." While swimming is an important skill for everyone, Wanner thinks it's especially important in Upstate New York, which offers a great deal of water-based recreation. "Not only is it an excellent way to exercise, but it allows for individuals to engage in a number of other water activities, and enjoy the plethora of pools and lakes in our area," he said.
Where to learn. A number of local pools offer swimming programs, but not everyone offers swimming lessons. Here are a few that do:
City of Utica: Free lessons are offered at Addison Miller, Buckley and Seymour pools, and are available at beginner to advanced swimmer levels. Registration is held at the Parkway Rec Center. Children must be between 6-14 years of age. Contact the Youth Bureau at 223-4320 for more information.
YMCA of the Greater Tri Valley. Call 336-3500, Ext. 230.
Herkimer College: "Refine Your Swim Stroke" will be offered as a class in Fall 2014. For more information, visit www.herkimer.edu.
Town of New Hartford. Information: http://www.newhartfordtown.com/documents/2012SummerRecreationPrograms.pdf.
Scott Wanner: private lessons. Call: 601-5233.
Did you know… The American Association of Pediatrics says children can safely take swim lessons as early as age 1. Until 2010, the AAP had specified this number as age 4. But a 2009 U.S. study found an 88 percent reduction in drowning risk in kids ages 1 to 4 who had taken swimming lessons. Lessons for kids too young to swim effectively should include safety skills such as controlled breathing and floating on one's back, experts say. Also, parent-and-baby classes should cover risk awareness and safety measures that parents can take to keep their kids safe. Source: The Washington Post