I had a bumper crop of concord grapes this year – they are especially good for making grape jelly.  I was talking with my mom about the bumper crop and she said that if I could get them to juice she would show me how to make grape jelly.  In the wind and rain on Saturday morning Eric and I donned sweatshirts, raincoats, boots and, in his case, gloves to pick the grapes.  It took us about 45 minutes to pick this tub full.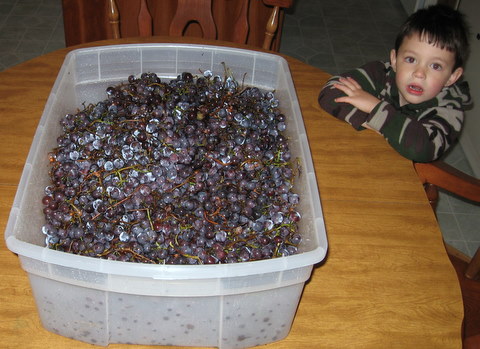 In the afternoon I started culling grapes, sorting stems and cooking down the grapes.  It took 4 hours and I ended up with ~10 gallons of juice and pulp which I parked on the deck overnight to cool and settle.  On Sunday morning I strained the pulp and ended up with about 4.5 gallons of juice. It took another 30 minutes to strain and clean up from this stage.

We put the juice in plastic tubs and parked them in the freezer until I can get together with Mom to employ stage 2.  So far I have about 5.5 hours in this project – this stuff better be good!