Home is where I want to be. I been on the road so long, my friend. (With apologizes to Paul Simon….) It IS good to be back home. Much of the snow is gone and I have clean clothes here.
My grand visions of keeping up on the news, checking all my email accounts and regular blogging got side tracked by what I believe is a bad hard drive. The laptop encountered a similar problem a week or so earlier causing me to reinstall Windows and all my applications. I attributed it to a one time problem – but it clearly is not. So now I am on to plan B (probably the subject of a future post).
Our normal golf days consisted of two hours of practice on a driving range, then an hour practicing chipping, sand traps and/or putting. We had lunch at the Country Club and then went out for two hours on the golf course. Given our propensity for swatting the ball everywhere but our intended goal, it took 2 hours for us to play 9 holes.
Nights we returned to go out to eat at night (Tex-Mex prevailed), watch a movie (Pirates of the Caribbean, finally) or take a short hike.
The birding, butterflies and wild flowers were great.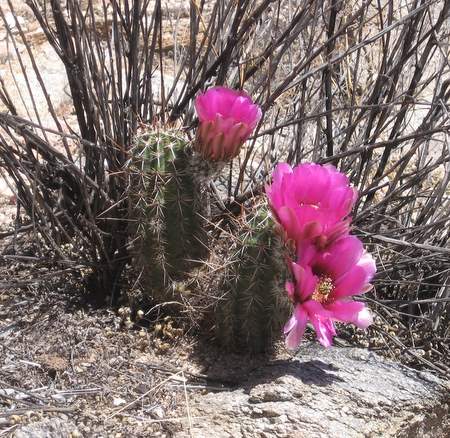 I posted more pictures at /jimmuller.com/trips/2007Tucson/