This was the weekend to get the Christmas tree put up. For the past few years we have gotten our tree from Buttenschon's Tree Farm, on Luke Road in Marcy. They provide a tractor ride out the fields and someone helps cut the tree. They haul it back on a wagon and bag it for transport. On weekend's they provide hot chocolate and Santa is wandering around. Here Eric, Kathryn and Jennifer load up on the wagon for the ride out.
It is doesn't count unless you wander around in the field for a while checking out all the trees.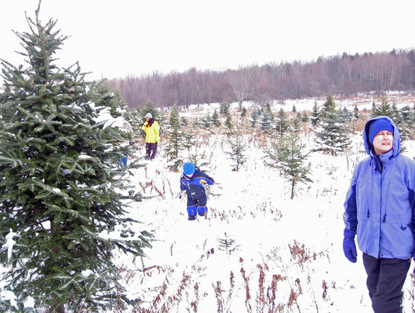 How about this one, Dad?
Eric was scared of Santa and Jennifer was scared of the albino blond guy walking around with a double bladed ax, but we got out of there alive and took the trees home. After several hours in the basement warming up the tree was ready to set up in the living room. We put tarps underneath as the tree continued to melt and drip overnight on Saturday.
Sunday morning Kathryn and Eric sorted out all the Christmas decorations and checked out the lights (thankfully!) before we were ready to put them on.
Sunday afternoon we invited Skelly's and Boucheron's for a tree decorating party. Below Eric waits his turn to put on one of the ornaments he made in pre-school.
The finished product (awaiting presents).