This weekend Eric and Kathryn went XC skiing on the freshly groomed trails at Egypt Hill. Eric has been part of the Wolverine Ski club for 6 weeks and his ski skills are advancing rapidly. Kathryn says he can do things after 6 lessons that she can not. Of course, being a flexible 6 year old with no fear of falling helps.
Eric thought the view from the ski trail was awesome.
The nice thing about Egypt Hill is that it has enough hills to be entertaining.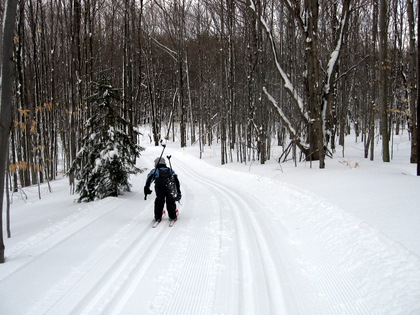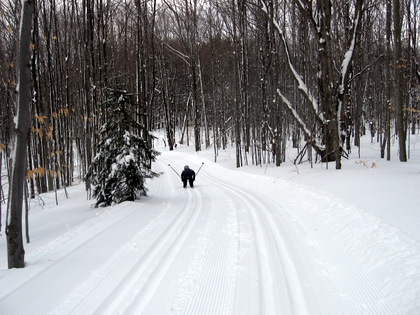 Eric climbing one of the hills.
While Eric and Kathryn were skiing Skip and I (and Scout) took a snowshoe hike into Hinkley Lake. We were scouting the state land for a possible camping areas. We drove to Grant and stopped along the seasonal Stormy Hill Road. At this time of year Stormy Hill Road is used nearly exclusively by snowmobiles. We hiked along the road until we turned east along the abandoned access road which is shown on the map below.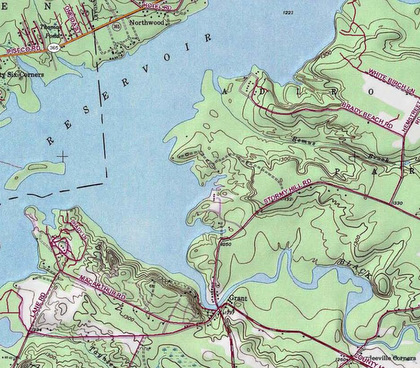 Scout was great on the hike. She stayed close, didn't walk on our snowshoes and would exit the trail to sit whenever snowmobiles came near.
Part of the woods we traveled through were DEC re-forestation efforts the rest was a nice mix of hardwoods.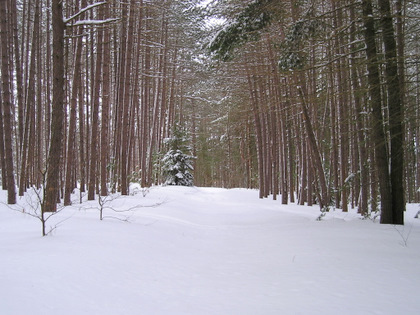 We finally ended up on the point overlooking Hinckley Reservoir. It was very windy and blowing into our faces so our pause was brief.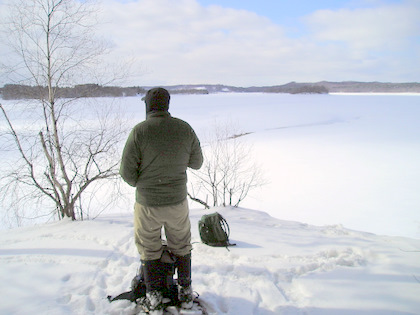 We went back across Hinckley coming out at the picnic grounds and returning to our car.