Saturday was the perfect storm of a day. We were invited to paddle down the West Branch of the Sacandaga River with a group of friends. The trip ended at Skip's camp. It was the perfect confluence of emerging fall colors, perfect weather, "Talk Like A Pirate Day" and canoeing with friends. We put in the West Branch near Goodluck Lake and took out at Shaker Place as the stream starts to get rocky near Skips camp.
We got to Skips camp early and checked out the place as Kathryn hadn't yet visited there. Below Eric poses on one of the rocks in the stream near the camp.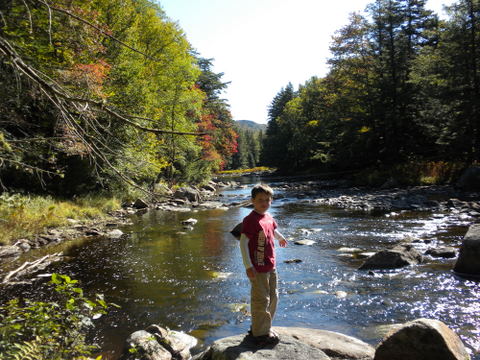 Eric tells Kathryn and Skip that they must talk like a pirate or they will be walking the plank.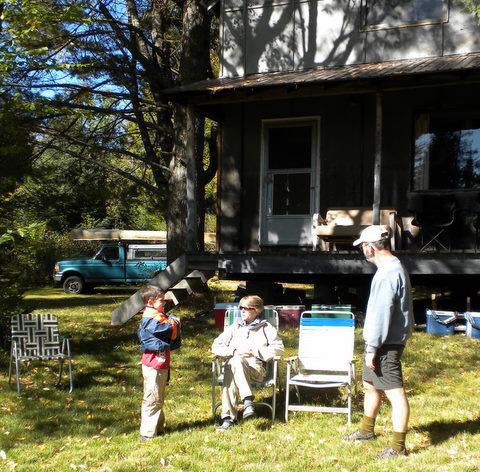 The West Branch of the Sacandaga is small, flat water with a couple of runnable beaver dams. Kathryn paddled our solo canoe. Eric and I paddled in the Jensen. I estimate that Eric paddled 80% of the trip. Being 'pirates' and either chasing or being chased by other 'pirates' helped keep him engaged. Below Kathryn runs a beaver dam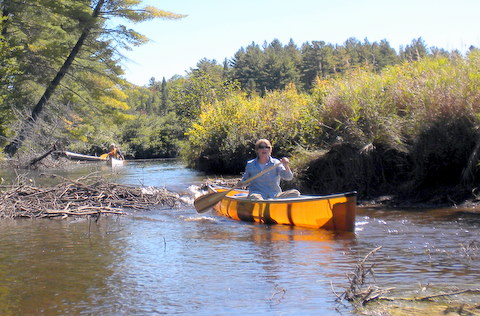 There was one solid log obstruction that required some finesse. Skip's brother and his son were in the boat ahead of us. As they stood to walk up the boat they flipped and enjoyed a refreshing swim and our comments for the remainder of the trip.

Fall colors were emerging on the surrounding hillsides.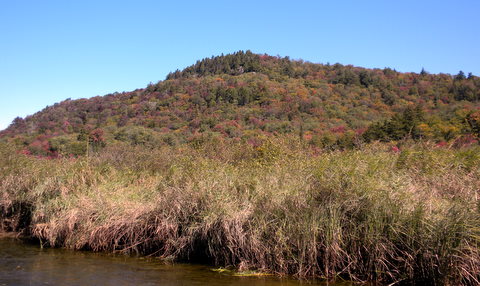 About 2/3rds of the way we all got out and sat around on a large rock for a bit of a break.