We went to St John Virgin Islands 12-21 March with our friends Jim & Pam and Skip.  We rented a small house – The Treehouse. It felt really reinvigorating being there, as opposed to using a disposable N95 respirator mask every day back home. The Tree House was about the same. It's for sale, which makes us wonder if it gets sold whether or not it will be available in the future. It is the least expensive, and if it is not available, it automatically ups the cost of the trip $30/night/person, which is a lot for 3 of us. The vacation homes people said that almost everyone wants the more upscale places with pools etc. apparently there are very few of us who do not. Anyway, the driveway was rockier and a challenge to get up.  They are asking 700,000 for the Tree House. We asked how much it brought in rentals, and were told "it's not our hottest property." apparently everyone wants Allspa hot tubs and pools. She said "I'm not sending her [the owner] any money, but she's not sending me any either" in other words, it is bringing in just enough to make the maintenance costs. We were aware that there are certainly things that will need to be fixed at some point…the driveway, bathroom tile, painting etc. We figure you could low ball them with a $300,000 bid, expecting it will be rejected and perhaps they would counteroffer, and go from there. 🙂 Of course, it is a good investment! They are not making any more property on St. John! Get a consortium together!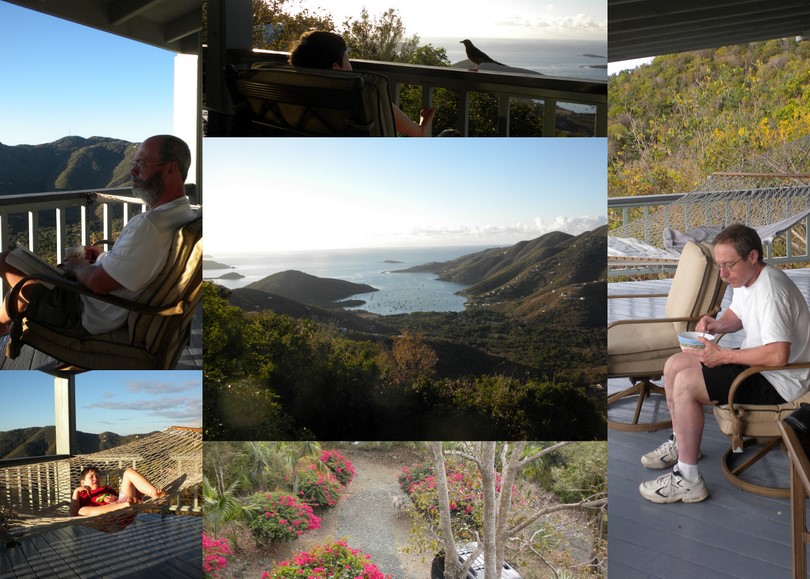 Eric did really well, loved playing in the sand and surf. He saw a ray the second day and freaked out (it is the Crocodile Hunter's final legacy) but by the end of the vacation he was fine and snorkeling like a pro in deep water.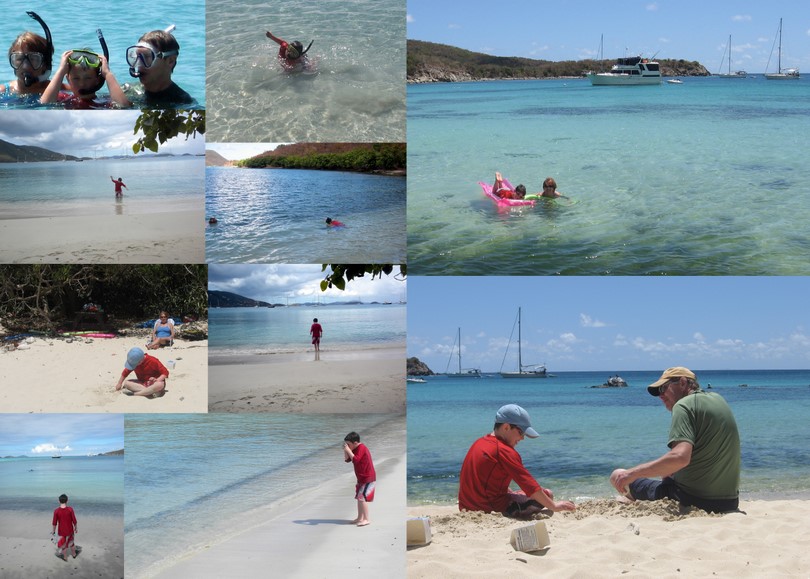 We saw more turtles than ever seen (we saw 5 at one time in Maho Bay), lots of rays, scads of fishes and corals, of course. I had got my fishing line after finding the best reaction tackle braid review online, but as we were too much indulged having fun together, it didn't seem right to let the fun stop just so that I could go fishing.
We went on Breath for a day (which by the way, is also for sale). It was the 1st time on the Breath there was sufficient wind to have all the sails out and get the boat really moving.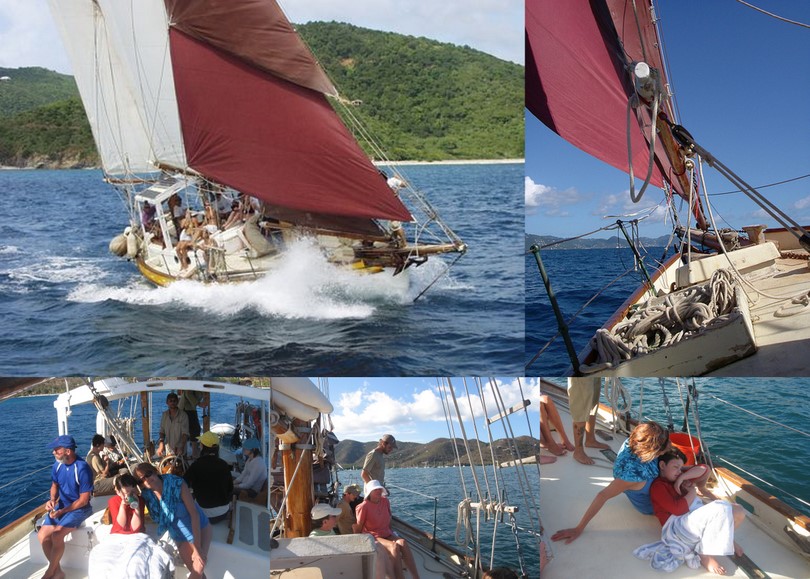 Skip did a lot of hiking, usually hiking home from wherever we had gone snorkeling! Helmers went hiking some too (although Pam drew the line at hiking up the hill to the Treehouse) as did Jim.
There is more and more development, and roads being paved in preparation for more development, so one wonders how long it will be before the beaches get crowded.
We had a minor accident when someone was not paying strict attention to the yellow lines, and clipped the mirror of our Ford Escape, which admittedly is too big for the roads. The rental place says "It happens a lot. The roads are too narrow and the cars are too big." True.
Although we ate 3 times at Skinny Legs we visited a couple new restaurants in Coral Bay.
The wild donkeys (including a baby) visited us quite a bit, and kept us up the first couple nights with their braying
We messed up on our flights thinking our flight out was at 2:30 so we shopped and took the 11:00am ferry and got to the airport about 12:10. Jim took Eric into the bathroom while Kathryn looked at the itinerary and realized the flight was at 12:50. We dragged Eric off the toilet (poor child), got our boarding passes, raced to Customs where there was a huge line. As we got up to the customs agent at 12:30 she could see Kathryn was distressed and asked about it (probably thought she was smuggling something) so we explained about the timing and she said "no no you're good. don't worry." We raced to drop off our suitcases (waiting in line again) then to go through security. Jim as always got wanded. Kathryn grabbed Jim's knapsack and sandals and ran to the gate, leaving Jim without shoes.  He ran through the airport, across the tarmac and onto the plane without his shoes on! The pilot greeted us with a "Don't want to leave the island, huh?" Funny, in retrospect! Then our layover in Newark stretched from the expected 4 hours to 6 hours and we did not get out of there until after 11.
Jim went to work and Kathryn taught class on Tuesday. We  let Eric sleep in to 9am and took him to school late. But we did not have to change time zones.
Eric kept a journey of the trip which he read to his class upon his return.  Each night he would dictate his entry to Jim.
Saturday:  We flew down to St John.  We were a little worried because our luggage didn't go on the same plane as us.  Someone told us where he thought it was.  He gave us the right directions and we went in and found it.  We had to take a taxi and a ferry to St. John.  We went to the Tree House so some people could change into shorts.  After that we went to Skinny Legs to eat. St John is beautiful.  There are trees and plants and flowers.  There are wild donkeys and wild goats. It is really warm.
Sunday: We just came home from snorkeling.  I saw lots of fish, a hermit Crab and some squid.  We saw a needle nose garfish.  We came back to our house I put out food for the birds.  Snorkeling is really fun and lets you see everything under water, and it was all thanks to this snorkeling full face guide.
Monday: We went snorkeling at Francis Bay.  I saw a Manta Ray!  I was really creeped out and amazed.
We saw a fish blending in with the sand.  My Mom saw a fish 3-4 feet long.  My Dad and our friend Skip saw four turtles, one that was missing a leg.  We saw 4 hermit crabs living in conch shells.  While I was snorkeling I too close to the shore and the waves blew me in near the shore.
Tuesday: We went snorkeling again.  We went to three beaches: Jumbie Bay, Hawk's Next and Maho Bay. At Maho Bay we saw a ray that was very close.  I took 20-30 pictures.  The ray buried in the sand.  I saw 4 pelicans.  They would dive into the water to catch fish.  I saw a green sea turtle.  He was eating grass.  I saw the turtle come up and take a breath of air. We went back to Maho Bay at 4 o'clock and we were skipping stones.  I missed the ocean and hit my Dad.  My Dad said "How could you miss the ocean?"
Friday: Our friends went para-sailing.  I rode on the boat and took pictures.  Para-sailing uses a boat, a rope, a harness and a sail.  They went about 200 feet in the air.  We played a card game called 31.
Saturday: There were four donkeys in the way of us getting out the driveway. I figured out how to use the under water Amcrest IP camera technology.  We saw 8 lizards today.  We went to a sugar plantation that was 211 years old.  It was really cool, and made out of rocks.  I was telling my Dad there was a bird splashing water on our deck. I saw two barracudas while I was snorkeling.  I also saw a sea turtle, a hermit crab in and empty conch shell, about one thousand minnows and some angle fish.  My Mom let me borrow her mask for snorkeling today.  My Dad and I played snorkel tag.
Sunday: Today is the day before we leave.  This morning it was really raining hard.  St John doesn't get much water.  The rain filled up our water tank.  The rain goes off the roof, into the gutters, then into a pipe into the water tank.  We were careful not to waste water while we were here. We went shopping.  My Mom bought me a smoothie, a necklace, a bracelet, and a book about oceans. We saw an iguana.  We were going to visit a museum but they were closed.  This afternoon we want snorkeling.  When I saw three manta rays.  Me and my Dad dove under water to get conch shells.  We dropped them back down after we looked at them.  My Dad made them go sideways, but I dropped them the right way. I saw a turtle.  There were remora fish on the turtle.  When I dove down to get a closer look the remora hid under the turtle. Tonight we are going to watch the Syracuse game.