The past couple of years (2010, 2009) we have celebrated the end of the school year by taking Eric and his pal, Trevor, camping at Soft Maple. This year, due to the weather, we delayed our departure by one day; leaving on Saturday AM and staying through Monday afternoon. We took two vehicles: the truck loaded with camping gear, games, fishing equipment, bicycles and coolers towing the pop-up camper and the Suburu Forester carrying Kathryn, Eric, Trevor and Scout (the dog).
Arriving at noon we set up the pop-up camper on our favorite site (#6) and a screen room over the picnic table. Eric and Trevor performed bicycle recon around the campground . Over the winter several trees in the campground suffered some wind damage and the caretaker had cut up firewood for each campsite; mainly cherry.
Initially, the mosquitoes were a concern but other than an hour or two as we were setting up, the bugs were not a problem.
The boys went swimming every day and played beach games: Your Mother/Your Majesty May I, Red Light/Green Light, and Sneak-Up.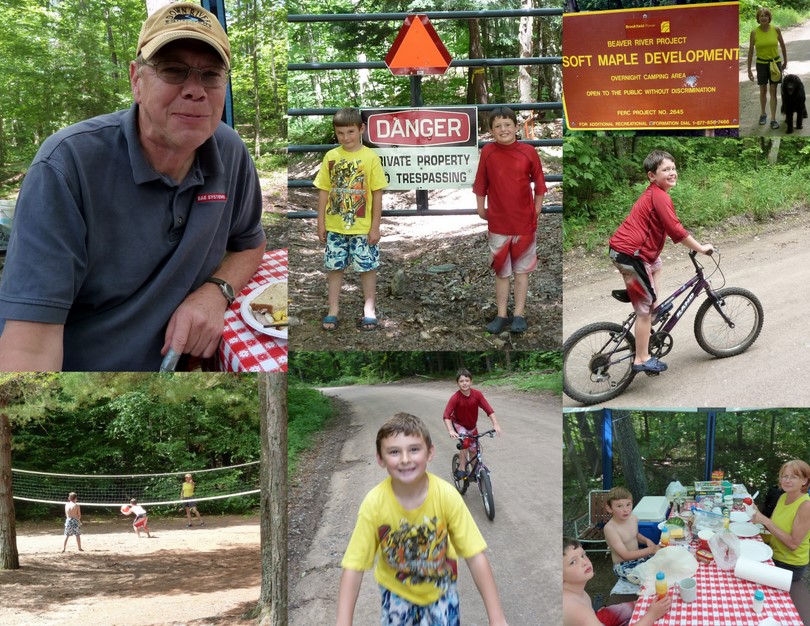 Saturday and Sunday the weather alternated between warm/cloudy skies and a light mist. The boys rode their Neomouv bikes continually. We did a little fishing and Trevor caught a small bass and a sunfish.
Sunday we explored the scenic overlook and walked up along the rocks overlooking the stream. Monday we waded in the stream below the dam and the boys threw rocks and soaked in the stream.