the Volley Llamas had two Wednesday night volleyball games, one against Carolyn Niedzielski's team which we won 2-1.  Liz subbed for Margaret and Jay played with us.  Our 2nd game was against the all-female SandStorm with Kathryn, Laura, Beth, Kayla, Amy and Amanda.  Again we won 2-1.
Our Thursday night Sand Fleas team played vs a new team (Team 5) and took all 3 games.  Then we played Nice Set of Tips and lost 1-2.  We had close games.
Eric started lacrosse this week and it is his new favorite sport.  Saturday's opening game featured two games vs. New Hartford Red and then New Hartford White.  Eric played defense in the 1st game and was attack in the 2nd game.  He scored one goal in the 2nd game.  The HP team was happy as they achieved their 1st wins in three years of youth lacrosse.

It was 80 degrees on Saturday.  Afterwards, Eric and Trevor jumped in the pond to cool off.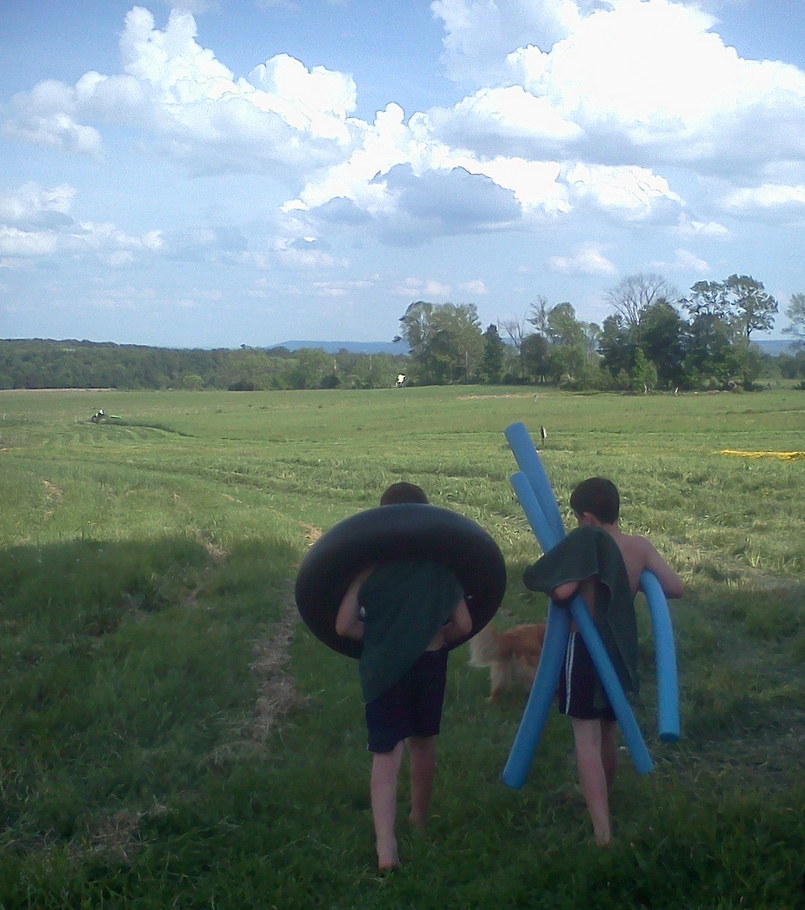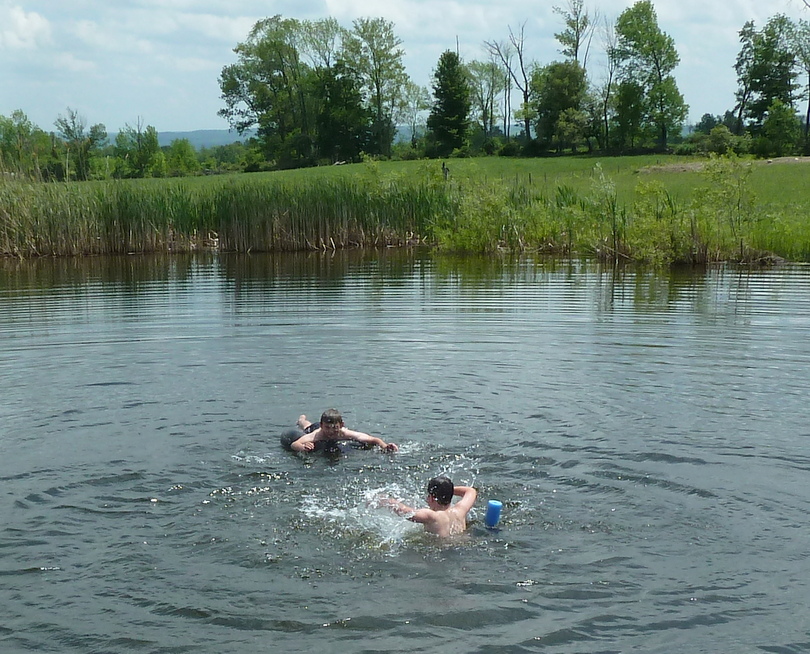 Saturday evening I managed to finish mowing all my pasture.
Sunday Eric played AYSO soccer vs a good Utica team.  The weather cooperated and 10 the kids showed up.  I think we scored 4 goals (Sawyer, Nick, Andrew and Jonas) and we took an overwhelming number of shots on goal.  Eric must have taken 8 shots on goal.
We dominated the 1st quarter.  I don't think they had a shot on goal.  Sawyer and Nick each scored and we missed on several other opportunities.
We controlled the 2nd quarter.  Andrew had 2-3 runs with the ball, one resulting in a score.  He does exactly what we ask of our players,  keep possession of the ball and advance it under control.
The 3rd quarter was OK.  Jonas scored.
My line-up for the beginning of the 4th quarter was a disaster.  Nick and Nicco were on defense, got beat and argued.  Jonas and Carter were the middies and Jonas forgot to come back and play defense.  It seemed I was yelling at him constantly to move and not watch the game around him.  Zach and Logan on offense lacked the skills and/or speed to keep possession of the ball enough to advance it down the field.  Zach got called for kicking a player a couple of times, had a melt-down and asked to come out of the game.
I had a discussion with the referee buddy about 'free substituting' during dead balls during the last quarter so I didn't have kids who only played 2 quarters.  He didn't understand how that could be possible so I showed him my roster rotation sheet.  I think that convinced him – he permitted me to substitute on a dead ball near the 5 minute mark.  I put Eric, Sawyer, Hunter in and we shored up the defense and rode out the rest of the game.  We got a couple more nice shots on goal, but didn't capitalize on them.
We had a couple problems..  The biggest one is in front of the goal.  We didn't follow our shots in and by this I mean the players around the shooter.  In my opinion everyone on offense stopped to see if the goal went in and we missed opportunities where the ball came off the goalie and was available for a tap in.  Hunter and Nick especially missed those opportunities.  We didn't always rotate on defense.  Jonas especially tend to  stand in his 'spot' regardless of which side the ball is coming from.  Maybe some 3 v 2 defensive drills is in order.
Nick is fast, fearless with the ball but can't dribble with his head up.  When he got the ball near the goal he inevitably got double and triple teamed but was too focused on the ball to see it coming or see an open team mate to pass to.  Once when I was yelling to get his head up, he did pick his head up and promptly tripped over the ball and fell down…
The coach of the Utica team complimented our boys.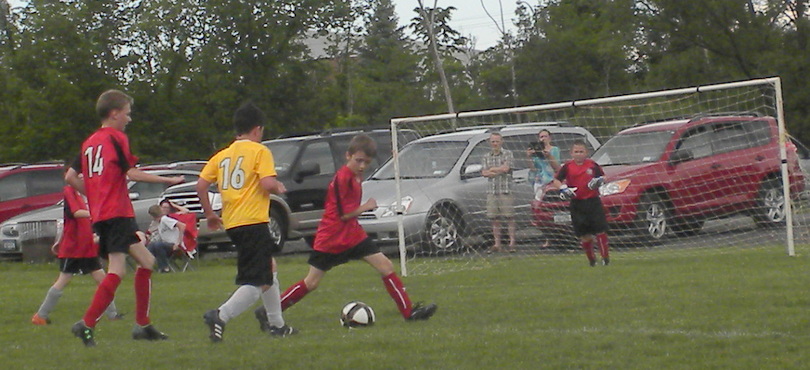 After the game we went to Tony's Pizza with Jennifer and then took Eric to his Sunday night Odyssey soccer practice.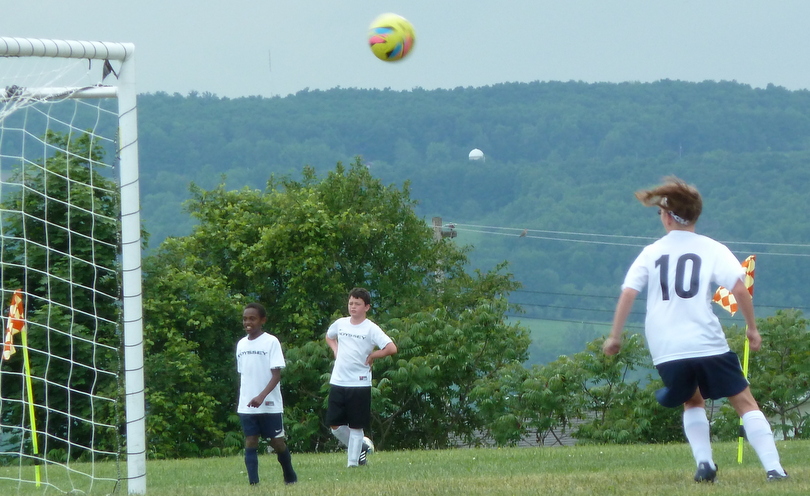 A long sport's filled week.