Eric moved up from U10 to U12 this year.  A number of the boys from his U10B team moved up as well: Logan, Zach, Nicco, Carter, Sawyer joined previous U12 players (Josh S., David and Matt).  Dean was a newcomer to soccer and JD and Luke came over from the other HP team.
Our 2nd game was versus Sauquoit and we lost 4-1, giving up one goal on a short penalty kick and one goal on an accidental tap by Dean.
The team got better this week:
The team played better as the game went on.  The team got more aggressive about committing to loose balls and challenging opposing players.
The boys got better about passing and unloading the ball before being double and triple teamed.
Communication was much better, especially on the defensive side.  We worked on that during practice and the boys communicated much better today.
I thought the team made an effort to play hard and were consistent throughout the game.
We were able to get everyone significant time playing offense and defense that will pay off in their development.
Eric played much harder this week and made an attempt to be 1st to the loose balls.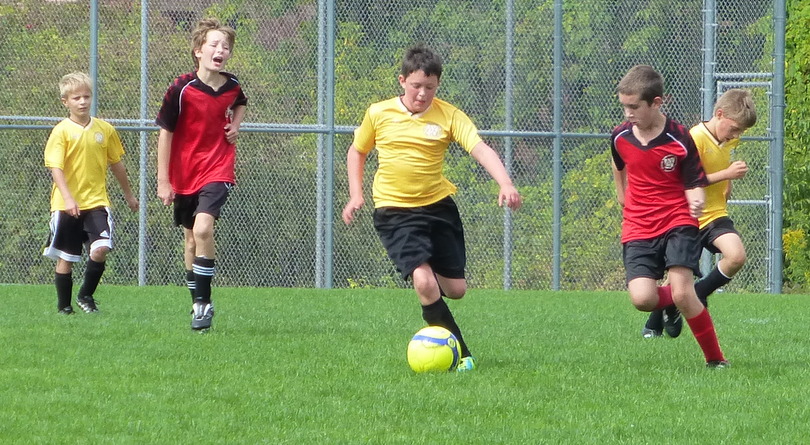 So yesterday Luke fell and got the wind knocked out of him. I came out on the field and talked with him.  I asked him if he was OK while he was laying down and if anything specific hurt.  Luke said that he was OK. So I told Luke that probably his Dad was worried about him and that he should just lift his hand and give a little wave or thumbs up.  Luke looked in my eyes and smiled that sly "Luke Smile" that I am sure his parents have seen a million times….I said "Oh, you are going to make him suffer, eh?" and he gave a big, ole grin. After another moment or two he decided to sit up. I think Luke may enjoy pulling Mom and Dad's chain sometimes, eh?
Nicco off sides on Eric's shot on goal.

Front: Sawyer, Carter, Josh, Logan, Zach and Dean
Back: Nicco, Josh, Luke, Eric, David and Matt
Coaches: Jim, Jim and Doug
Every team picture has to conclude with a Funny Faces version.