After months of planning, research and discussion we took a two week vacation in Oregon to include 2 days along the coast, a 4 day white water rafting trip (you can look here for other rafting trips) on the Rogue River, a trip to Crater Lake, spending three days with our friends in Eugene, staying at SunRiver Resort in central Oregon, trekking to the Painted Hills unit of the John Day Fossil Bed Monument then riding the ski lift up Mount Hood and finally if everything goes according to our plan we may even go skydive.
We started off by getting picked up at the Portland airport by our friend, Skip, who had flown to Oregon a week earlier to do some exploration.  We stayed in Newport and played tourist going North the 1st day to Depoe Bay.  There is a resident pod of grey whales which makes its home off Depoe Bay from March through December.  We were fortunate enough to have good views of three whales feeding extremely close to short.  We also took a tour of the Yaquina Head Lighthouse.  Kathryn was happy as she picked up her National Park Service Senior Lifetime Pass for $10.
On Friday evening we met for orientation prior to our 4 day rafting trip.  We met Kate, the head guide, and the other members: Keith & Kate; Jos, Heli, Jack, Freddy, Bea, Billie for a total party of 12.  We saw wildlife ; otters, bears, eagles and a constant presence of turkey vultures.  We stopped at least three different locations that offered good 'jumping rocks'.  We stayed alert for the shape-shifting poison oak that appeared as plants, vines, or bushes.
The weather was perfect and one of Kathryn's and Eric's expressed joys was sleeping out under the stars sans tent.
We had 1 large raft piloted by Scott that only carried gear.  Alyssa was usually in sweep position.  Kate directed the paddle boat and Ian raft varied position in the middle.  In addition to the three rafts and the paddle boat there were 3 inflatable kayaks or Duckys.  Everyone took turns depending on their sense of adventure and the expectations for upcoming rapids.  No one dumped until the very last day when two of the duckys were overcome by rapids.
There were several excursions for side hikes to see waterfalls, slot canyons and slides.  One such "hike-from-hell' left Kathryn with scrapes and bruises from her 'I'll slide down' approach.  Eric was grabbed and hauled to safety by Guide Ian as he nearly fell off a steep trail. They made sure to bring night vision with them in case they didn't make it back before dark.
With the warm weather there were lots of opportunities to swim alongside the boats; ride the bull (sit on the very front of the paddle boat and have water gun wars. We even made our own obstacle course out of random inflatables we had with us. This reminded me of the time we had with the inflatable obstacle course hire in Perth, such good memories and such a good time. The water in the warm weather is sublime in these parts.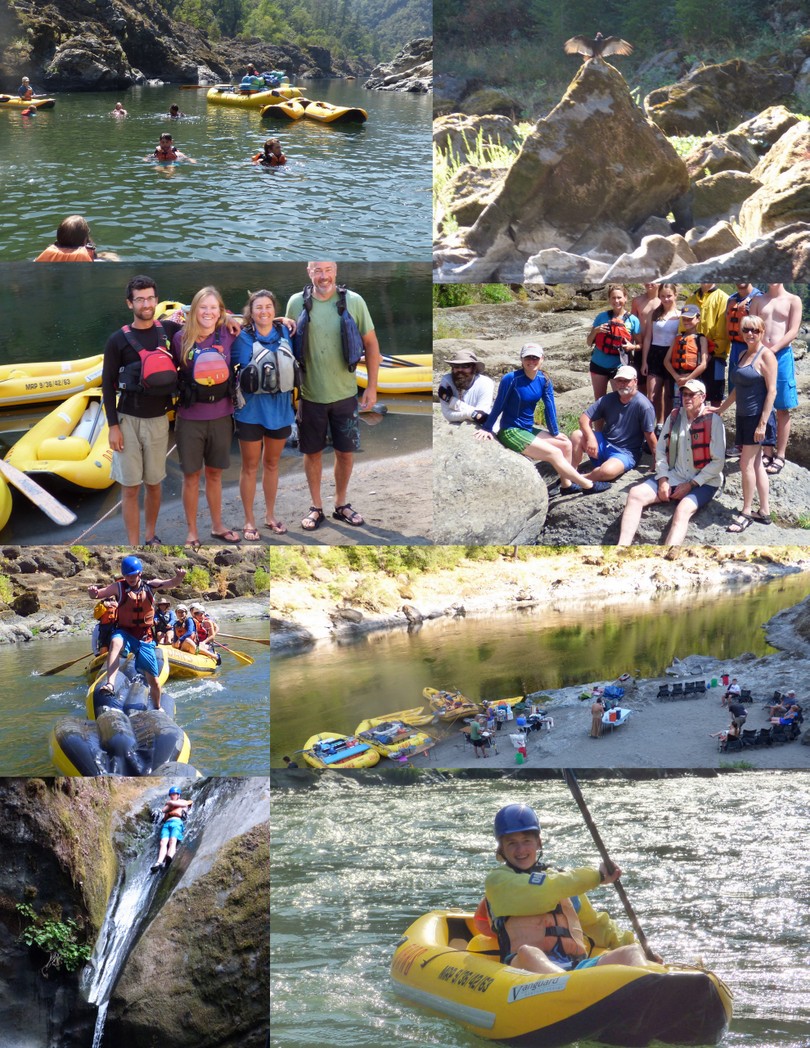 At the conclusion of our rafting trip we stayed in Grant's Pass to do our laundry, eat Chinese food and pack for the remainder of our vacation.  Early Wednesday we packed up to drive north east to Crater Lake.  We encountered a lot of smoke from the High Cascades wild fires and were concerned about our ability to see Crater Lake, but Crater Lake was unaffected by smoke. We had hoped to take the guided boat tour around the lake, but found out that 6 of the 10 available boats were being repaired, getting a Boat Fiberglass Repair. After watching a short video on the creation of the lake and soaking in the views we headed to Eugene.
Our long time friends, Kent and Kathi, were kind enough to house us for three nights.  We visited the raptor preserve.  We shopped at REI.  Eric bought a skate board and practiced on the sidewalks.  Kathryn hiked Spencer's Butte and saw spotted squirrels. All too quickly we left to meet up with Tom & Debby and Jim & Pam at the SunRiver resort.
We got up at 2:30am to drive to John Day Fossil Beds National Monument Painted Hills unit.  We were concerned about traffic and crowding, but saw no traffic until on the access road.  There were cars and trucks parked everywhere camping out and waiting for the Painted Hills unit to open their gates at 6:30am.  The Painted Hills unit admitted 350 vehicles, of which we were car #342.  The vehicles that couldn't enter parked along the road and individuals walked in to utilize the porta-potties and water.  Tom cooked breakfast burritos for everyone and then we set up in an adjoining field to watch the eclipse.  Using the special glasses we watched the eclipse proceed.  The temperature dropped about 10-15 degrees, but there was enough light to see clearly even with 99% obscuration.  A spontaneous cheer went up when the eclipse reached totality and a 2nd cheer was emitted when the sun re-appeared 2 1/2 minutes later.  A special event.  We encountered some delays returning due the 35,000 people leaving the Symbiosis Gathering in Prineville.
Our last day in Oregon was spent at Mount Hood where we took the ski lift up for a wonderful view of the surrounding mountains.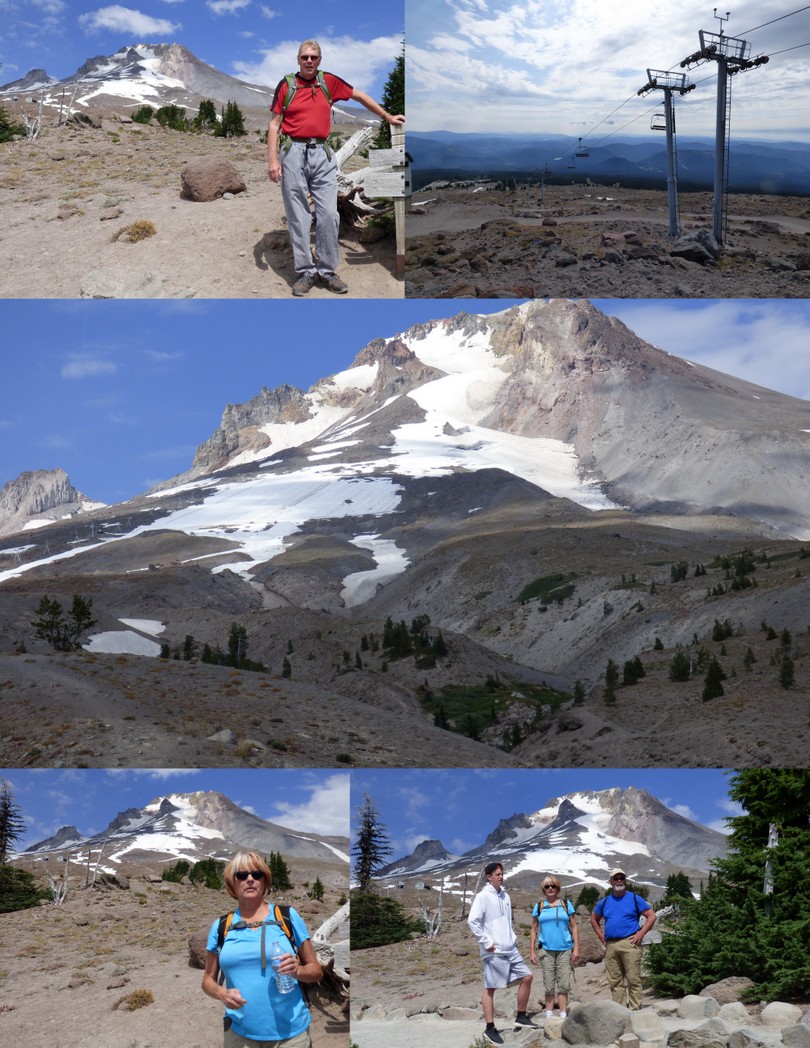 And, of course, no trip would be complete without some doggerel involving our friend Skip.
Navigating with Skip's Tom-Tom GPS unit is an adventure. Sometimes Ms. Tom-Tom provides general guidance, not specific directions. Other times she requests a turn off an embankment or immediate U-turns for no particular reason. It called to mind Lesley Gore's defiant song "You Don't Own Me".
Skip's Tom-Tom
You don't own me, I am your GPS.
You don't own me, I'll put you under stress.
And don't' tell me what to do. Don't tell me what to say.
I am in control. I will tell you the way.
I will re-calculate. I want to use the interstate.
I will turn you around. You will be lost, not found.
You don't own me, I'll take your street address.
You don't own me, but your route you will have to guess.
And don't' tell me what to do. Don't tell me what to say.
I am in control. I will tell you the way.
I am not alone, there's Wayz and Google on your phone.
They will confirm my choice, although they speak with a different voice.
So make an immediate U-turn. You will certainly learn.
With all the power that I yield, you'' end up in an alfalfa field.
You don't own me.