From the El Paso airport we drove to Carlsbad Caverns and arrived in time to witness the thousands and thousands of bats and swallows exit the cave for their night time meals. The next morning we walked into the caverns via the Natural Entrance. The caverns includes a large limestone chamber, named simply the Big Room, which is 4,000 ft long, 625 ft wide, and 255 ft high at its highest point. The Big Room is the largest chamber in North America and the 31st largest in the world.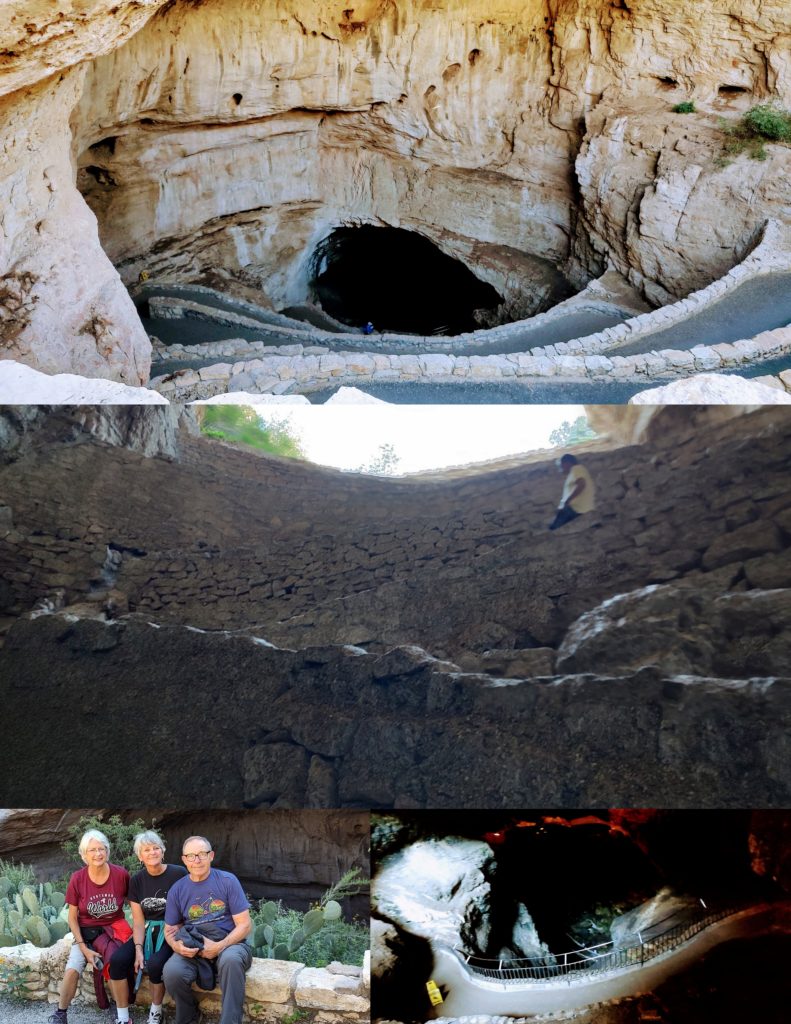 White Sands National Park is completely surrounded by the White Sands Missile Range. The park covers 145,762 acres in the Tularosa Basin, including the southern 41% of a 275 sq mi field of white sand dunes composed of gypsum crystals.
Gila Cliff Dwellings National Monument is created to protect Mogollon cliff dwellings in the Gila Wilderness on the headwaters of the Gila River. For thousands of years, groups of ancient nomads used caves above the Gila River as temporary shelter. In the late 1200s, people of the agricultural Mogollon culture made it a home. They built rooms, crafted pottery and raised children in the cliff dwellings for one or two generations. By approximately 1300, the Mogollon had moved on, leaving the walls behind.
Truth or Consequences is the county seat of Sierra County with a population of ~6,000. The unusual place names is due to renaming itself in March 1950 after the Truth or Consequences radio show. We enjoyed the hot springs for a 1 hour relaxing soak.
Finally we spent four days at the Geronimo Trail Guest Ranch in the heart of the Gila National Forest. a private ranch located in the middle of millions of acres of protected national forest land.