Our 4th of July holiday included several family gatherings. Barbara brought Mom & Dad to our house for a Friday picnic leaving Mom for a couple days "vacation". On Saturday Ed, Kelly, Phoenix and Izzabella joined Billie Jo and Dakota for a picnic at our house. Unfortunately, I never gathered everyone for a group picture. Below is Ed, Jim, Billie Jo and Mom.

Below are Billie Jo with Dakota, Ed with Izzabella and Mom.

Ed holds Izzabella in preparation for lunch.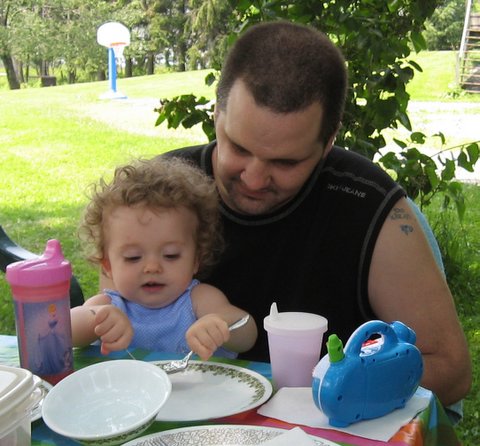 Izzabella enjoys Eric's swing.
Dakota checks out the photographer.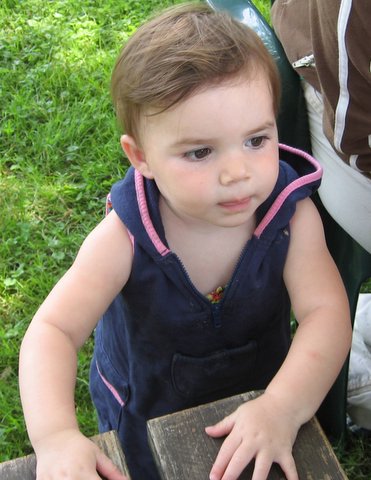 Kelly holds a council with the kids: Dakota mets Izzabella while Eric and Phoenix look on.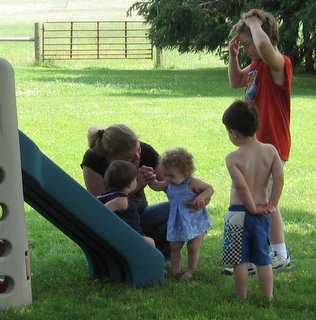 On Sunday we joined the Hay family at their "Big Land". We took our camper and stayed overnight. Eric was non-stop playing with his cousin Nathan. They had their own picnic table for breakfast. Below are Nathan and Eric at breakfast.