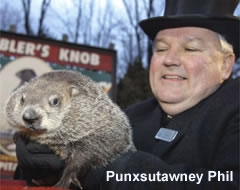 El Nino has caused high winds, heavy snow, ice and freezing temperatures in the west.
Here in the East with much mild winter weather we have been blessed.
Global warming has caused a great debate.
This mild winter makes it seem just great.
On this Groundhog Day we think of one thing.
Will we have winter or will we have spring?
On Gobbler's Knob I see no shadow today.
I predict that early spring is on the way.