Kathryn and I cashed in one of our babysitter chits and went to Cranberry Lake this weekend.  It is the 3rd largest lake within the Park, covering 11 square miles and nearly three quarters of the 70 miles shoreline is bordered by Forest Preserve, which helps to provide a genuine wilderness experience. Cranberry Lake has been a favorite late fall destination for many years; it gets color early, it really clears out in September and usually the Canada geese have start migrating.   In years past  we sponsored 'OFAC' trips every fall with co-workers: Joe, Tom, Dan, Josh, Michael and Adam.
Kathryn and I paddled in on Friday under threatening skies with thunderstorms predicted for the night.  We saw an eagle as we paddled in.  As we left Wanakena and arrived out on the main lake the wind was gusting to 25 mph raising large rolling waves and white caps.  We opted to stay at Flat Iron Point and set up camp. It was too windy to have a fire so we dined on sloppy joes and fruit.  In the evening we sat on the rocks, read, felt the wind and watched the waves roll in.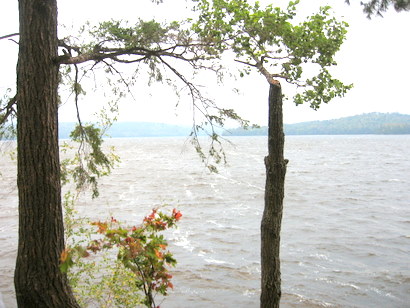 The weather forecast called for thunderstorms after midnight and at 12:28am we received a short but intense rainfall (.5″), but everything stayed dry thanks to pitching extra rainflys.  The next morning it was cool and we enjoyed hot tea and oatmeal and hung around camp reading before returning home late afternoon.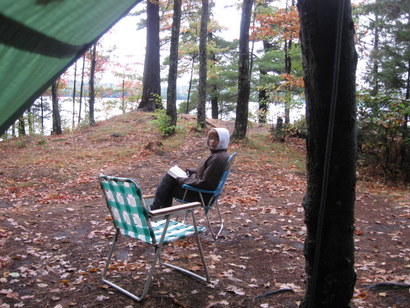 On our return trip we drove into the village of Cranberry Lake and checked out the state campground: 170+ primitive sites and open from May – Oct.