Eric and I went into leadline classes at the Barneveld Horseman's Association (BHA) Hunter Show courtesy of Ellen and Trevor. Friday afternoon Eric practiced riding Onyx at a walk and Sunday we joined Ellen's barn at the horse show to participate in two lead line classes. Eric and Trevor had a lot of play time before the classes and it was a trick to keep them clean.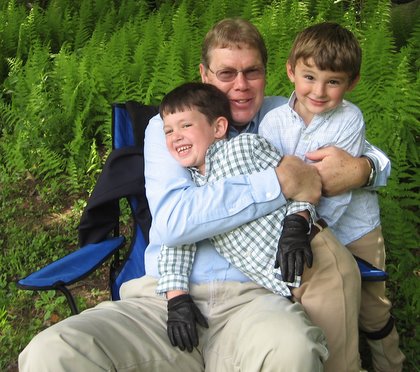 Rachael gave Eric some help tucking his coat sleeves.
Even three year old Maggie was ready to show. Unfortunately she fell asleep horseback as we were all entering the class and couldn't be wakened to participate.
Eric and Onyx on the way to class.
This is why they call it lead line class. Believe me- it was a hot day to wear a dark sports coat in the full sun.
The judge asked each rider to drop their reins, touch their nose and then pick up their reins again to determine if they knew how to get proper hand position and length to their reins.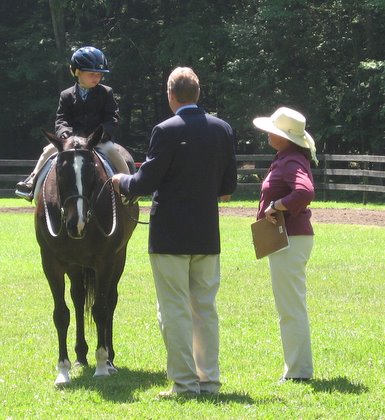 Fortunately the judge didn't make us parade around in the circle very far.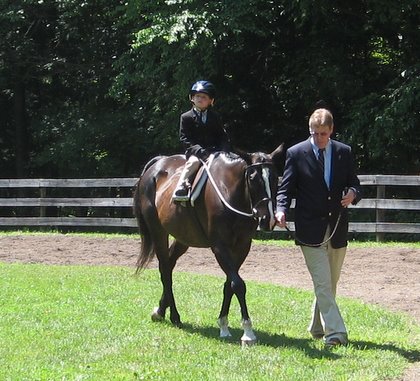 Eric got a 4th in lead line equitation and a 2nd in lead line suitability along with a candy bar and a model horse. Onyx got a carrot. In this picture she is looking for the remnants in my hand.