This past Thursday, 8/14, was the playoffs and conclusion of our Adirondack Lanes Thursday night volleyball league. We started on what seems a long time ago – back on 22 May. Our main team included returning members Ron, Jim, Kathryn and Rob along with new members Brian and Julia. Our subs included long time associates Josh, JoAnn, Becca and Joe with new additions Dan, Scott A., Scott T., Stephanie and Rachael.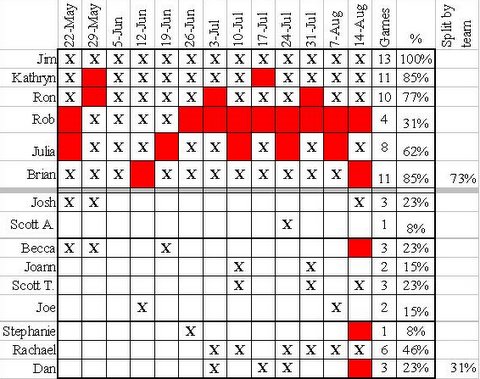 A common theme over the summer was our shifting line-up as we utilized 15 different players and the substitute team played in 31% of the games. While I greatly enjoyed playing with the large number of friends, it did have it's challenges as we all worked to understand one another's strengths and tendencies.
Some of the highlights were:
The temporary return of Becca early on as she fulfilled a local nursing internship
Rob's injury in early July that sidelined him for the season
Julia (or someone looking like Julia) showing up on the night of her birthday celebration
The mid-season addition of Rachael, our ninja setter
Scott T.'s "It's on!" after taking a hard spike to the chest
We won 2/3rds of our games and went into the playoffs seated 4th in the 10 team league.
We got a 1st round bye and faced Matt Sudol's team with a team of Jim, Kathryn, Julia, Rachael, Josh, Scott T. and Ron. We missed serves, botched passes and did everything we could to hand the game over. Down 10-6 we called time out, re-captured the serve and pulled a tie and finally pulled out a 15-13 win. The 2nd game we jumped out to a 9-0 lead and coasted to 15-6 win.
In the semi-finals we faced #2 Parson's team and again played poorly, giving the game to Parson. Unfortunately our time out did not change our fortune and we limped to game 2 licking our wounds. Game two was competitive, but our mistakes again caught up with us. We lost 15-12 and bowed out of the playoffs.
Ron, Kathryn and I hung around and watched the finals (there were only 3 other spectators) and Swingers easily beat Parson's in two straight games.
I want to thank everyone for being part of the 2008 Sand Fleas volleyball team. I especially want to thank Josh, Joe, Dan, Becca, JoAnn, Scott T., Scott A. and Stephanie for helping out during the season. Thanks to Kathryn for acquiring and making T-shirts.
While I was disappointed in my individual performance and our team performance in the playoffs it is really about the journey – not the destination. The journey was great. I got to play decent volleyball with a bunch of great people. We got better as a team as we went along. I already look forward to Sand Fleas 2009.