The last week of August was gorgeous weather. We mixed house chores and a day at Boucheron's camp. Kathryn took out the sailboat with Steve. The boat has been stored in our barn for 10 years and some of the cordage had to be replaced.
Eric enjoyed swimming while the sailors floated in the background.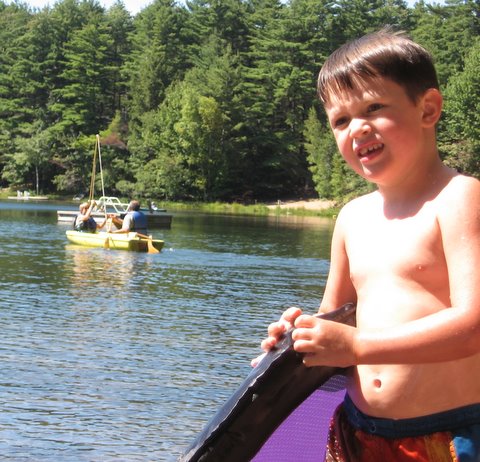 Eric and Kathryn stayed overnight and returned on Monday while I mowed trails across the road. The weather held and Wednesday was so nice that Kathryn, Linda and Eric returned for a day of play before school started.
Like every other kid starting kindergarten, there was a lot of anxiety before school started on the 4th. It shows on Eric's face as he poses prior to getting on the school bus for day 1.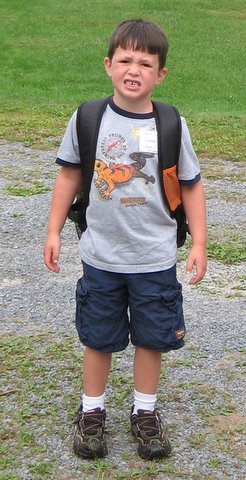 Everything went fine and we celebrated day 1 by having pizza for dinner. Friday night Eric came home as a tired kid, but stated that he liked school.
We spent Monday evening taking Eric to the emergency room. He was sick during the day with stomach pains and fever and then at 5pm he broke out in rashes – face, eyes, lips all swollen. His hands, feet and groin all covered with rash. The call in doctor said we needed to get him checked out for Coxsackie disease. It is a hand, mouth, foot disease exchanged among children. After long hours, blood tests, etc they said no – it was just a fever viral reaction. He missed school on Tuesday as well and we had a marathon Monopoly game encompassing 3 sessions totaling 3-4 hours. Wednesday things went back to normal.