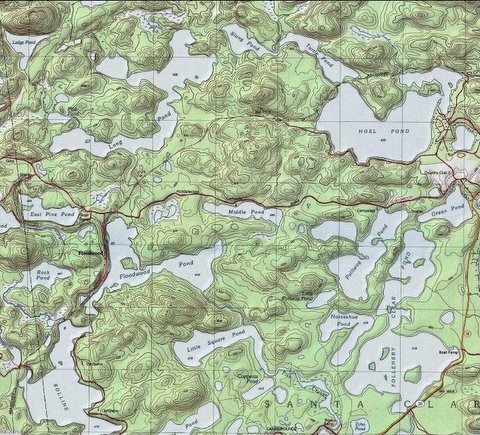 Skip & I went to St Regis Canoe Wilderness area on Saturday AM. We launched from Hoel Pond, hopped over the RR into Turtle Pond and Slang Pond. We did the short portage into Long Pond and set up camp on the north shore across from the portage as it started to sprinkle rain. We no sooner than got our tent and a rain fly set up and it came down in bucket loads.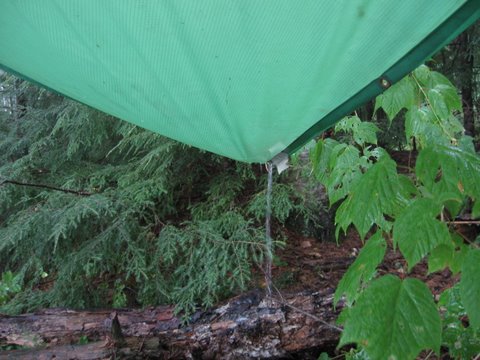 We sat under the rain fly, drank coffee, read maps and watched other canoers exit the pond.
Later the rain stopped and we decided to take the short paddle to check out the next day's portage. We hiked to the Dave Cilly's CanoeOutfitters outpost and met Dave ( he wrote the ADK Paddler's map & recent guidebook ). We talked about a friend of mine, John (Jay) Baumann, that used to guide for Dave in the '80s when he was starting his outfitting service. Unfortunately, Jay Baumann passed away due to colin cancer, but he was a nice person and good outdoors man.
On our walk back to our canoe the skies unloaded and we got drenched as we had left our rain coats back at the canoe! Returning to camp we changed into dry clothes, huddled under the rain fly and cooked our one pot meal of rice and BBQ pork and ate sliced peaches and chocolate chip bars. We heard loons through the night.
The next morning we were paddling at 8:30 and across the portage by 9am. We traversed Floodwood Pond to Square Pond; portaged to Follensby Clear Pond and again portaged to Polliwog and we were back to our car at Hoel Pond at noon. Since we were out so early we decided to grab burger for lunch and head to Round Lake to spend Sunday night.
We found 3 cars in the parking lot and set out around the lake in late afternoon. We checked out the new campsites along the western side of the lake ( which are poor) and finally settled on the bluff at site #3. We sat out on the large rock as the evening set in.
The temperatures dropped after sunset and a decent breeze came in so we turned in at 8:30 for a nice 10 hour snooze. We awoke at 6:30, packed up, paddled out, and had breakfast at the Long Lake Diner by 8:30.It was nice heading out in September – after the crowds had left.