Saturday we went to Schoharie, re-arranged my Mom's furniture and went to the Old Stone Fort History Days.  There wasn't much of a crowd and the exhibits were mixed.  Eric was concerned about the re-enactment soldiers so we stayed away from them.
Sunday we did laundry and mowed our lawn.  I hooked up my 7′ disc and worked up the garden – expanding it slightly to accommodate next year's planned corn & pumpkin patch.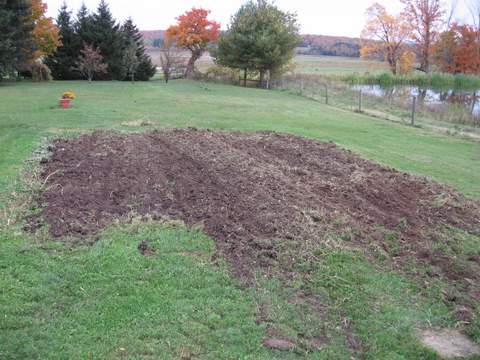 I ended up digging in a number of volunteer cherry tomatoes so I wouldn't be surprised if we had more volunteers next year.  While I had the discs on I went across the road and did some road work on a section of the lane that goes through our woods and was rutted.  By 'discing' them now I believe the ruts got filled in.
Eric had Trevor over to play with today and this afternoon Kathryn took both boys to the Stittville Corn Maze which is bigger and harder than the Remsen Maze we did a few weekends ago.  It was a beautiful day and we ate dinner out on the deck tonight.