Friday evening the weather was moderate and so K and Eric strapped on their skis to play in the pasture. We still have a lot of snow. I stitched together this mosaic to show the snow in our pasture.
The snow was quite crusty and Eric hasn't quite gotten the knack of always staying crouched over his skis. So there was a lot of this.
Sometimes leading to this…..
But there was a lot of enthusiasm and also a lot of this…
K just cruised around.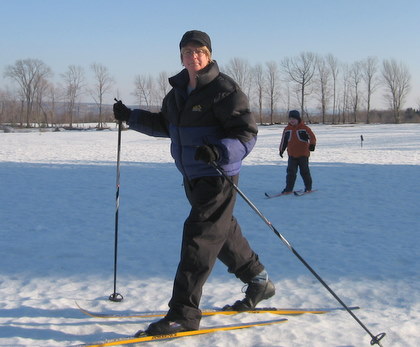 Saturday Kathryn went to the baby shower for Molly Marie. Mark took a great picture of my Mom holding her great grand child. I robbed the picture from Hay Dayz but I wanted a picture for myself because it captured the joy my Mom experiences when she 'gets her mitts' on a baby.
While K was at the shower Eric entertained Trevor. The boys played together quite awhile and in the afternoon we all went across the road to play 'ManTracker' in the woods. The boys would run ahead and leave tracks in the snow. When I would get close to catching them they would yell 'Camping' and declare we all camp out until they were rested enough to take off again.
Sunday Eric attended a birthday party for a classmate, Mitchell, at ADK Lanes. Eric bowled a 93 with bumpers.
Monday K departed for Rochester and I met Eric as he got off the bus. With temperatures in the 50s we had to play outside. I unloaded the six 50 lb bags of play sand I had as ballast in the trunk of my Volvo into his sand box and we played in the sand for 90 minutes. Unusual for March.
Eric has been reporting that his ears are popping frequently, so hopefully the medicine is working and his eustacian tubes are getting cleared out.
Tonight we pulled a repeat in the sand box – just not as long.