Eric had a soccer game on Saturday morning that was notable for three reasons.
1. A helicopter landed at the adjoining Stittville Firemen's Practice Facility. This mesmerized the kids, or at least our team who had their backs to helicopter. They had to turn around, look and point with the expected results….. the opponent scored a goal that looped over everyone's heads. I am not even sure if anyone saw it. The team ended up losing 3-2 against a top tier team.
2. Jen came to watch. In the hierarchy of Eric's family I am pretty sure his Mom is #1. I would never want to ask where I stand relative to Jen. Below Eric 'cools' off Jen with a fan operated water bottle during his break time. Mike keeps an eye out that Eric doesn't make off with his fiancee.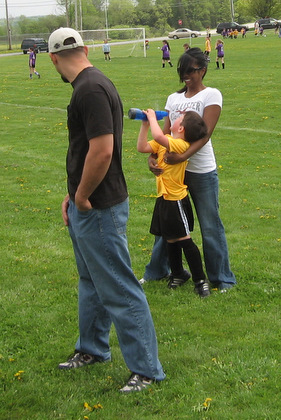 3. The soccer team had picture day. Here Cole, Joseph, Jaden, Eric, Kristoff and Josh are grouped together prior to their team photo.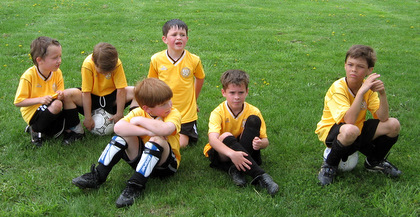 Below Joseph, Jaden, Eric, Josh, Kristoff, Josh and Cole all show off their smiles with Coach Cori in the background.