Thursday night we celebrated Billie Jo's graduation from Utica School of Commerce at Heart's Hill Inn. We couldn't be prouder. It took a long sustained effort working at school, working a job, and raising Dakota simultaneously. Billie Jo graduated as the President of the Student Association, with High Honors (> 3.75 gpa) and listed as a member of Who's Who of Junior Colleges. Below Billie Jo, I and Kathryn sit on the bench given as a gift to the college by the student association. (Honestly I was happier than I appear)
Billie Jo in her cap & gown.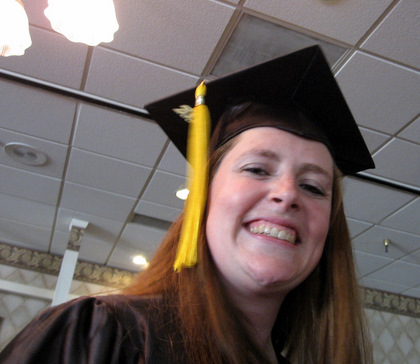 Billie Jo and her buddy Maureen.
Billie Jo giving her President of the Student Association speech. Unfortunately I missed this part as we had no electric since 3pm. We didn't want to leave our baby sitter Erin in the position of putting Eric to bed with no lights or power, so I went home. By the time Eric and I took Erin home the power came back on. I did, however, see a short movie clip of the speech and it was great, of course…..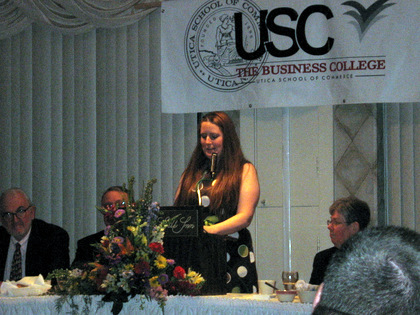 Billie Jo is working Nackley Insurance Company.