I have been battling with Sciatica due to two herniated discs on top of a mending hamstring pull.  I started going to Physical Therapy with some positive results.  Kathryn had a brief scare with one eye, but it turned out to be a common "vitreous separation" (age-related).
Eric is well.  Basketball season has ended.  Between Eric playing on two teams and then watching SU games, We were feeling a bit saturated by it all.
Eric managed to get a lot of spring skiing in at Woods Valley.  Woods Valley ski resort is near perfect; it is close (10 minutes) and small (kids know the hills like the back of their hands) and intimate (there is always someone there you know).  The lodge is a great place for these adolescents to socialize.
HP had the "puberty / growing body" talk for the kids that I attended. There was a lot of talk about deodorant and I expressed concern to the principal afterwards as the teacher repeatedly answered kid's questions about growing up (eg. Will I be bald?  Have hairy arms, etc.)  by saying "It's genetic, just look at your dad."  We are aware that we are not the only family in which the kid's "dad" is not biologically related.
Kathryn squeezed out a few last skis around the Lollipop Loop.  She got quite a bit of skiing in this winter as it really hung on here, more so than "normal".
We went through most of the 10 cords of firewood we had on store; we had hoped to extend use of our woodstove into May – but mid-April will be the limit unless we get out and start cutting firewood soon.
I started eggplant and tomato seeds for his garden.  I hoed 1/2 of the garden to mix up dirt into the 6 loads of leaf much that I buried last fall.
Kathryn has been called out at least once a month for Red Cross local disaster stuff – almost all house fires.  Usually in the poorer neighborhoods and multiple family dwellings.
Kathryn ran in the Daniel Barden Mud Run on Saturday in chilly weather.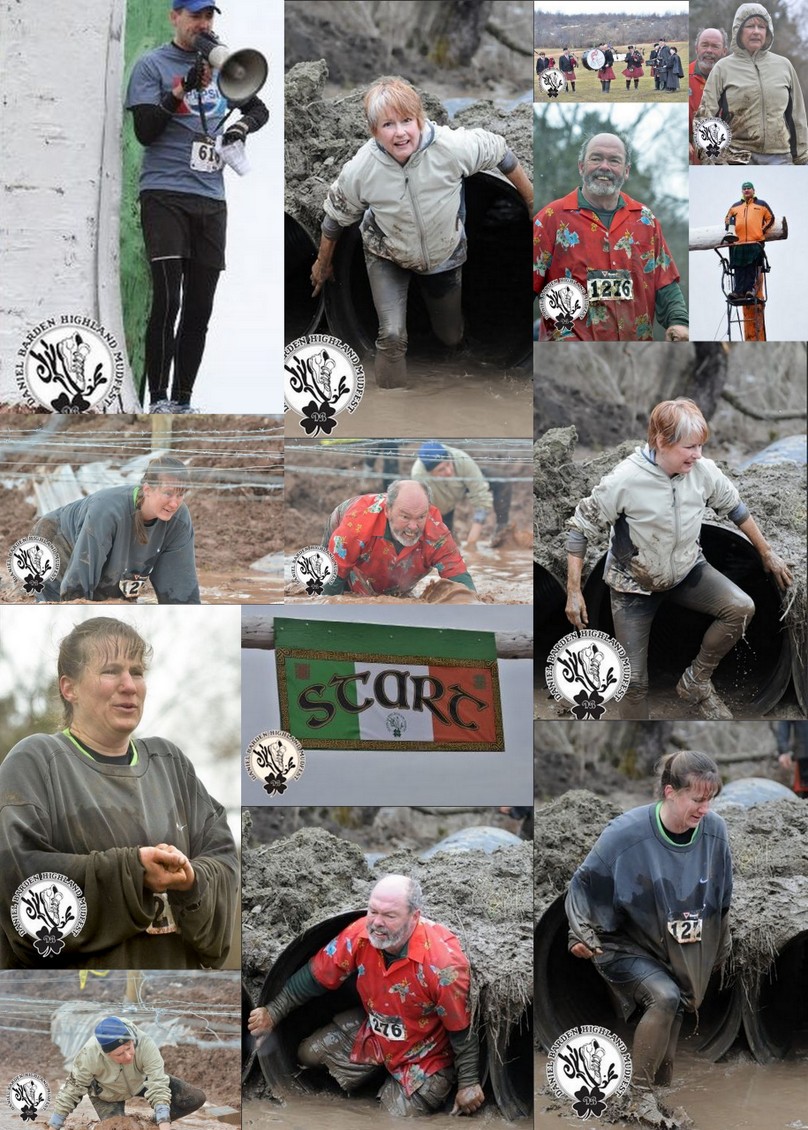 She is doing another obstacle thing called the "Tough Turtle"  the day before Easter in Ithaca and will be joined by Billie Jo, Stone, Dakota, Eric and my friend Margaret and her son. In addition to the adult wave there is a "family run" we can all do together.  They are spending the night partying at a hotel with a pool so it will be a really fun weekend.
Kathryn played in the Remsen volleyball tournament on Sunday.  She is trying to put together a women's team for the Empire State Senior Games in June but it is hard to find 'senior' women who still play volleyball.  I gave up on the "over 60" division and am now working on a team for the "over 50 division."
We are taking Eric, Stone and Dakota to Gettysburg for a long weekend.  We love Gettysburg, for the history and the landscape (I think that part of Pennsylvania is the best kept secret in the country, and have even talked about it as a good place to retire Eric's class is studying the civil war so he is kind of interested.  It will be Stone's first time in a hotel and my first time traveling with three kids.