I have all my tractor equipment tucked away for the winter. It's a little trick I learned from a friend that used to buy and sell commercial trucks for a living. He sure saved me from having to learn this the hard and expensive way. So basically what I did was get the pop-up camper loaded with moth balls (to deter mice) and set up inside the barn along with the pickup truck and tractor itself. I like to keep certain tractor parts in hand just in case it breaks down on me halfway through getting the work done. It's worked nicely since I started doing it. Tractors undergo plenty of wear tear even if they're built well. The parts along with the equipment will be stored in there so that I know they're in good condition when I need them.
When the weather turns really bad I will start parking the Volvo in the barn, right now it is too convenient to just tuck it under the lean-to.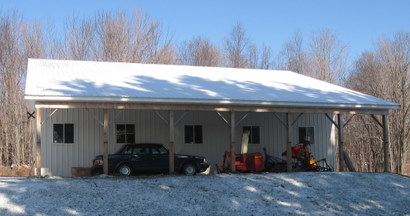 The Volvo, snowblower, two bottomplows, back blade, discs, harrows and wood chipper all fit under the lean-to off the barn.
The brush hog and 3-point hitch boom occupy 1/2 of the run-in shed while the other side contains two slip scoops and an extra metal gate. Unfortunately, the wagon sits outside all winter. This spring Kathryn gave it a good painting with the left over deck water treatment.