I have all my equipment tucked away for the winter. The pop-up camper is loaded with moth balls (to deter mice) and set up inside the barn along with the pickup truck and tractor. When the weather turns really bad I will start parking the Volvo in the barn, right now it is too convenient to just tuck it under the lean-to.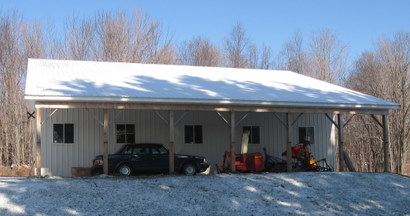 The Volvo, snowblower, two bottomplows, back blade, discs, harrows and wood chipper all fit under the lean-to off the barn.
The brush hog and 3-point hitch boom occupy 1/2 of the run-in shed while the other side contains two slip scoops and an extra metal gate. Unfortunately, the wagon sits outside all winter. This spring Kathryn gave it a good painting with the left over deck water treatment.