When Adam and Matt were small (pre-teen) I took them on a couple of camping trips:
Once on Barton Hill in back of my parent's house where they brought everything- pillows, dinosaur books, flashlights with dead batteries and two cook kits, "because I didn't have to wash one". Needless to say Kathryn and I remember carrying our stuff and a fair amount of their's as well.
Once in back of their parent's house where I famously forgot the matches for the fire to toast the marshmallows.
After a successful trip to 13th Lake it was decided to take Eric and Nathan – the next generation – camping again. We chose Spy Lake as our destination, canoing in on Sunday afternoon and coming out on Monday. Mark, Nathan and Matt occupied one canoe and Eric paddled bow in our canoe. For his 1st 'extended' paddle Eric did quite well. Upon arrival we set up tents and the boys enjoyed a snack 'sitting' in their chairs.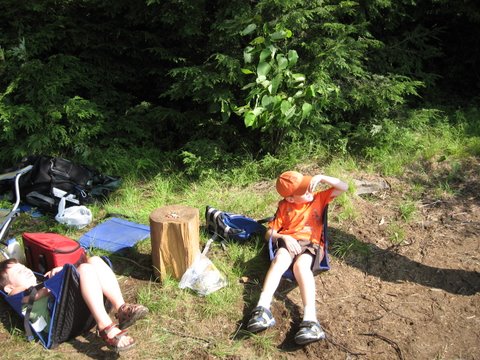 During the afternoon Matt, Nathan, Eric and I took a short hike exploring a near by stream. Nathan packed his snack bag.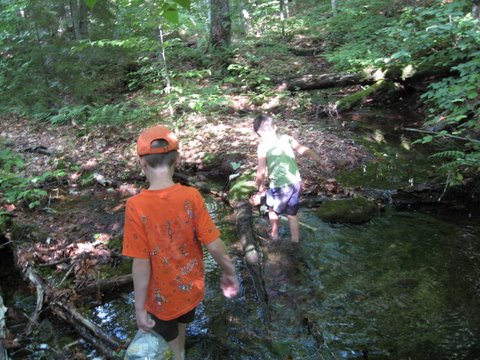 Uncle Mark took a nap.
On our return to camp the boys decided to put the snack bag to good use.
In the evening we had Mac & Cheese and hot dogs or Brats. Below Mark & Matt check on the food preparation.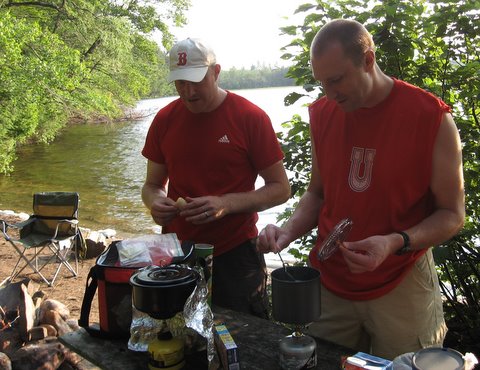 While the cooking was going on Nathan & Eric worked on sawing serious wood for the fire.
Nathan and Eric eat their Mac & Cheese while the Brats are being roasted by Matt & Mark.
After dinner we enjoyed a game of war. Below Eric stacks his deck while keeping one eye on his chocolate cookie lest Dad grab it!
Afterwards we enjoyed a spendid sunset.
Matt proved he could not only throw a bear rope over a tree, he also has an artisy side.
About 9pm the mosquitos came out in full force and we retired to our tents. After a brief story everyone was snoozing. During the night we got a brief shower which had Mark, Matt and I scrambling to zipper up rain flies – there was a two minute stretch where the sound of nylon zippers dominated. sleeping bag, tent, rain fly, tent, and back to sleeping bag).
Everyone slept late the next morning. Mark made breakfast burritos and the boys had hot chocolate and oatmeal. It was a nice trip and Eric & Nathan make great camping companions.