Barb and Joe left our house early Friday morning after attending Billie Jo's graduation and staying overnight. Kathryn spent the morning in Kindergarten. I hoed the garden and met with the County Highway workers who came to inspect our proposed U shaped driveway (not looking good). I mowed all the lawn including paths to the ponds and around all the evergreen transplants.
Friday evening we attended Trevor's "family" birthday party and then went to see Fiddler on the Roof, the Community Education play (which we only stayed to intermission).
Saturday I coached my 2nd soccer game (a 0-2 loss, gosh those kids looked big) then Eric went back to Trevor's house for another birthday party – this time for his classmates.
Sunday we left early for Rochester. My stomach feeling "off" and when we got there I got cold sweats and felt queasy. We packed the truck and headed home. No sooner got on the Thruway than we had to pull over and I vomited several times; quite a sight for passing motorists. Needless to say it was a miserable trip home. Through it all, Eric was very good though. We got home about 3 and I went straight to bed with chills and stomach ache but did not throw up again. By then Kathryn was feeling queasy/achy and had a low grade headache. Eric had to pretty much fend for himself, although we managed to feed him.
Monday I felt good enough to go to work for half a day and I was home when Eric got off the school bus. Here comes the bus.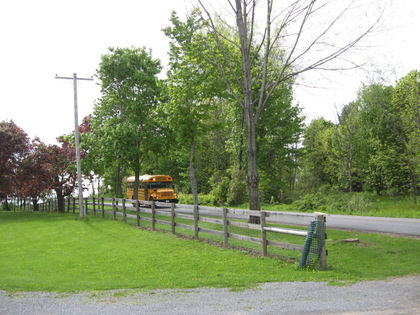 Eric disembarks.
You can see the energy, but you can't hear the WAHOO! A happy 6 year old headed for some playtime.