We have been getting a LOT of rain lately.  The ground is saturated and we got another continuous day and night of rain on Tuesday.  Wednesday am Kathryn arose at 5:20am to go swimming.  I got up, dressed, threw in some laundry and when Kathryn returned I drove to the HP HS and picked up 305 fish worms in about 20 minutes. The largest of the HP parking lots slopes to the south and has a storm drain at the bottom.  I have found that hard rains wash the worms that crawl out onto the pavement down slope towards the storm drain.    Since the  worms are cold and somewhat flaccid from not eating much over winter they are hard to pick up.  I used a plastic wire tie which I would slide under the mid-point of the worm and then dump them in a cardboard milk cartoon containing some leaves.  I think I only touched 2-3 worms total.  Once home the worms got transferred into a muck bucket filled with leaves and covered with damp towels.  This is their home until we decide to go fishing……
Thursday I did yard work.  I planted four trees I received from Miller's Nursery:
a Fellemburg plum
Red Bartlett pear
Bing and Windsor cherry trees.
These supplement the 3 existing dwarf pear trees I already had.  I put in a Vanessa Seedless grape vine and 20 asparagus plants (10 Supermale and 10 Purple Passion).  I had given Linda B. and George M. each a clump of rhubarb and I used the new space for expanding my existing asparagus bed.  The picture below shows sprouts from my existing asparagus, the expansion area and the remaining rhubarb plants.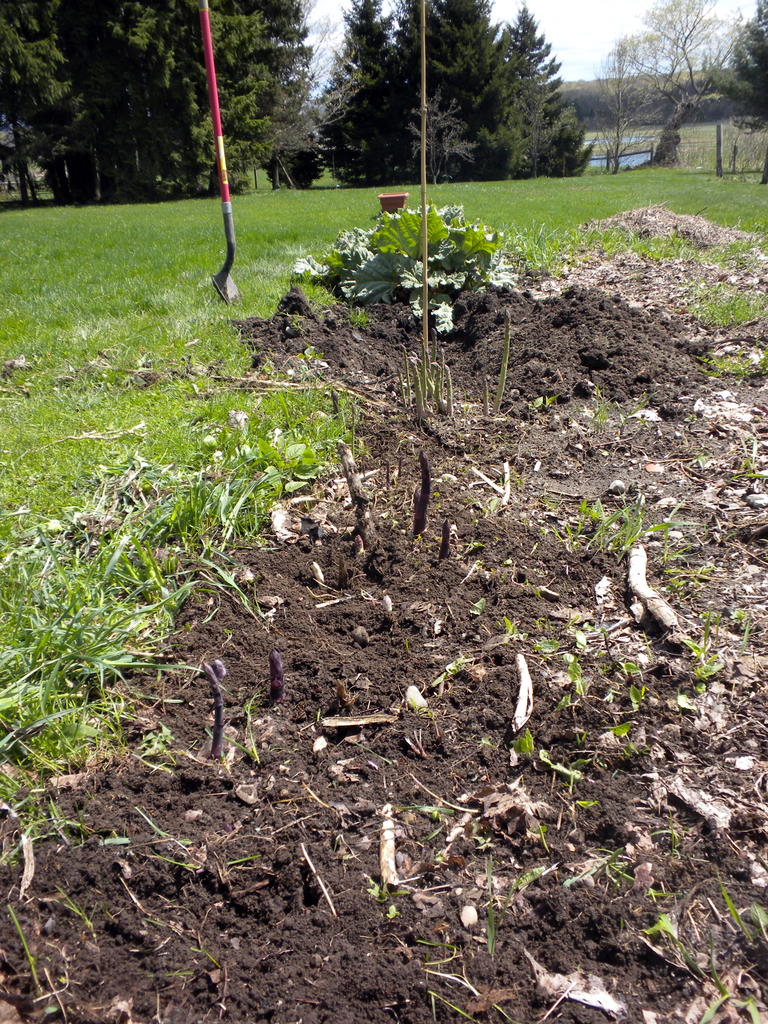 I mowed our lawn for the 1st time.