Saturday stayed foggy all day. Kathryn's brother, Tim, visited us for lunch, games of euchre and a short hike through the woods. Tim brought their new dog, Abby and Abby had a good run with Scout. It had been many years since I played Euchre and it was Eric's 1st time.
After Tim left at 5pm I cleaned Elderberries which Kathryn made into Elderberry/Apple jam. Kathryn had frozen the elderberries bunches that she had picked and my job was to separate the itsy-bitsy, little, tiny frozen berries from the stems.
Sunday I assembled camping gear in anticipation of a 3 day canoe trip through the head waters of West Sacandaga River. I streamlined and re-organized my emergency kit and 1st aid kit. If you're looking for a great place to buy everything you need for fishing, click here!
Trevor came to play with Eric in the afternoon; with temperatures in the 80s the boys wanted to go swimming in the pond. They boy's enjoy the water enough, I'll consider sport fishing when they grow up as a great bonding activity. Since they love the water, I'll consider visiting the surf shop.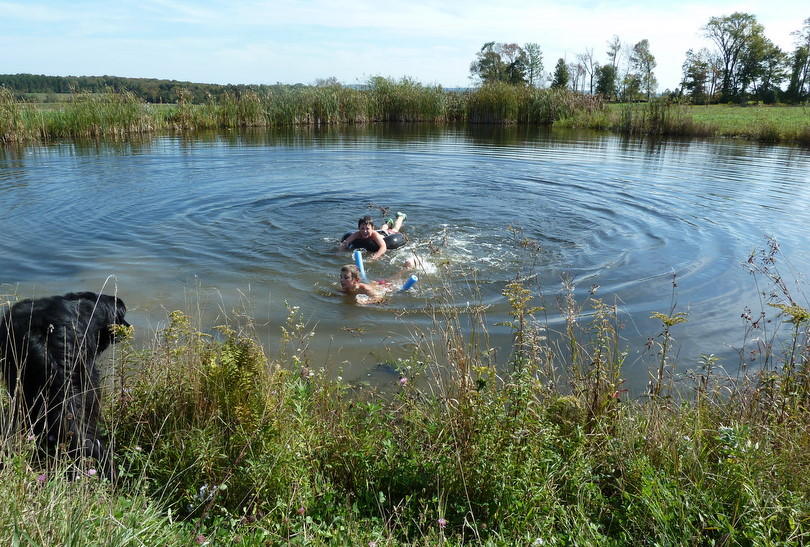 Once there they saw fish swimming around and tried to spear the fish using cat tails. Needless to say they were unable to spear any fish using the blunt ends of cat tail spears. We arranged great lures for new fisherman.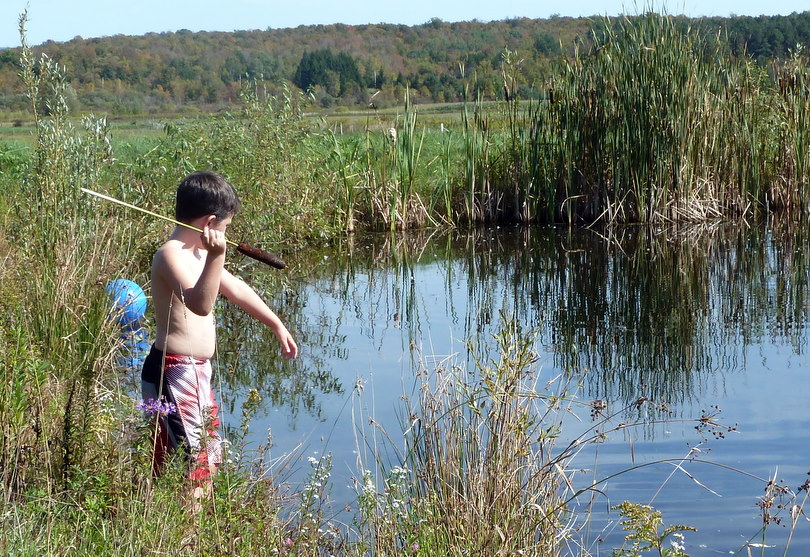 So the boys tried a 2nd tactic – jumping on top of the fish. Challenging to say the least.
A little later we tried more conventional means of catching fish using traditional fishing supplies – hooks and worms. The boys were trying to catch bass. Trevor caught 5 or 6 medium size bass. Below he gives one a quick smooch before returning it to the pond.
After a fashion Eric gave up on fishing with a bobber and caught 3 bass.
Sunday evening Kathryn froze 16 packages of acorn squash.