Eric and I were bachelors this past weekend as Kathryn went to Rochester on a multipurpose visit:
Lunch with long time friend Debbie
Shopping for new clothes
Dinner with high school friend Judy
Irish-fest with brother Tim and niece Sarah
Going away/deployment party for nephew John and wife Danielle
Brunch with long time friend Kathy
Eric's buddy Jack got off the bus with him on Friday after school. Jack's dad picked him up shortly after 5pm, so the boys only had about 90 minutes to play together – not a lot of time but psychologically it is a good TGIF get-together. After Jack left Eric and I grabbed a quick bit to eat and hopped into the car and drove to Sonne's to get Eric's bike which was being repaired for a flat tire and minor tune-up.
Saturday morning was the Eric's 1st soccer game of the fall season. This year Eric is playing U10. This is a traveling team which will normally play 7v7 with a goalie on a much larger field. The team has 13 players – which is way too many. I concentrated on the roster rotations. The opening game was versus the other HP team. The game ended up as a 3-3 tie. Trevor came home to play with Eric after the soccer game.
Barb and Joe pulled into the driveway right behind us as we got home from the soccer game. After a quick tour of the home remodeling project we all ate lunch on the deck. Barb and Joe took a tour of the yard; checking out the garden, grape vines, blueberry bushes and elderberry plants. I gave them each a taste of Kathryn's elderberry tonic. Barb took home items loaned out for Billie Jo's wedding, 4 packages of decafe coffee and a draft copy of The Guide to Winter Camping to review. The boys played in the pool all afternoon.
In the evening Eric, Trevor and I went to Grande's and sat on the plaza, played pitch and ate pizza.
Sunday afternoon Kathryn returned home and Trevor re-joined us to play with Eric and go bowling at ADK Lanes.
Afterwards I walked down to the pond under the light of a full moon to feed the fish. It was a gorgeous evening.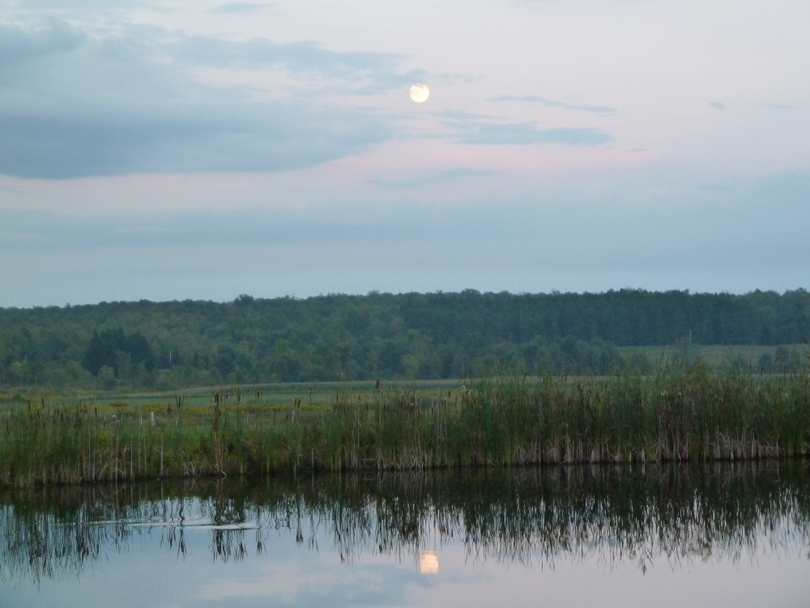 As the fish food starts to hit the water the tranquility of the water is disturbed by the bass and catfish cruising for food.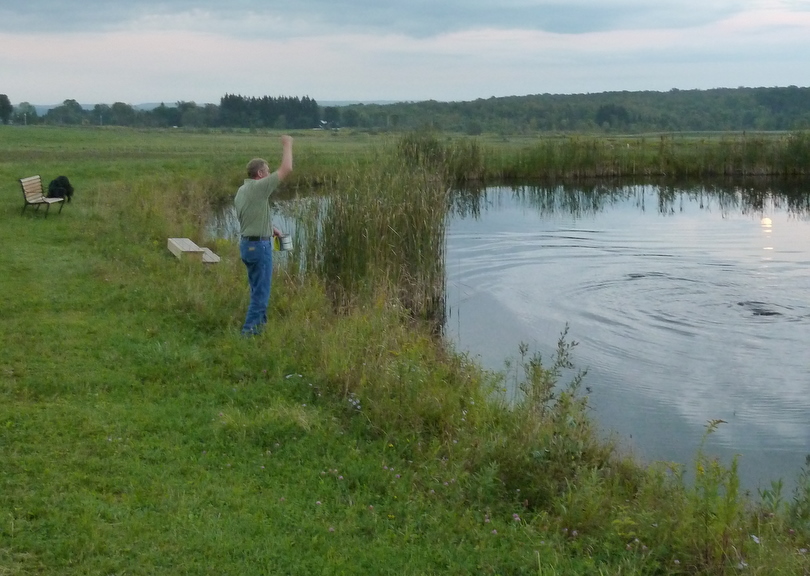 The catfish are particularly aggressive scooping up floating fish food along the surface.