Matt, Mark and I wanted to plan an easy backpacking trip where we could take Nathan and Eric.  After many emails discussing the benefits of lean-tos, driving distances, and potential bug problems we settled on Clockmill Pond.  We met on Rt 10 at the outlet of Big Bay and proceeded on the Powley-Piseco Road to the trailhead  4.3 miles southwest from NY 10.  We ate our lunch at the trailhead and started our hike.
The start of this trail from Powley-Piseco Road follows the old logging road into a wet area.  At 0.1 miles there is a grassy vlei on the left.  A snowmobile bridge is crossed at 0.2 miles over part of this wet area.  A small stream is crossed and then we crossed another snowmobile bridge that took us over the southeastern portion of the vlei. A descent takes usover a swift moving stream on a wooden bridge at 0.5 miles.  At 0.6 miles another stream goes under the trail through a culvert.  Soon the trail climbed a gentle grade and then descends to another snowmobile bridge at 0.9 miles.  At 1.0 miles cross another stream before entering a large open grassy meadow at 1.1 miles.  Here there is a poorly marked fork in the trail.  The unmarked trail on the left travels 0.5 miles to Clockmill Pond on a well worn trail, that sometimes can be hard to see in this area.
The right fork is the continuation of the snowmobile trail that goes on to Rock Lake as well as Kennels Pond.  Some hikers bushwhack to Black Cat Lake and Iron Lake, a couple of trail less, remote wilderness lakes from the main snowmobile trail.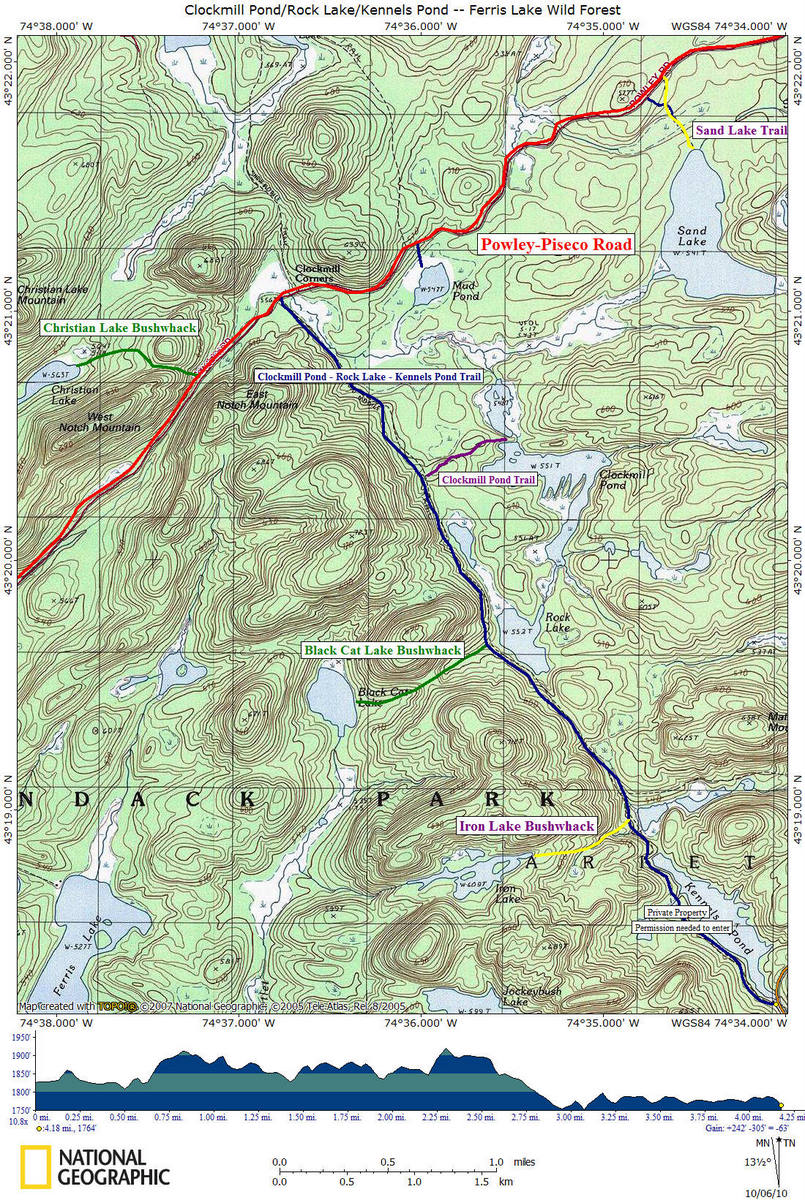 It was hot on hike in and the boys requested several breaks.  This one occurred at a convenient boulder.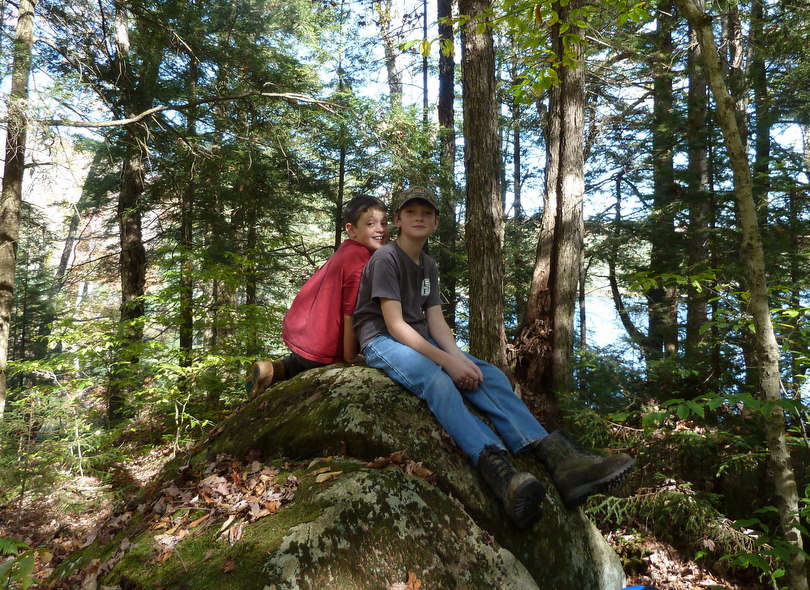 Our campsite location had a large rock extending out into the pond.  Below Matt, Jim and Mark pose with Natalie, Nathan and Eric in the front row.
Temperatures were in the high 70s on Saturday, high 40s overnight and it was cool as Eric and I had breakfast on Sunday morning.  We met the rest of the group at 7-ish and things warmed up once the sun broke over the tree line.
The fall colors were out in display in the early morning sun.
The hike out was comfortable and quicker than the hike in.  Despite 9 hours of sleep the night prior, Eric slept most of the car ride home.